Fantasy-casting a week of 'Late Show With Stephen Colbert' guests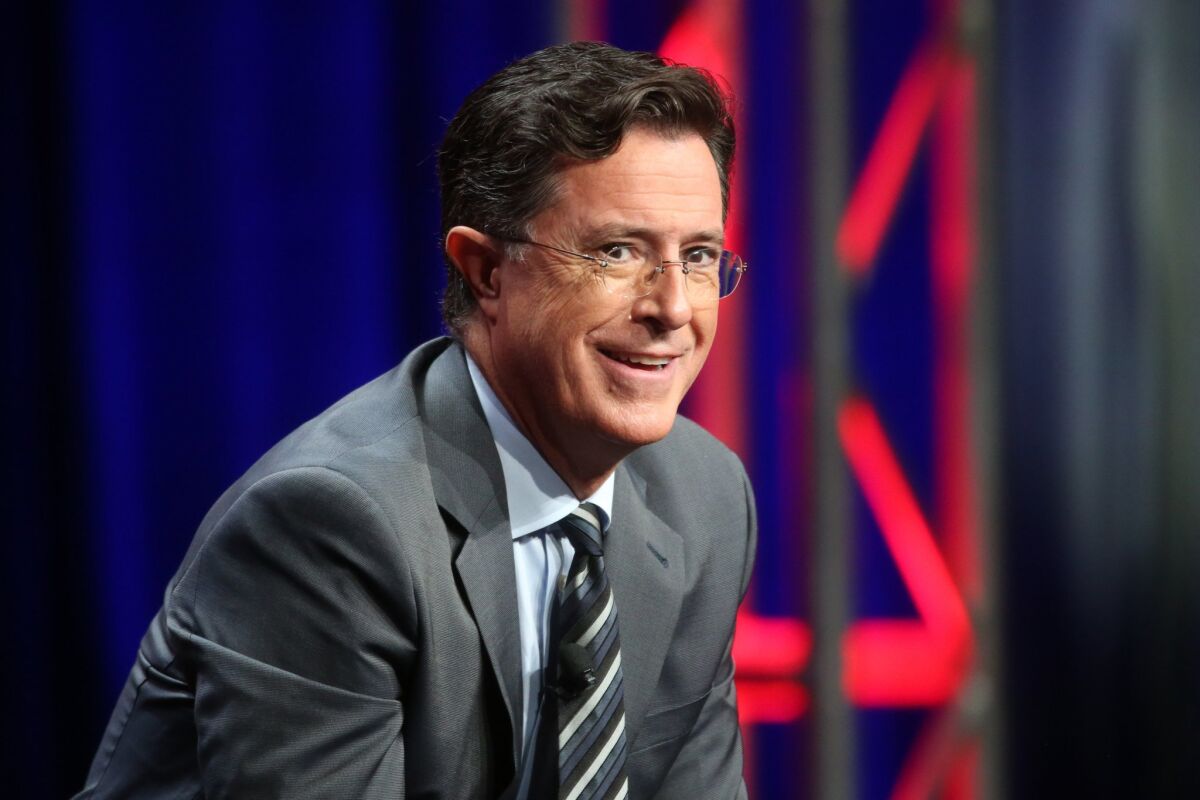 The first week's guests on "Late Show With Stephen Colbert" make it clear that Colbert is bringing his eclectic taste to his new home on CBS. In the spirit of pure speculation, here's a weeklong schedule that would put the host's substantial interview skills to good use while also providing plenty of potential for watercooler chatter.
Monday: Democratic presidential candidate Hillary Rodham Clinton, comedian Jon Stewart, plus interview with and performance by singer-songwriter Courtney Barnett.
Why: The Democratic front-runner could use the boost that a good-natured appearance on late-night TV could provide, and Colbert's just the man to get to the bottom of that pesky email business. As for Stewart, it's never not a good time to be reunited with Colbert, and seeing Stewart on the other side of the desk is often a welcome reprieve. After his stint working the WWE circuit, he'd likely have much to discuss. Barnett is an up-and-coming Australian whose debut album "Sometimes I Sit and Think, and Sometimes I Just Sit" was widely acclaimed. Her single "Depreston" seems right up Colbert's alley.
Tuesday: Republican presidential candidate Donald Trump, comedian Tig Notaro, plus interview with and performance by Beyoncé.
Why: Colbert has gone on the record about how desperate he is to discuss Trump on the show, so one can imagine what might transpire with Trump sitting directly across the desk. As for who could possibly follow Trump on the show, only incisive comedian Notaro will do. Notaro has plenty to publicize as well, with a documentary, an HBO comedy special and a television series with Amazon in production. Beyoncé's inclusion seems self-explanatory, and though she has been reluctant to participate in interviews, Colbert may be just the person to draw her out.
Wednesday: Tennis star Serena Williams, composer and lyricist Stephen Sondheim, plus an interview with and musical performance by John Legend.
Why: Williams is arguably the most dominant athlete in any given sport right now, and the U.S. Open is right around the corner. Colbert appeared in the 2011 New York Philharmonic production of Sondheim's "Company" and is a huge musical theater fan, so seeing him share the stage with the Broadway icon would be a treat. As for Legend, he's a magnetic performer who has the perk of a sitcom in development, one based on his life with wife Chrissy Teigen.
Thursday: Supreme Court justice Ruth Bader Ginsburg, Supreme Court justice Antonin Scalia, plus an interview with and musical performance by Taylor Swift.
Why: The two justices have come to represent the yin and yang of politics. As great as it would be to see Colbert and Ginsburg swap stories, the real draw here is Scalia, whose head Colbert has likened to a "flesh-toned cinch sack." After such potentially heated exchanges, Taylor Swift's neutral, inoffensive musicality would be the palette cleanser.
Friday: Pope Francis, comedian Bill Cosby, plus an interview with and musical performance by Sleater-Kinney.
Why: Since his election in 2013, Pope Francis has argued for more aggressive action on global warming, warned against consumerism and pushed for the church to be more welcoming. Colbert, a practicing Catholic, would likely find a lot to discuss with his holiness. As for Cosby, it's only a matter of time before the embattled comedian attempts to launch a campaign to rehabilitate his image following accusations of sexual assault, and Colbert is just the man to walk the line between respectful and uncompromising. Beyond that, Sleater-Kinney is back after an extended hiatus with an album release in January. Performing on Colbert gives fans their fix.
Follow me on Twitter at @midwestspitfire.
MORE:
Owning 'The Late Show With Stephen Colbert' is key for CBS, exec says
Late-night TV talk shows find a way to build buzz -- and ad dollars
Jay Leno on Stephen Colbert: 'A white guy on late night? Revolutionary'
Get our L.A. Goes Out newsletter, with the week's best events, to help you explore and experience our city.
You may occasionally receive promotional content from the Los Angeles Times.