Stephen Colbert's first-week guest list includes George Clooney, Jeb Bush, Amy Schumer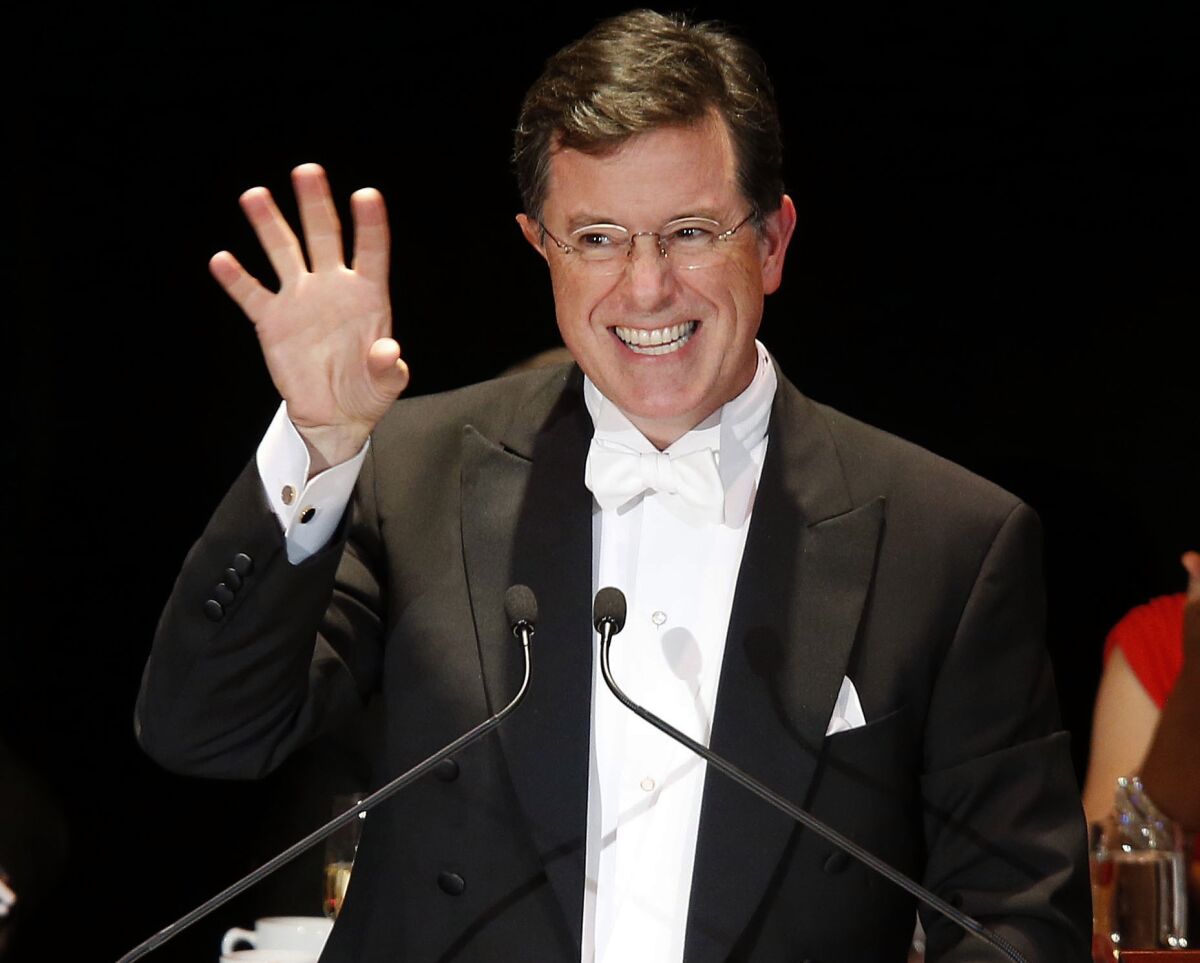 Ever since he announced plans to abandon his satiric persona for his new late-night gig on CBS, the big question has been what "the real Stephen Colbert" will be like.
Far less attention has been paid to how the comedian's idiosyncratic, bookish taste in guests might translate to the mainstream landscape of broadcast television. But on that front, at least, some clues are beginning to emerge.
The guest list for the "Late Show's" first week was released Monday, and it goes beyond the usual assortment of A-list movie stars and musicians.
Naturally, there are big names: Colbert's debut episode on Sept. 8 will feature actor-director George Clooney and GOP presidential hopeful Jeb Bush. Other premiere-week guests include actress Scarlett Johansson, hip-hop artist Kendrick Lamar, comedian Amy Schumer and country star Toby Keith.
But true to his trailblazing reputation, Colbert has also made some more unconventional choices, booking author Stephen King, tech executives Elon Musk (SpaceX and Tesla Motors) and Travis Kalanick (Uber) and, in a major head-scratcher, a Paul Simon tribute band called Troubled Waters.
And that's just the guests. "We should always remember that Colbert himself is not always that predictable," said Penn State professor Sophia A. McClennen, author of "Colbert's America: Satire and Democracy."
One of the defining features of his Comedy Central program, which ended its nine-year run in December, was its focus on politicians, authors, academics, scientists and public intellectuals — personalities more likely to give a TED talk than appear in "Ted."
To be sure, Colbert welcomed the occasional megawatt celebrity, like Jennifer Lawrence, but more typical were guests such as French economist Thomas Piketty or Rob Rhinehart, inventor of the meal-replacement drink Soylent.
Colbert has said that one of his favorite guests was Naquasia LeGrand, a KFC employee and union organizer from Brooklyn. Though she is a dynamic young woman who made for a memorable interview, she's hardly the type of name to draw in millions of viewers in an intensely competitive late-night environment.
But the comedian has indicated that he will continue to look beyond the roster of self-promotional celebrities when he moves to CBS.
"Anybody who is interesting and has something to say, that's what I'm interested in," he said this month at the Television Critics Assn. summer press tour. "I love artists, whether they're actors or musicians. I want to have politicians of all stripes on the show. ... But if somebody is not famous and they've got something to say and they can present themselves on camera, I think that would be a perfect guest to have."
As McClennen notes, Colbert has also booked substantive celebrities who "wear multiple hats" for his first week on the air.
"Is George Clooney going to just talk about his new movie, or is he going to talk politics?" McClennen asks.
Along with most of his senior staff from "The Colbert Report," Colbert has retained booker Emily Lazar as head of the talent department at "Late Show," but he's also hired a new entertainment producer, Emily Gertler, from the celebrity-focused "Good Morning America," suggesting he will opt for a mix of Hollywood star power and more substantive guests.
As CBS Entertainment President Nina Tassler also told reporters at the press tour, "I think you are going to see interviews that really run the spectrum."
Another open question is how much Colbert's "Late Show" will have to compete with "The Tonight Show" when it comes to booking top-tier Hollywood stars. As bitter as the rivalry between Jay Leno and David Letterman was for many years, their geographical separation — Leno was based in Burbank, Letterman at Manhattan's Ed Sullivan Theater — lessened the potential for talent wars.
But now that "Tonight" is based in New York, just a few blocks away from "Late Show," celebrities face a tough choice at 11:35 p.m.: Fallon or Colbert?
Then again, the very concept of a late-night booking war may eventually turn out, like linear television, to be a thing of the past. Late night's younger generation seems to have little appetite for the kind of rancor that marked the Leno-Letterman years.
After all, among the many celebrity well-wishers who appeared on Fallon's first "Tonight Show" was a guy called Stephen Colbert.
The complete guest lineup for "Late Show's" debut week is below.
Tuesday, Sept. 8: Actor George Clooney, Republican presidential candidate Jeb Bush, musical performance by Jon Batiste and Stay Human with special guests.
Wednesday, Sept. 9: Actress Scarlett Johansson, SpaceX and Tesla Motors CEO Elon Musk, interview with and musical performance by Kendrick Lamar.
Thursday, Sept. 10: Uber CEO Travis Kalanick; musical performance by Toby Keith.
Friday, Sept. 11: Comedian Amy Schumer, author Stephen King, interview with and musical performance by Troubled Waters.
Follow @MeredithBlake on Twitter.
MORE:
How Stephen Colbert spent his summer vacation
Stephen Colbert anxious to get back on air: 'I want to do a joke on Donald Trump so badly'
Owning 'The Late Show With Stephen Colbert' is key for CBS, exec says
Get our L.A. Goes Out newsletter, with the week's best events, to help you explore and experience our city.
You may occasionally receive promotional content from the Los Angeles Times.