Stephen Colbert speaks out about Daft Punk fiasco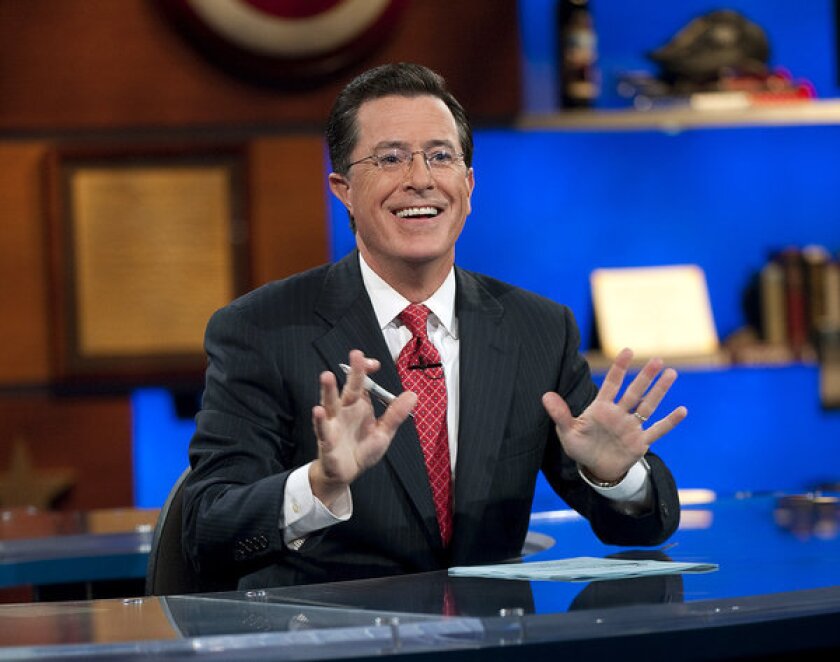 Last week, Stephen Colbert spun a last-minute cancellation by Daft Punk attributed to a conflicted appearance on the MTV VMAs into comedy gold. The well-publicized debacle sparked at least one giant viral hit and even a few conspiracy theories.
Now, for the first time, an out-of-character Stephen Colbert has spoken at length about the Great Daft Punk Controversy of 2013, and it turns out the duo's no-show was just the tip of one big, irritating iceberg.
As Colbert explained on "The Paul Mercurio Show" podcast, Daft Punk refused to speak or perform on the show, presenting what he described as "an interesting challenge" to the satirical host and his writers.
PHOTOS: Hollywood Backlot moments
Despite the considerable parameters set by the band, Colbert was game.
Colbert proposed a six-minute monologue in which he'd ask one very long-winded Pitchfork-esque question, as the two helmet-wearing members of Daft Punk just stood there, nodding their heads.
As a way of working around Daft Punk's refusal to perform (while also placating corporate sponsor Hyundai), the show had enlisted Robin Thicke to perform that other song of the summer, "Blurred Lines." To book the singer, also scheduled for the VMAs this month, Colbert had to negotiate with his colleagues at sister network MTV.
Colbert also came up with the idea a video featuring a host of celebrities enticing the group to perform their own infectious hit single, "Get Lucky," with the likes of Jeff Bridges, Matt Damon, Bryan Cranston and Henry Kissinger gamely agreeing to participate.
It turns out the video was almost cut, because the band felt it played "too much on the idea that they're not performing as opposed to the joy of them being there," according to Colbert. But after working through most of the weekend, the show and Daft Punk were able to come up with a mutually agreeable script for the episode.
Cut to Monday afternoon, however, when Colbert's co-executive producer informed him Daft Punk was also scheduled to perform at the VMAs. The host was "confident" it would all work out, but by Tuesday afternoon the band had pulled out, leaving "The Colbert Report" without a guest.
"I understand that the VMAs have got their own rules, and Daft Punk, that's a big important thing to have done, but I'm the guy who's completely screwed here. I don't have a show tonight," he said.
But, despite the understandable frustration, Colbert was also able to view the entire fiasco as a "gift," one that created a "really pure emotional state" for his blustery on-screen character.
PHOTOS: Celebrities by The Times
The comedian remained diplomatic throughout the interview but admitted he doesn't quite comprehend the obsession with exclusivity, which he called "the original sin of show business."
"I don't think that my joyful success diminishes anybody else's joyful success," Colbert said.
The entire interview (which includes some late-night language) is available here and is well worth a listen, giving listeners a rare chance to hear Colbert out of character and an even rarer glimpse into the creative process of making his show. The Daft Punk incident and its long backstory comes up at about the 24-minute mark.
ALSO:
Stephen Colbert denies 'Get Lucky' dance party was a hoax
Matt Damon saves Stephen Colbert's life ... almost
Stephen Colbert and celebrity friends 'Get Lucky' to Daft Punk hit
---
The complete guide to home viewing
Get Screen Gab for everything about the TV shows and streaming movies everyone's talking about.
You may occasionally receive promotional content from the Los Angeles Times.