Sun Becomes Her label offers new women's styles fit for summer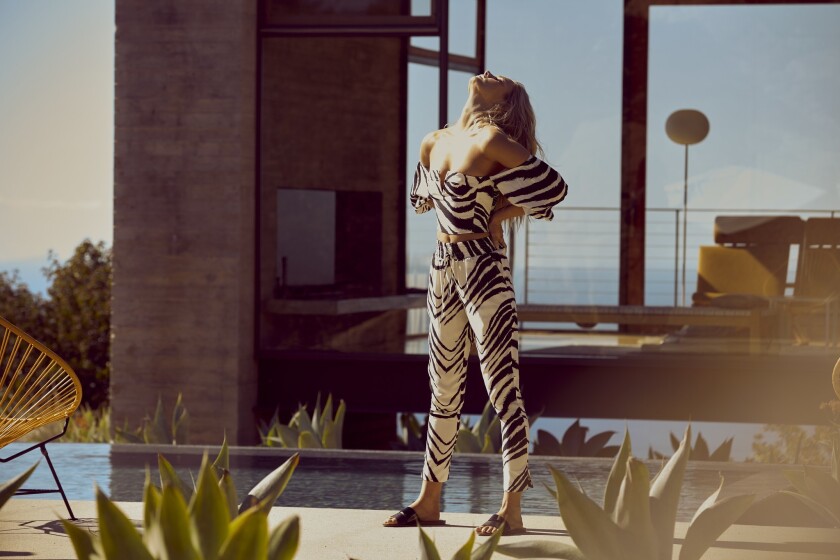 Two established members of L.A.'s fashion retail scene created a brand-new venture in April, a fashion line called Sun Becomes Her. Ling-Su Chinn, founder and creative director of Planet Blue in Santa Monica, connected with Githa Duncker when the latter was design director of the store. Their collection comprises summery, resort-inspired pieces, which range from $58 to $198.
One-piece swimsuits have cutouts at the sides or down the front. There are slip dresses with a slight bustier top as well as easy-wear pants and off-the-shoulder tops in zebra prints. Animal prints figure prominently in the collection as does a fitted silhouette and vivid colors. (Think an asymmetrical silk camisole in emerald green or rose pink.) Chinn said she and Duncker wanted to create a curated selection of summer staples that "reflect a very Californian feel."
Sun Becomes Her, SunBecomesHer.com
Naked Wardrobe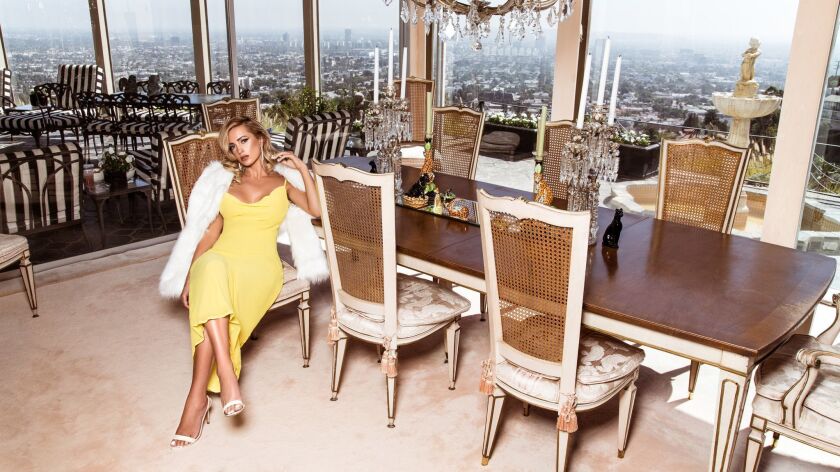 Seven years after launching as an online brand, Los Angeles fashion label Naked Wardrobe waded into the bricks-and-mortar space with its first pop-up shop. The 1,400-square-foot space was "a natural next step for us," said Naked Wardrobe president Shideh Kaviani, who co-founded the brand with sisters Shida and Shirin. "We're known for our quality and prices, and it was important for us that consumers could touch and try on the pieces."
The offerings are extensive, ranging from swimwear and denim to miniskirts, jumpsuits and dresses. (Prices for the entire line run from $20 to $100.) The brand's aesthetic is fitted and body-hugging — and one that has been embraced by members of the Kardashian and Jenner clan as well as by Jennifer Lopez and Lady Gaga.
"We have customers who are teens as well as 90-year-old grandmas," Kaviani said. "It's very diverse. We want to offer something for everyone regardless of their age and size." A new offering, called Snatched, is a line of bodysuits and extra stretchy separates made from compression fabrics that Kaviani said "accentuate the body and suck you in a bit more."
Naked Wardrobe pop-up, through Aug. 31, 8406 Melrose Ave., Los Angeles, nakedwardrobe.com
The Last Line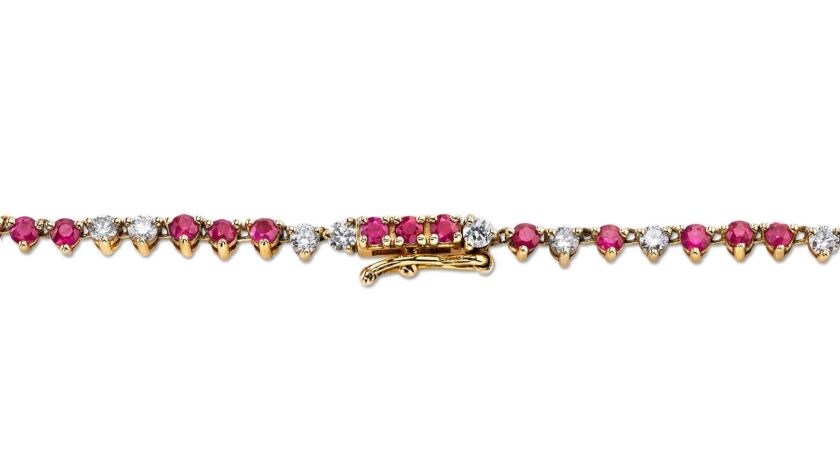 The tennis bracelet — so-called because tennis pro Chris Evert had to stop a game in 1987 after her diamond bracelet flew off her wrist — has been an enduring part of jewelry wardrobes. Typically the bracelet's signature look is a strand of identical diamonds laced together without any visible settings.
For summer, Los Angeles jewelry designer Shelley Sanders, who founded her brand the Last Line in 2017, has recreated the tennis bracelet, offering it in multiple gemstones and colors.
"We wanted them to look like stripes of rainbow colors," Sanders said. The new offerings come in semiprecious stones such as aquamarine, pink tourmaline, citrine, amethyst and peridot as well as precious gems such as rubies and sapphires.
"The perfect tennis bracelet can be layered, worn day in and day out and eventually passed down," said Sanders. "They aren't too flashy and are the kind of thing someone can buy for themselves." The new collection also extends to tennis necklaces, rings, earrings and anklets. Prices are around $285 for a partial tennis bracelet — the stones are combined with string — to $1,125 for a full bracelet in multicolored stones. The price for a diamond tennis necklace is upwards of $17,000.
The Last Line, thisisthelast.com
Innisfree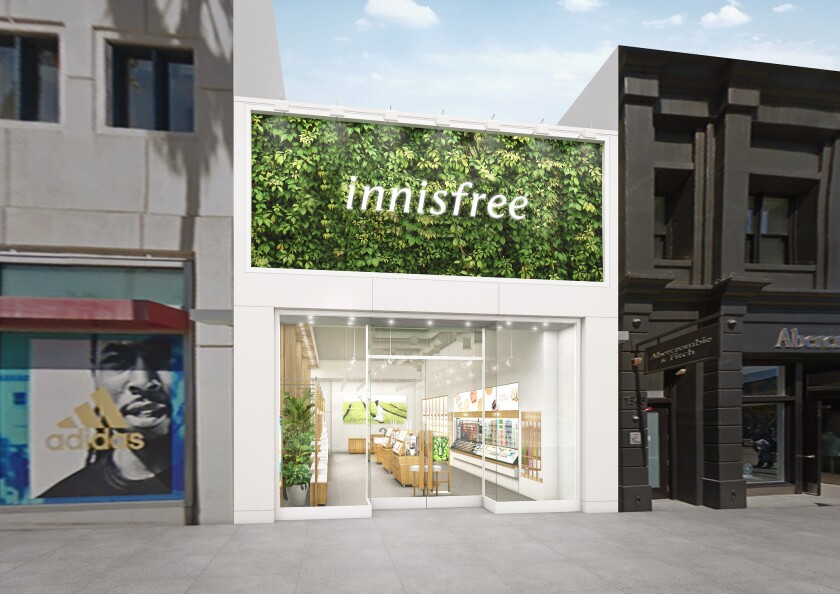 Korean skin-care and beauty brand Innisfree opened its first Los Angeles-area store May 17. It's a 1,600-square-foot outpost in Santa Monica stocking an extensive offering of products for skin and hair as well as color cosmetics. The brand has more than 900 products.
Julien Bouzitat, vice president of Innisfree U.S., said the L.A.-area opening is designed "to immerse people in a sensorial journey to Jeju, the volcanic island in South Korea where we sustainably source most of our skin care's natural ingredients." (The brand has a freestanding store in New York and another store is the works for San Francisco.)
The exterior features a 30-square-foot plant-covered green wall while parts of the interior are made with reclaimed wood. The store will offer a sheet mask bar and walls of customizable make-up palettes. Bouzitat said that in celebration of the store opening, the brand has repackaged its Intensive Hydrating Serum with Green Tea Seed with an illustration of Santa Monica.
Bouzitat attributes the brand's popularity in the U.S. to the organic green tea at the heart of its product line and its recycling and reforestation initiatives. Other hero products include its Pore Clearing Clay Mousse Mask with Super Volcanic Clusters; the My Real Squeeze Sheet Masks made from bamboo fibers; and the My Cushion compact foundation, available in 16 shades in the U.S. market. Prices run from $1.80 for a sheet mask to $70 for an anti-aging serum.
Innisfree, 1343 3rd Street Promenade, Santa Monica, us.innisfree.com
For fashion news, follow us at @latimesimage on Twitter.
---
The essential weekly guide to enjoying the outdoors in Southern California. Insider tips on the best of our beaches, trails, parks, deserts, forests and mountains.
You may occasionally receive promotional content from the Los Angeles Times.