Annual 'Hollywood Bag Ladies Luncheon' hosted by Paula Abdul raises $300,000 to battle lupus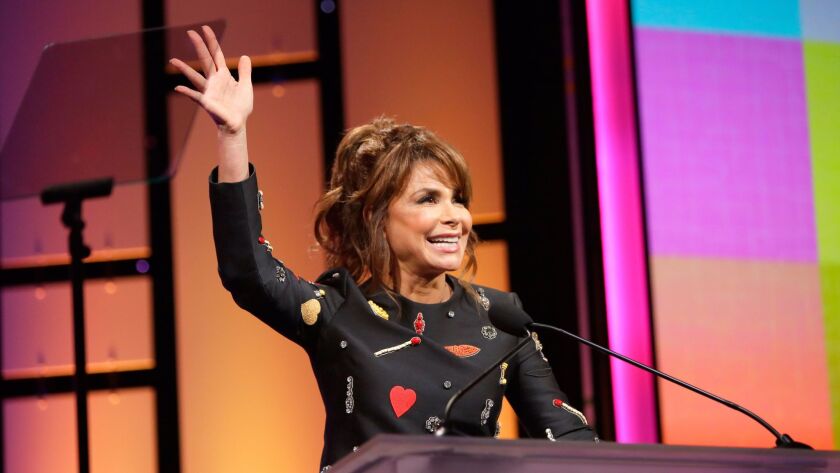 In describing his wife Emily V. Gordon's eight-day medically induced coma, Kumail Nanjiani of "The Big Sick" choked up onstage at the Beverly Hilton Hotel, barely able to speak through his tears.
"This is going to be the longest speech you're going to see today with the fewest words," he said, gathering his composure to tell the story depicted in the critically acclaimed film, which he and Gordon — played by Zoe Kazan — co-wrote about their real-life courtship.
"Her eyes were closed and I remember thinking, 'If she comes out of this, I think we're going to get married,'" the "Silicon Valley" actor continued. "It's true — it feels slightly nonconsensual, but I swear that was the thought I had when I saw her like that."
---
The event
The Nov. 17 "Lupus LA Hollywood Bag Ladies Luncheon," hosted by Paula Abdul, honored Gordon and Cara Dellaverson, NBC's senior vice president of drama development, as "Women of Achievement." Presented by Roberto Cavalli, the afternoon event raised funds to find the causes and eventually a cure for the autoimmune disease.
The scene
"What wonderful event," said Abdul during the reception, surrounded by tables topped with more than 200 Chanel, Fendi, Prada and other top brand-name bags. "Here we are raising money while we women shop for handbags and then watch a beautiful fashion show. I'm honored to be hosting today."
Before filing into the ballroom, guests placed their bids on the new and vintage items, including several with celebrity provenance, i.e., Kris Jenner's Gucci shoulder tote, Gwyneth Paltrow's Giorgio Armani shopper, Jennifer Aniston's A.V.G.V. messenger, Sharon Stone's traveler and a Selena Gomez style for Coach.
The crowd
On scene were actors and TV personalities Lisa Ann Walter, Kearran Giovanni, Kellie Martin, Storm Reid, Lisa Gastineau, Shanna Moakler, Terri Seymour, Kate Von and others. Serving as luncheon chairs were Carolyn Folks, Michelle Kaye, Joan Robbins and Janice Wallace.
The quotes
"How are you supposed to follow that?" Gordon said, stepping up to the podium after her husband's endearingly weepy introduction. Then revealing her diagnosis of Stills disease, which is related to lupus, she said, "If you would have told me even a year ago that I would have been up here talking openly about being a sick person, I would have laughed at you."
"Accepting lupus into your life can be very difficult, both for you and the people who love you," said Dellaverson. "When I was introduced to Lupus LA many years ago, I felt like I finally found a community of people who understood exactly what I was going through, and who made it their mission to be a source of comfort and support."
The numbers
The luncheon for 600 raised $300,000 from tickets beginning at $275, tables ranging up to $25,000, the live and silent auctions and additional donations. The handbag sale alone raised $60,000.
Please consider subscribing today to support stories like this one. Already a subscriber? Your support makes our work possible. Thank you. Get full access to our signature journalism for just 99 cents for the first four weeks.
---