7 great chili cheese fries you need to get messy with now
The chili cheese tots from Dog Haus in Pasadena.
(Jenn Harris / Los Angeles Times)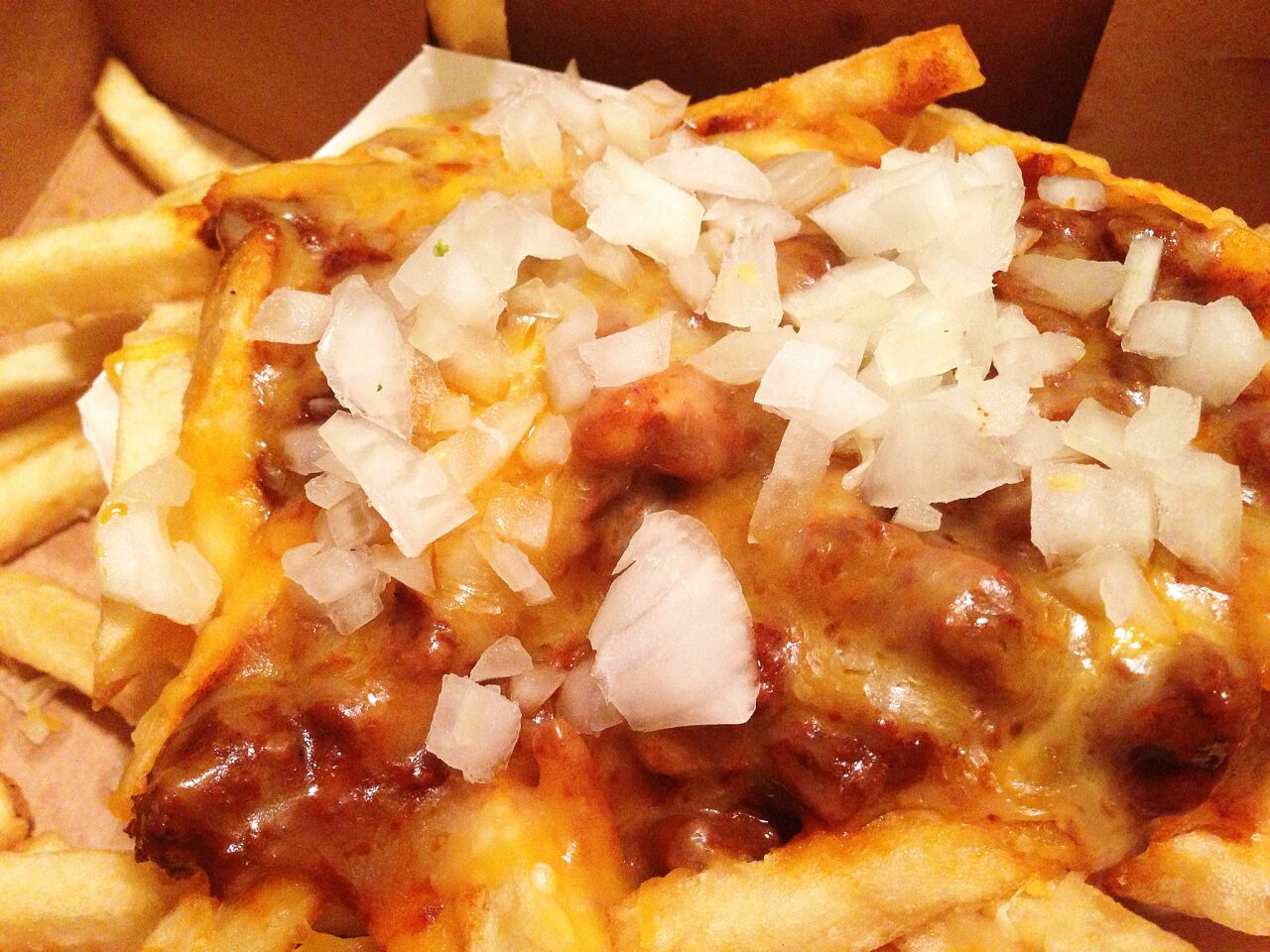 Chili cheese fries from Rounds Premium Burgers.
(Jenn Harris / Los Angeles Times)
The "bomb" fries from the Greasy Wiener truck.
(Jenn Harris / Los Angeles Times)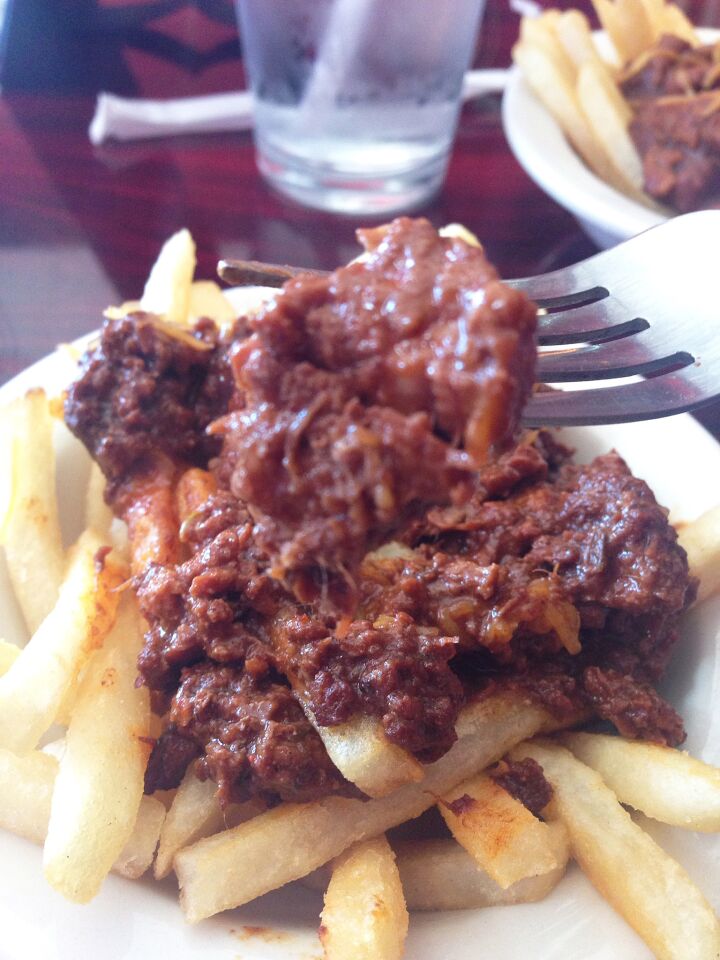 The chili cheese fries from Addiction Bistro.
(Jenn Harris / Los Angeles Times)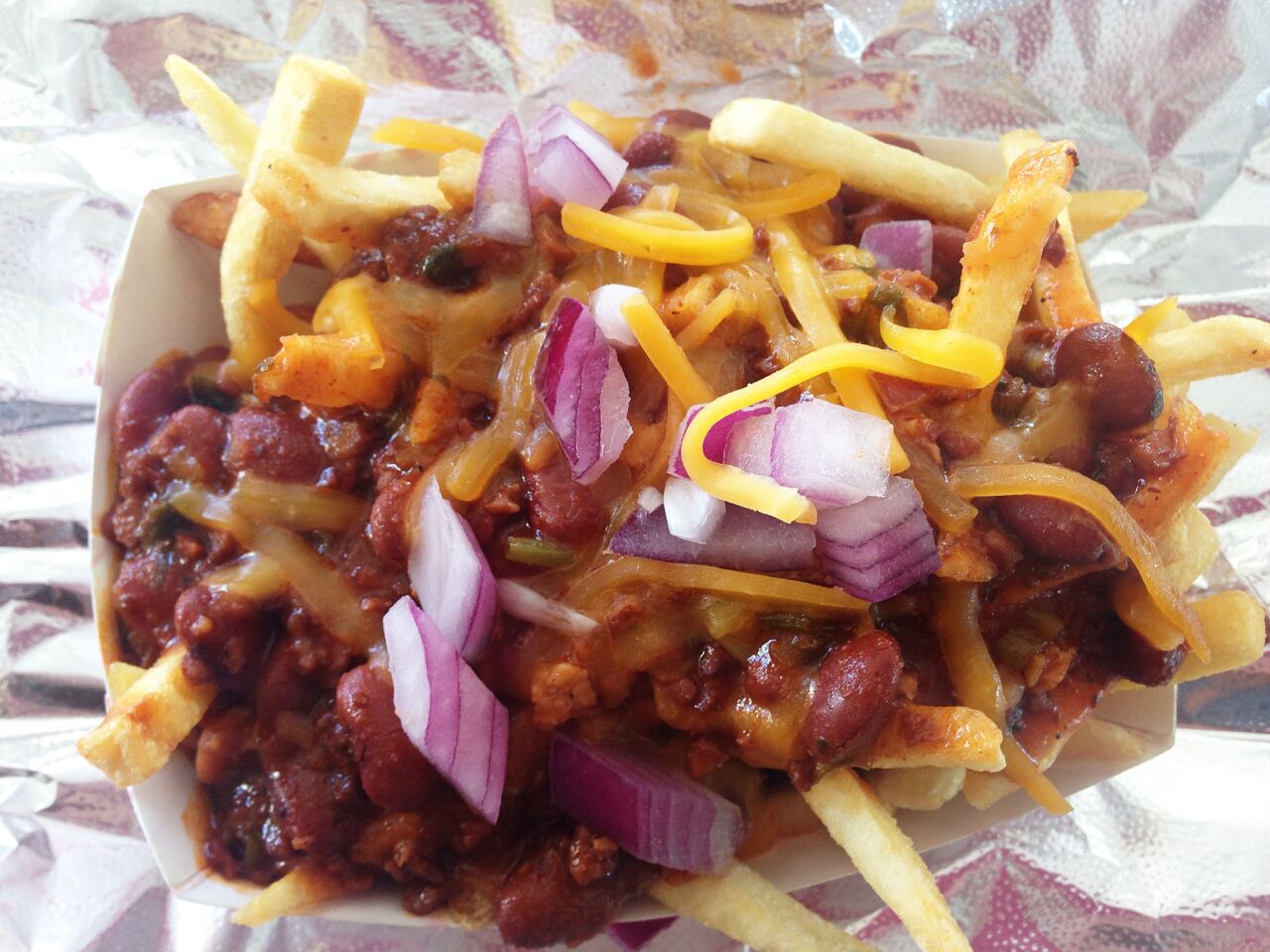 The vegetarian chili cheese fries from Earlez Grille.
(Jenn Harris / Los Angeles Times)
The chili cheese fries from Cypress Best Burger.
(Jenn Harris / Los Angeles Times)
Chili cheese fries fall into three necessary food groups. Cheesy, meaty, crunchy. And there's no better food to eat at two in the morning after a night out drinking with your best friends, and a couple of strangers thrown in for good measure.
L.A. is home to countless burger joints with any number of chili cheese fries. It's common knowledge that Carney's, Pink's and The Hat do their chili cheese fries right, but there are a couple of other places around town whose fries rise above all the rest. Here's a list of seven places for chili cheese fries, besides the known favorites, in no particular order, if you want to get really messy. Extra napkins please!
Dog Haus
Most days, there's a line out the door at all three locations of this hot dog and hamburger joint in Pasadena and Alhambra. They specialize in sausage on a King's Hawaiian roll and root beer battered corn dogs, but they're also serious about their chili cheese tots. That's right, they're serving their meaty chili and cheese on top of tater tots. For $3.49 you get a small container full of tots smothered in a mixture of cheese sauce and melted cheddar cheese, chili and squares of diced hot white onion. Those tots ensure a crisp bite in each forkful and that gooey cheese mixture will make even the most conservative of eaters let out a little moan.
93 E. Green St., Pasadena, CA, (626) 683-0808, https://doghausdogs.com/.
Cypress Best Burger
This place is a popular after-school hangout for the school kids just across the street. Around 4 p.m. they crowd into the dark leather booths. They sip extra large cokes, munch on burgers and go to town on the chili cheese fries. You know what the chili cheese fries ($3.69) here taste like before you even take that first bite. They are the classic chili cheese fries you dream about and bring to mind time spent in old-school diners on road trips. The fries are just thick enough, and the chili, made daily, is layered with freshly grated Monterey jack and cheddar cheese between the fries, so you get a little bit of everything in each bite. When the styrofoam container first arrives the cheese isn't quite melted. Leave the lid closed for two minutes and then you're melty and good to go.
3249 N. Figueroa St., Los Angeles, (323) 223-1505.
PHOTOS: Great chili cheese fries in L.A.
Earlez Grille
The restaurant is in the process of moving down the street from its existing location on Crenshaw Boulevard, and is currently operating out of a tent in the parking lot. A small kitchen area is set up and the orders come out piping hot in mere minutes. They make three types of chili fries with a turkey chili, a ground beef variety, and vegetarian option. The real star is the vegetarian chili cheese fries ($4). The chili is made with plump kidney beans, and bits of mild peppers and onions. It's got just a hint of sweetness, and a little kick of spice, without the heat. The fries are topped with curls of cheddar cheese and small blocks of red onion.
3630 Crenshaw Boulevard, Los Angeles, CA 90016, https://earlezgrille.com/.
Addiction Bistro
The first thing the host/server will tell you when you walk in the door is that they make everything from scratch. That includes a rotating list of four different chilies each week. The classic is a beef chili ($6.95) made with chunks of tender beef in a tomato-based sauce. The pieces are big enough to shred with your fork, like the kind of chili you'd find at a cowboy cookout. The fries underneath are crisp and there's a mass of grated cheddar on top. The other varieties change each week but there's always a vegetarian option, made with beans.
408 N. La Cienega Blvd., West Hollywood, (323) 203-1793, https://www.theaddictionbistro.com.
Lucky Boy
The chili cheese fries ($4.25) at Lucky Boy should actually be called cheese fries with chili, if we want to get technical. The fries at this popular late-night Pasadena hangout known for its killer breakfast burritos come smothered in cheese for an ideal post-bar, I-need-something-to-soak-up-all-that-booze treat. And when we say smothered, we mean utterly, totally, completely smothered. The rich chili and fries snuggle with each other underneath, and the cheese blanket makes for an an extra gooey snack. If you want to get really crazy, add some of their famous pastrami on top.
640 S. Arroyo Parkway, Pasadena, (626) 793-0121 https://www.luckyboyburgers.com
PHOTOS: Great chili cheese fries in L.A.

The Greasy Wiener truck
Yes, that's the real name of the truck. And yes they have a bunch of greasy wieners on it -- all made from scratch. But one of the best things on the truck is the "bomb fries" ($6). Otherwise known as the chili cheese fries with bacon. An order is something to be marveled and it weighs at least a couple of pounds. A large heap of fries are covered in chili and a cheese sauce. The pale yellow sauce has that same addictive effect a bowl of queso has at a party. You'll swear you've had that familiar, artificial flavor somewhere, but the sauce is an original Greasy Wiener, made-from-scratch creation, made with Jack, Cheddar and American cheese. The entire thing is covered in crumbled crispy bacon for a salty bite. You'll definitely need a fork for these, and a long nap after.
For location information, visit the https://thegreasywiener.com/
Rounds Premium Burgers
This burger chain lets you build your own ultimate burger. The chili cheese fries are more of an afterthought, listed under the sides on a corner of the menu, and almost get lost in the sea of listed topping choices, buns and sauces. But when you spot the cheesy sleeper cell, you order it. A small order ($2.95) weighs at least a pound and the fries spill out of their white container into a brown takeout box. They have that distinct, fresh off the potato farm taste you get from In N Out fries, and some of the squared tips are a dark, almost burnt brown color. A large scoop of chili with chunks of ground beef is layered on top with melted cheese, and pieces of white onion. It's messy, homemade, and will more than substitute for that comforting best friend you always wanted, but never had.
14006 Riverside Dr., Food Court Sherman Oaks, (818)789-3454 https://www.roundsburgers.com.
If we've missed your favorite, let us know in the comments below.
ALSO:
Ramen Burger headed to Los Angeles area on Saturday
Football's back: 21 great make-ahead game day recipes
Why Canadians are better snackers: Grilled Cheese and Maple Moose chips

---
Get our weekly Tasting Notes newsletter for reviews, news and more.
You may occasionally receive promotional content from the Los Angeles Times.