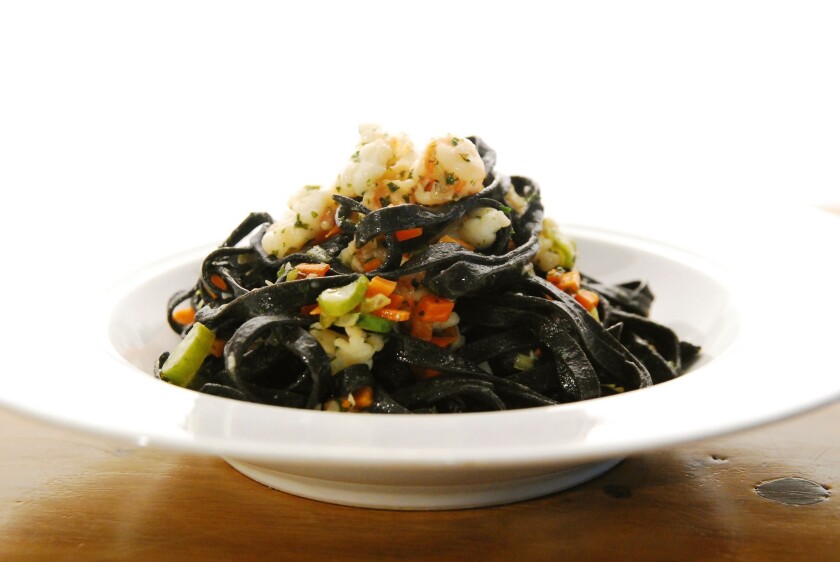 You have to give Hostaria del Piccolo credit for innovation. On Nov. 28, in honor of Black Friday (you know, the shopping tradition in which you camp out in the wee hours of the morning in front of a big-box store), the West Hollywood trattoria is offering a special Black Friday menu.
And every item on that menu will be nero, or black.
First course? Tuscan black kale salad with black figs, blackberries and aged ricotta. Next up is black tagliolini with black tiger shrimp ragu followed by black cod with balsamic and lentils. There is no dessert.
A la carte prices for the three dishes add up to $48, but here's the deal: Hostaria del Piccolo is offering a two-for-one menu at $30 per person.
And if you're hankering to try the "Venerdinero" (that's Black Friday in Italian) cocktail made with black vodka, cranberry juice, lemonade and black truffle perlage, you can buy two for $10.
The Black Friday menu has become something of a tradition at Hostaria del Piccolo. In 2012, the menu was zuppa nera (black Tuscan kale soup), pasta nera (squid ink tagiolini with shrimp and farmer's market vegetables), and pesce nero (squid ink-braised cuttlefish with soft polenta).
And, look at that, they had a dessert called carbone nero dolce, described as black meringue sugar. Guess it wasn't compelling enough to bring back for 2014's Black Friday.
Hostaria del Piccolo is at 512 Rose Ave. in Venice (310) 392-8822 and 606 Broadway in Santa Monica (310) 393-6633, www.hostariadelpiccolo.com. Black menu dishes, $11 to $24; three-course menu for two, $30 per person.
Follow @sirenevirbila for more on food and wine
---