New $2.5-million grant will help poor buy fresh, locally grown produce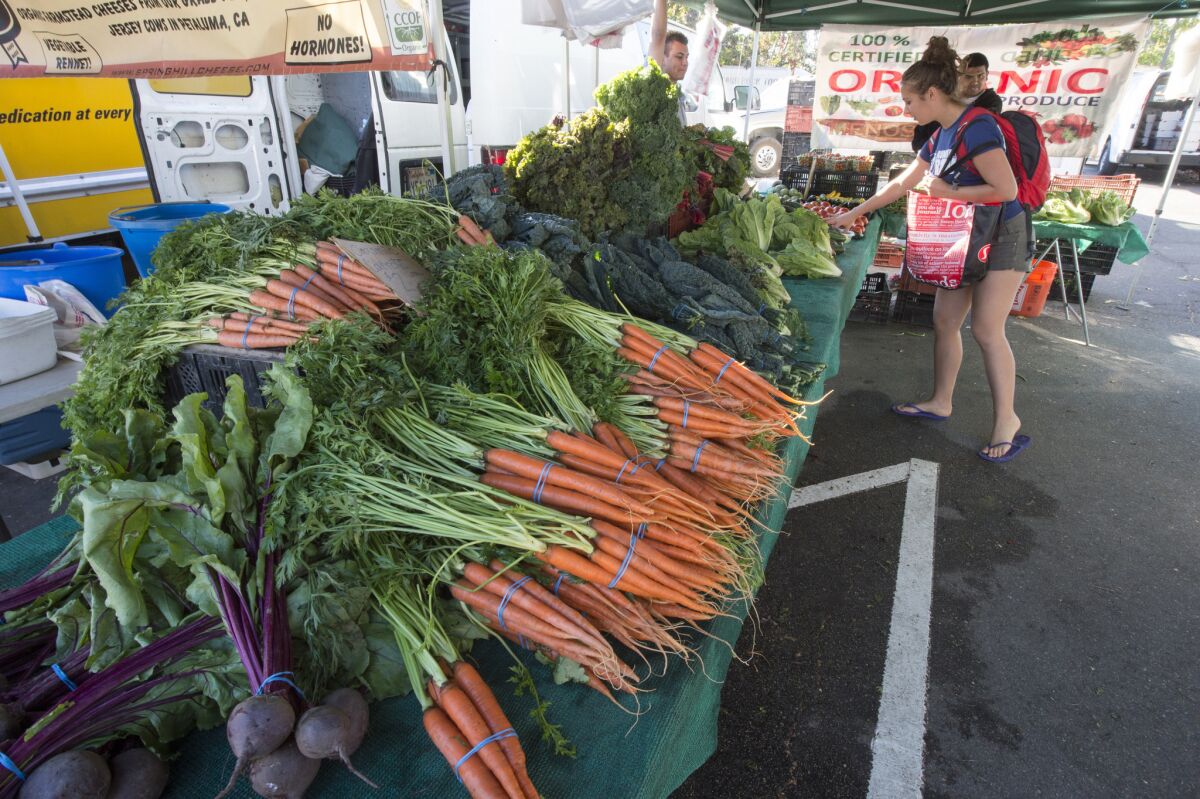 Market Match, an innovative program that aims to increase the amount of fresh produce available to low-income families by providing them matching funds to shop at farmers markets, has received a $2.5-million grant from First 5 L.A. that may as much as triple its reach over the next five years.
The program provides a dollar-for-dollar match for all EBT and WIC recipients, up to $10 per week. The program has grown rapidly over the last four years, but this grant will allow it to expand its reach and standardize what previously had sometimes been a hodgepodge of rules and benefits.
"This very important public health partnership will benefit thousands of Angelenos who will now be able to provide their families with the nutrition that is essential for a healthy quality of life," said Los Angeles Mayor Eric Garcetti in a statement.
James Haydu, executive director of Sustainable Economic Enterprises-Los Angeles (SEE-LA), which manages some of the farmers markets where Market Match will be available, said "this First 5 grant will change the lives of thousands of Angelenos because it will double their buying power.
"It will not only expand the countywide program, but through the next five years it will make it far easier to be able to quickly explain how the system works to ensure that as many people as possible can take advantage of it."
SEE-LA started the program in 2010 with only two markets and $3,000 in funding. This year it will be available in four markets with nearly $40,000 in benefits. Next year the projected First 5 funding will be $80,000.
In all, Market Match is now available at 14 markets in Los Angeles County, with more coming on through the summer. By the end of the grant's life in 2019, the goal is to have 37 markets in L.A. County on board.
It is managed on a statewide basis by Berkeley's Ecology Center. Until now, each of the 18 organizations in California that participated in Market Match offered different benefits depending on their individual funding. At some places there was a dollar-for-dollar match, others would allow $2 for every $5. Sometimes the money was available every week, sometimes only once or twice a month.
Now, Ecology Center executive director Martin Bourque says they can begin to standardize the benefits and the requirements, making it easier for participants to take advantage.
"Each of the programs has grown in their individual context and our goal is to bring them under one unified brand so that we can promote them consistently across the state," Bourque said. "It will give us a lot more geographic reach so we can target some of those communities that need the markets the most."
And that's not just the communities of shoppers he's talking about.
"It's important to remember that in addition to serving low-income shoppers, every dollar they spend is going to one of California's small family farmers," Bourque said. "So every dollar is doing double-duty -- not only helping poor people in Los Angeles, but reaching out and helping some of California's most economically devastated rural communities as well."
In a survey conducted by Market Match in 2013, 80% of farmers at participating markets reported that they sold more fruits and vegetables, and 66% said that they had made more money, as a result of the program.
The grant comes at an especially opportune time, with the passage of the 2014 Farm Bill. On the one hand, it cut funding for the Supplemental Nutrition Assistance Program (SNAP) by $8 billion. On the other, it appropriated money that will become available in the next year for programs like Market Match.
California organizations are particularly interested in California Assembly Bill 2385, sponsored by San Francisco Assemblyman Phil Ting. Originally written to increase the amount of fresh produce served in school cafeterias, it now would establish a Market Match Nutrition Incentive Program in the state Department of Food and Agriculture. It has been approved by the State Agriculture Committee and is now before the Appropriations Committee.
First 5 became involved in the Market Match program because of its charter to help ensure that all children are ready when it's time for them to start school. Having them well-fed is part of that, says Jessica Monge Coria, First 5 LA's community investments program officer. The original source of funds is the 50-cent tax on every pack of cigarettes sold in the state allowed by Proposition 10.
"What we are able to do with this grant is enhance the program for families inside Los Angeles County with young children, ensuring that every time they come to a farmers market they're able to purchase the fresh fruits and vegetables they need."
Get our L.A. Goes Out newsletter, with the week's best events, to help you explore and experience our city.
You may occasionally receive promotional content from the Los Angeles Times.