The Paisa Bowl is a protein-packed serving of pork belly, steak, sausage, beans, white rice, plantains, avocado and an arepa topped with a fried egg, from the Cali Fresh food truck.
(Mark Boster / Los Angeles Times )
The Cali Dog, a bacon-wrapped hot dog with cheese, coleslaw and pineapple, from Cali Fresh.
(Mark Boster / Los Angeles Times )
Beef empanadas made are with corn masa, stuffed with beef and served with a tangy aji suace.
(Mark Boster / Los Angeles Times)
The Patacon, a fried plantain tostada topped with beans, farmer's cheese, fresh guacamole and angus beef, at Cali Fresh.
(Mark Boster / Los Angeles Times )
Cereal milk flan from Cali Fresh.
(Mark Boster / Los Angeles Times)
Angela Channell and Johnny Cornejo at their Cali Fresh food truck.
(Mark Boster / Los Angeles Times )
Johnny Cornejo holds a chocolate-filled oblea, one of his dessert menu items serving Colombian street food from his Cali Fresh food truck.
(Mark Boster / Los Angeles Times)
Johnny Cornejo hands a bag of Colombian street food to a customer from the Cali Fresh food truck.
(Mark Boster / Los Angeles Times)
When the Cali Fresh food truck pulls into Pershing Square in downtown Los Angeles, the smell of Colombian street food fills the air.
(Mark Boster / Los Angeles Times)
A well-made arepa may be more comforting than a plate of warm cookies or your mother's meatloaf. Really, these compact disc-sized corn pockets should replace ice cream as the official breakup food. Someone cue the #arepasorbust campaign on Twitter.
Arepas, which are made with masa or corn meal (or sometimes a mixture of both), can be baked, fried or grilled, are typically stuffed with meat, beans and or cheese, and often resemble overstuffed pita pockets.
Chances are, if you've tried an arepa at a Colombian or Venezuelan restaurant, it is nothing like the ones you'll find on Cali Fresh, a Colombian street food truck that started making the rounds in Los Angeles in February.
"We wanted to make a high-quality product that was not a mix that we simply add water to," said Angela Channell, who was born in Cali, Colombia, and runs the truck with her fiancé, Johnny Cornejo. "We take actual corn kernels, cook them for a period of time and grind the corn into a fresh masa."
Channell says this style of arepa is called arepa Valluna.
She makes them from scratch every day — a technique she learned from her uncle, who works in the jewelry business in L.A. She adds a touch of sugar and salt to the masa, then cooks them on the griddle. The result is a luscious corn cake that resembles a really good cookie — crisp around the edges, with a soft middle that tastes like rich holiday creamed corn.
This recipe, like the recipes behind all of the dishes on the truck, was inspired by someone in her family, who immigrated to the United States in the late '80s. Channell, 25, says she always wanted to open a restaurant but decided she'd take a chance on a food truck first. (She's also a full-time graduate student at Claremont Graduate School studying for an MBA, and helps manage her family's medical practice in Rancho Cucamonga.)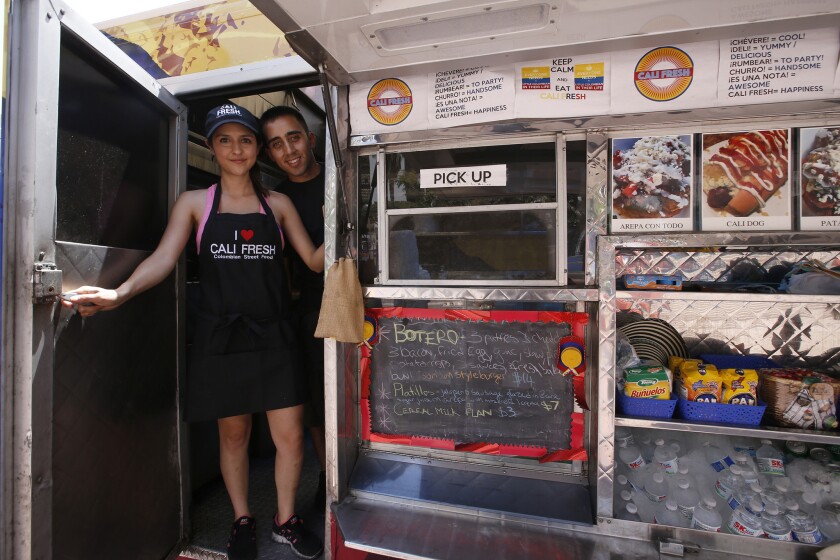 Of the truck's name, Channell said: "Most people think it is Cali for California, but it is actually Cali for Cali, Colombia, in dedication to my family who worked so hard to build a life here in the States."
Parked in the middle of Pershing Square on a recent Friday afternoon, the Cali Fresh truck stood out among the other food vendors, wrapped in the bright colors of the Colombian flag. Above where most trucks sell their beverages, Channell had a selection of Colombian snacks and candies that she'd brought back from a recent trip to Colombia, as well as hats and shawls in the familiar yellow, blue and red.
"We want people to put on the hats and take pictures," said Channell.
The menu reads like a greatest hits list of Colombian street food — with arepas, patacones (plantain tostadas), empanadas and even a version of a Bandeja paisa (a platter of plantains, rice, meat and a fried egg).
Channell's arepas are served as flat rounds, topped with beef or chicken, beans made the way her grandmother makes them, fresh crema, cotija cheese and pico de gallo. The empanadas are filled with ground beef and potatoes braised with beer from local craft breweries, wrapped in fresh masa (to which she adds saffron, paprika and cumin), served with a tangy green sauce she calls her "Colombian aji."
Because we are still in the Age of Things in Bowls, Channell's version of the Bandeja paisa is a bowl, filled with layers of white rice, beans, meat, cheese and guacamole. A couple of pieces of fried pork belly, plantain chips and a mini arepa surround the bowl. The entire thing — which weighs about 2 pounds — is topped with a runny fried egg.
But the most identifiable Colombian street food-ish item on the truck is probably the Cali Dog.
"It's actually a Colombian street dog, which I first learned about from my uncle, who is a chef," said Channell. "He used to have a street cart in Colombia."
Wrapped in bacon like the hot dogs Angelenos affectionately refer to as "club dogs," Channell's hot dog comes topped with creamy slaw, sweet pineapple sauce, mozzarella, crushed potato chips, ketchup, mustard and crema (yes, all that on one hot dog). Sweet, salty and incredibly messy, this could be the schmutziest dog in Los Angeles.
For dessert, there's a cereal milk flan topped with whipped cream and corn flakes, inspired by Channell's love of Momofuku Milk Bar's cereal milk ice cream.
Cali Fresh posts its schedule on its website but can often be found at Hamilton Family Brewery in Rancho Cucamonga. Channell also said she and Cornejo plan on opening a brick-and-mortar version of the truck next year.
ALSO:
Gas station eats worth filling up on
Jonathan Gold's Taco Tuesday: Norteño tacos at Loqui
Jonathan Gold's 6 favorite Asian fried chicken joints in the L.A. area
---