Blue cheese beignets and 5 other recipes to satisfy your cheese addiction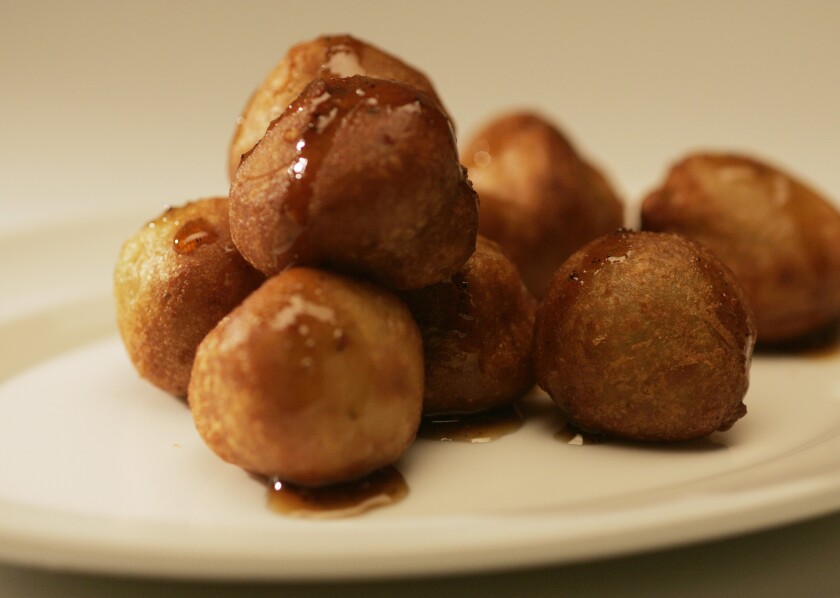 Have you heard the one about cheese being as addictive as drugs? Whatever you may feel about the science behind the study, it does accomplish one thing. Well, for some of us at least. It legitimizes those cravings.
Are you a cheese addict? Here are six delicious ways to get your cheese fix. Just click on the photos to go to the recipes.
Petto di pollo con Gorgonzola
Tender chicken breasts topped with a creamy spinach Gorgonzola sauce along with grated Mozzarella and Parmesan cheese (that's three kinds of cheese, folks!).
The Wallace's grilled cauliflower
This grilled cauliflower is one of the best vegetable preparations we've tried in a long while -- actually, it made it on our list of top 10 recipes just last year. And what's not to love? Cauliflower is brushed with a garlic rosemary oil before grilling, then tossed with Parmesan cream and almond crumbles, along with fried rosemary sprigs and capers.
Restaurant 1833's bacon cheddar biscuits with maple chile butter
Don't bacon and cheddar make everything better? Restaurant 1833 was happy to share its recipe for these hearty biscuits, perfect served warm with a dab of maple chile butter.
The Dutch Frontier's lemon cheesecake
Not overly sweet and with just the right amount of tang, the lemon cheesecake at the Dutch Frontier in Ducor, Calif., north of Bakersfield, packs fresh lemon flavor in a rich and creamy, crumble-crusted dessert. Plan to save room for seconds with this one.
Jeremy's on the Hill's artichoke and potato au gratin
The creamy artichoke-potato au gratin is made all the creamier with a blend of Parmesan and Gruyere cheeses. Bake until the top is nicely colored with all those flavorful browned bits, and the filling is perfectly gooey.
Blue cheese beignets
An elegant mound of tiny Cabrales blue cheese beignets drizzled with a peppery honey gastrique -- Blue Velvet's savory take on the traditional French doughnut incorporates delicate puffs of fried choux paste, a dramatic departure from the fried yeasted squares served under a sprinkling of powdered sugar that are so popular in New Orleans.
Love cooking as much as I do? Follow me on Twitter: @noellecarter.
ALSO
6 ideas for the ultimate breakfast
From one rotisserie chicken, 25 ideas for dinner
---
Get our weekly Tasting Notes newsletter for reviews, news and more.
You may occasionally receive promotional content from the Los Angeles Times.