Want your dumplings and bao in different colors? Head to Rowland Heights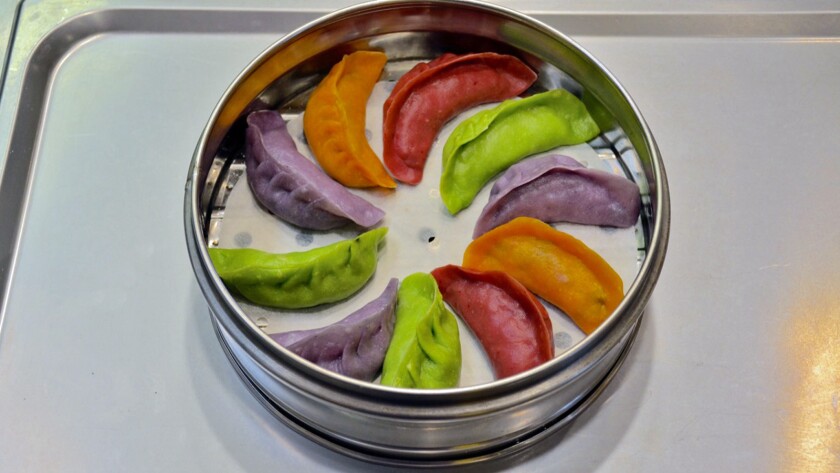 Name: Taste of China
Chefs/Owners: Grace Yu and Amy Pei arrived separately from China a little more than a year ago — Yu from Tsingtao and Pei from Dalian. Yu boasts some experience running a restaurant from a few years back, while Pei's expertise is making big batches of dumplings of all varieties.
Both women have a hidden agenda of fortifying their noodles and dumplings with vegetables by mixing them into the dough via juicing. They started their dumpling business at home. The two would take orders with their smartphones, then meet customers at predetermined locations for dumpling drops. When demand grew, they opened a stall at a Rowland Heights food court.
Concept: Everything prepared at this modest food-court stand, including the chewy handmade noodles, steamed and boiled dumplings and pillowy mantou, can be ordered in traditional and colorized versions.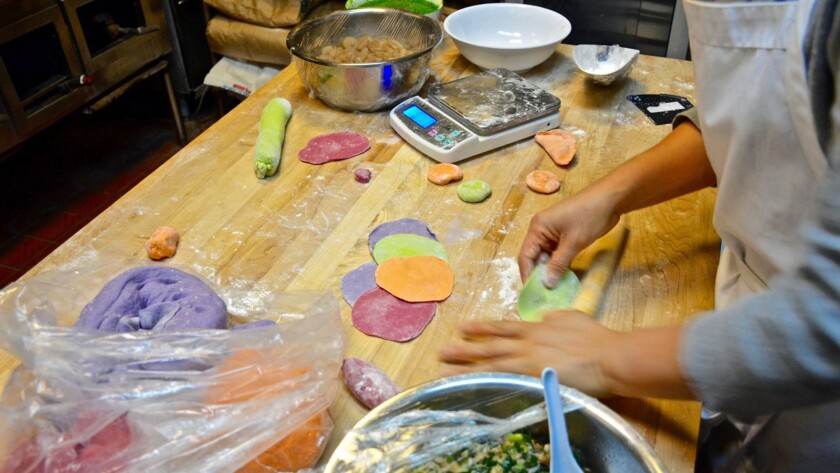 Freshly juiced carrots, beets, spinach, and purple cabbage make up the pigments that go into the orange, red, green, and purple dumpling skins as well as noodles. Yu and Pei scouted dumplings in the Rowland Heights and San Gabriel Valley areas in their search to fill a void in the market. Then Yu recalled that a friend in Tsingtao made color dumplings and saw an opportunity to bring them to U.S. (Taste of China was not the first U.S. color dumpling producer. The now-closed Fortune Dumpling in Monterey Park was known for its colorful dumplings).
There are a handful of restaurants in East Asia that make color dumplings: notably, the Din Tai Fung chain in Jakarta where xiao long bao come in an array of colors, each with a different filling. However, according to Yu, most colorized dumplings in China originate from home kitchens.
What dish represents the restaurant, and why? The colored steamed dumplings filled with chives, ground pork and shrimp. The large size, happy hues and generously portioned filling make it one of the most popular dishes at the stand. Bags of housemade frozen dumplings and wontons are also available for cooking at home.
Runner-up: Depends on who you are. If you love the colorized items, then the noodles, stuffed baozi, and wontons are a must. But if you favor more traditional Chinese comfort food, try the meat pies or beef noodle soup. There's also plenty for vegetarians to order, including many of the dumplings and baozi are vegetarian-friendly, not to mention the spring onion pancake.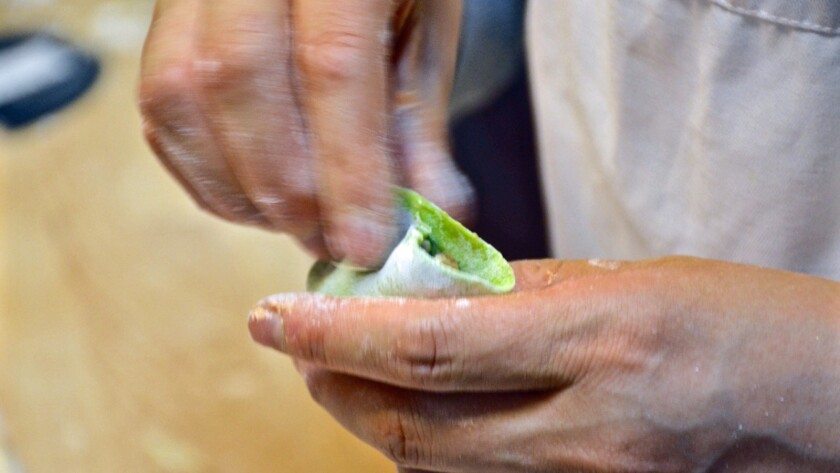 Who's at the next table? Locals, little old Chinese ladies lugging impossible amounts of groceries and various shopkeepers on lunch break. The person sharing the communal table with you may be eating something from Duck Queen or O' Heavy Noodles in the same food court.
Uh oh...: Pinpointing the stand is kinda tough. Online, when you search for Taste of China, you will be misled to different unaffiliated Taste of China restaurants that are either out of business or somewhere else.
In addition, the Taste of China you want is also not easy to track down at its physical location. The restaurant is part of a food court, which itself is located within the Pacific Plaza mini-mall. The dumpling stand has no Internet or social-media presence (not on Yelp yet), making Taste of China a bit of a unicorn.
What are you drinking? Fresh fruit juices such as watermelon, mango and strawberry.
18457 E. Colima Rd., Ste. G, Rowland Heights, (626) 759-7107.
ALSO:
Love hummus? Try this black bean hummus dip recipe
What we're into: Korean dumplings at Chungsil Hongsil
How to get a box of really cool Japanese snacks and toys delivered every month
---
Get our weekly Tasting Notes newsletter for reviews, news and more.
You may occasionally receive promotional content from the Los Angeles Times.