Curtis Stone dishes on Gwen, his new butcher's shop and restaurant opening soon in Hollywood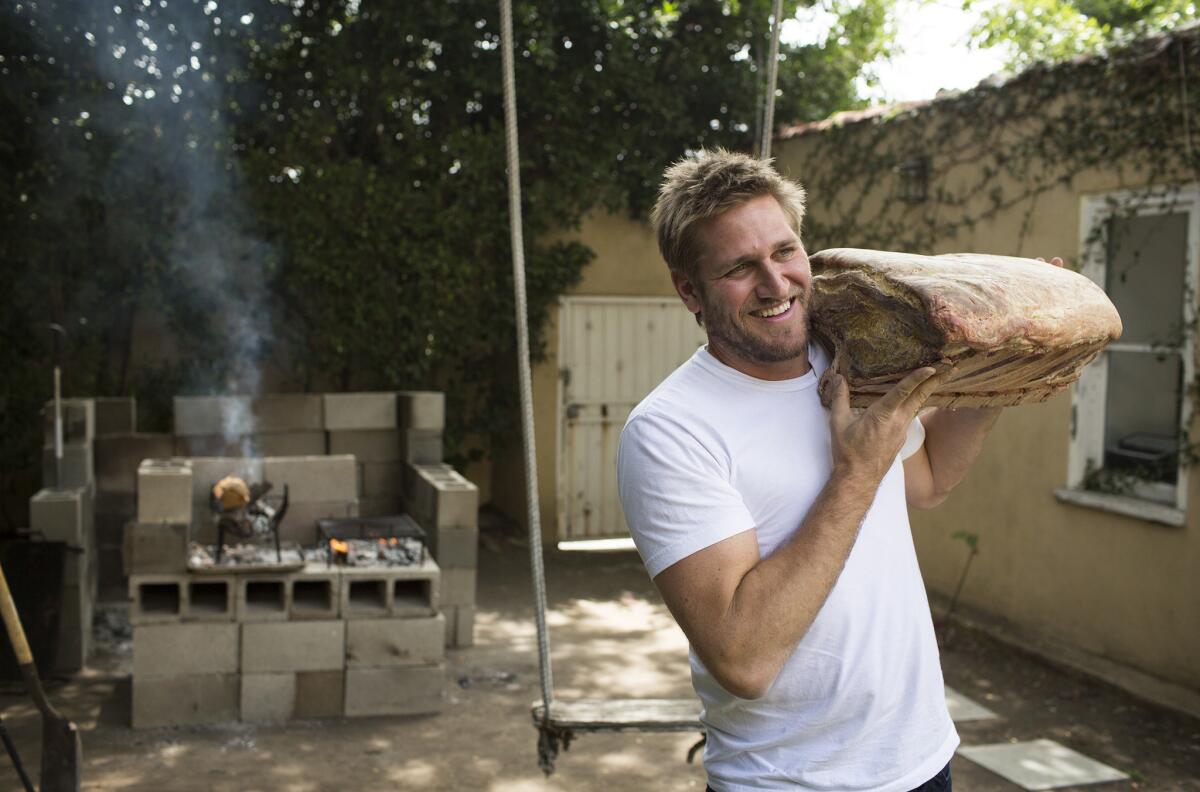 If you've spent a lot of time at Curtis Stone's Beverly Hills restaurant Maude, which each month structures its menu around a particular ingredient, usually a perfectly sourced vegetable or fruit, you might be surprised at the focus of his new project, Gwen. Because although Gwen, which the Australian chef is opening with his brother Luke, is also a restaurant structured around perfectly coursed prix-fixe menus, it is first and foremost a butcher shop.
"Luke and my first jobs were in butcher shops," Curtis Stone said recently as he walked around the still-under-construction location on Sunset Boulevard, in the heart of Hollywood. Gwen's butcher shop likely will open on June 29; the restaurant will open a few weeks later. The complex takes over the 1928 building that previously was the Mercantile restaurant, 7,000 square feet that encompasses the butcher shop, an open kitchen and dining room downstairs, a mezzanine wine room and a state-of-the-art test kitchen on the second floor.
"Coming to L.A., we always thought, 'Where do you get great meat?' " Stone said. "We always had a real love of the industry and the product. We're both keen carnivores."
Walk into Gwen — which, like Maude, is named for one of the Stones' grandmothers ("two grannies, two restaurants") — and you're at the butcher's counter, behind which is a massive dry-aging room, a charcuterie room, a slicer and a butcher's block. "You're walking right into a meat market," Stone said. "It's a custom-and-cut butcher shop; we have the whole animals, the dry-aging." Go past the counter and you can see into the vast open kitchen, which includes a custom-built fire pit, and from there, into the dining room.
Take the staircase up, and you'll find a mezzanine like a secret chamber. This is the wine room, which has about 2,000 bottles of wine, a bar and 24 of the restaurant's 86 seats. Ascend to the second floor, and you'll find the new test kitchen, a huge space dominated by six Jenn-Air stoves. This will function as the R&D kitchen for both Gwen and Maude, which is moving its current test kitchen from a house in Beverly Hills into the custom-built Hollywood space.
"I'm an Aussie; we have butcher shops on every corner," said Stone, explaining why it made sense to both him and his brother to structure their new restaurant around a very fancy meat counter. Luke, whose background is in Melbourne's flower industry, will take over the business end of Gwen as manager-owner, while Curtis will be the chef-owner and Gareth Evans the executive chef. (Chef Justin Hilbert has taken over the cooking at Maude.) And Gwen will have not one but two head butchers: Alex Jermasek, who previously worked at Lindy & Grundy, Ink, Chi Spacca and Belcampo, and Daniel Roderfield, who came from Eataly and Dean & DeLuca in New York. (Chad Colby, the former Chi Spacca chef and cured meat specialist who was a partner in Gwen, left the project a few months ago.)
"It's funny how cooking goes," Stone said. "Five years ago, everything was about gels and foam and technology. Now, we're seeing how primitive we can make it."
Gwen is thus a mash-up of a very different kind, not of cuisines or cultures, but of genres: an expensive prix-fixe restaurant (Gwen's Tock reservation system is now open, requiring $190 deposits, which cover two dinners), albeit one with a fire pit, paired with an artisanal butcher's shop.
Thus there is the happy option, next month, for a long evening dedicated to a fire-heated tasting menu orchestrated by Stone and many of Gwen's 50-person staff. Or you can just use Gwen as your neighborhood butcher's shop and come in, with or without staying for dinner, to pick up a simple roast beef sandwich and a cup of St. Ali coffee. Or pick up some of Gwen's pâtés, terrines, rillettes and charcuterie; some of the rabbits, Jidori chickens, guinea hens and poussins from Old World Rabbitry; grass-fed lamb from Stemple Creek; Hudson Valley ducks; beef from Five Dot and Creekstone; and Wagyu beef from Blackmore in Australia, for whom Gwen will be the only American distributor.
This is only the beginning, of course, as a project devoted to cured meats takes time, by definition. The crew at Gwen started testing 2 1/2 years ago, but it will be awhile before they can accumulate the charcuterie that they'll literally be making in-house: "You can do duck pastrami in six days. The salamis will come later; prosciutto will take a year."
"Primitive elegance is our battle cry," Stone said. The chef was in the backyard of the house in Beverly Hills that has been Maude's test kitchen and where he, Jermasek and Roderfield, plus a crew of chefs from both Maude and Gwen, have been working on curing and aging, cooking and grilling the meats and other products that will go onto the new menu. Stone stood above a wood fire that he'd built on a network of cinder blocks (called Besser blocks in Australia) that had been arranged to duplicate the dimensions of Gwen's fire pit. On the blocks: a giant sheet pan, a metal grate stolen from a fireplace, some glowing coals — and a massive 80-day-aged tomahawk steak. He watched the beef sizzle and flame, holding a pair of tongs in one hand, a blow poke in the other, smiling his trademark wide smile, clearly enjoying the "very Flintstones" moment.
"It's where so much flavor comes from," Stone said when asked about the current trend for live-fire restaurants. "It's that exploration, I guess. There's nothing simpler and more difficult." As for combining that vaguely prehistoric model with the conceit of the tasting menu, Stone acknowledged a need for some orchestration. "You need to help curate an experience for your guests. Maybe it's a touch arrogant. It does give you more control. It gives you more time too."
As Stone rotated the hissing steak and a column of smoke rose into the trees of the tony neighborhood (Maude is just down the street), he considered his two Los Angeles restaurants in the context of contemporary fine dining. It had just been announced that Washington would get a Michelin Guide, while Los Angeles continued to be passed over by the prestigious French dining publication, which stopped publishing in L.A. after 2009.
"The truth of Los Angeles is that we don't have restaurants at the level of other cities. L.A. has a real opportunity now to redefine fine dining, and I hope we're a part of that."
The Stone brothers and their butchers aren't the only ones trying to redefine Los Angeles dining in terms of dry-aged meat and tomahawk steaks the size of lacrosse sticks, or with live fire. Some of the best restaurants in town have stellar meat and charcuterie programs — Chi Spacca, Republique, Salt's Cure, just to name a few. Belcampo, which has two outposts, and the newly opened Cannibal in Culver City combine the artisanal meat counter with restaurant service. And restaurant fire pits soon may be as requisite as immersion circulators and liquid nitrogen tanks were a few years ago.
"You need a balance; it can't be too meaty," Stone said of Gwen's menu, as he and his chefs knifed through the beautifully cooked steaks in the Beverly Hills kitchen — a bit of salt, the char and juice better than any sauce. "We live our life by a set of rules: It has to be more delicious. Otherwise, why do it?"
Gwen, 6600 Sunset Blvd., Los Angeles, (323) 946-7500, gwenla.com. Hours: 10 a.m. to 7 p.m. Mondays, 10 a.m. to 10 p.m. Tuesdays through Saturdays, 10 a.m. to 4 p.m. Sundays.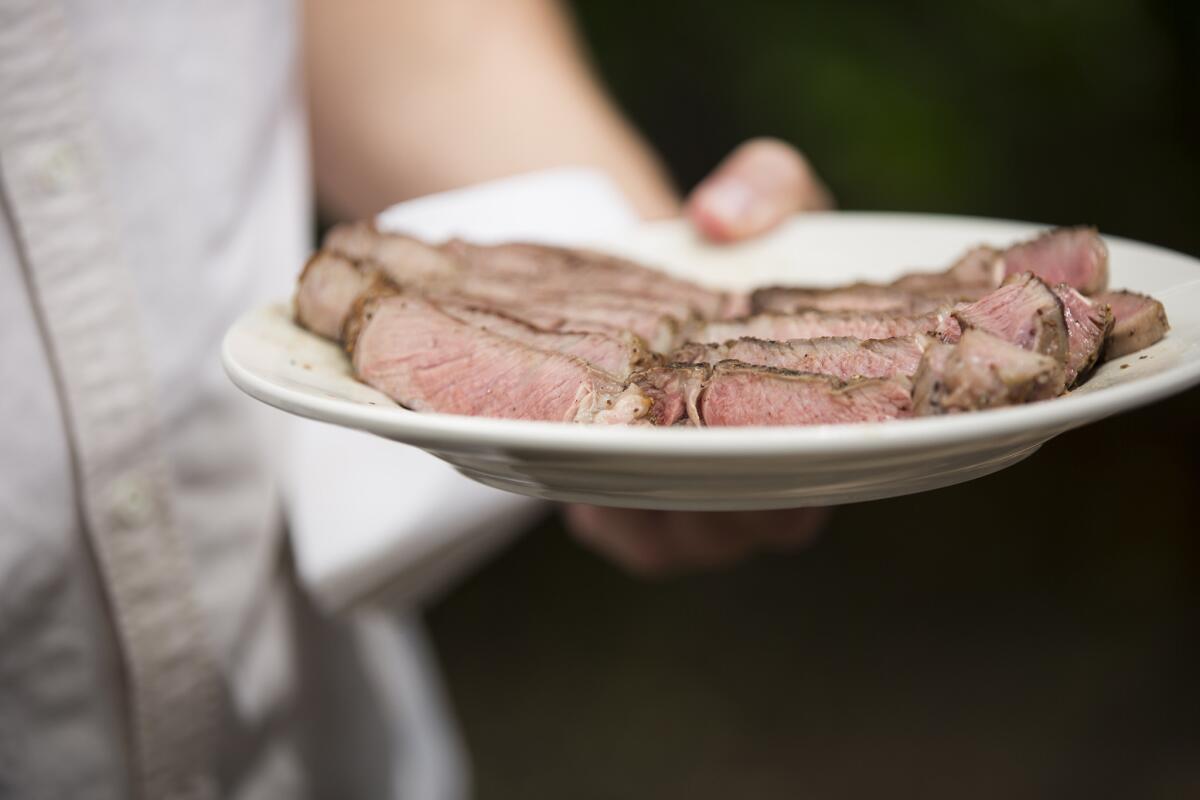 ALSO:
The Cannibal Beer & Butcher, where you can find a $320 rib-eye in Culver City
Spago's wine program has 3,000 bottles of some of the most important wines in SoCal
Bulgogi cultists, rejoice: Jonathan Gold finds first-rate Korean barbecue at Gwang Yang
Get our weekly Tasting Notes newsletter for reviews, news and more.
You may occasionally receive promotional content from the Los Angeles Times.