Spago's wine program has 3,000 bottles of some of the most important wines in SoCal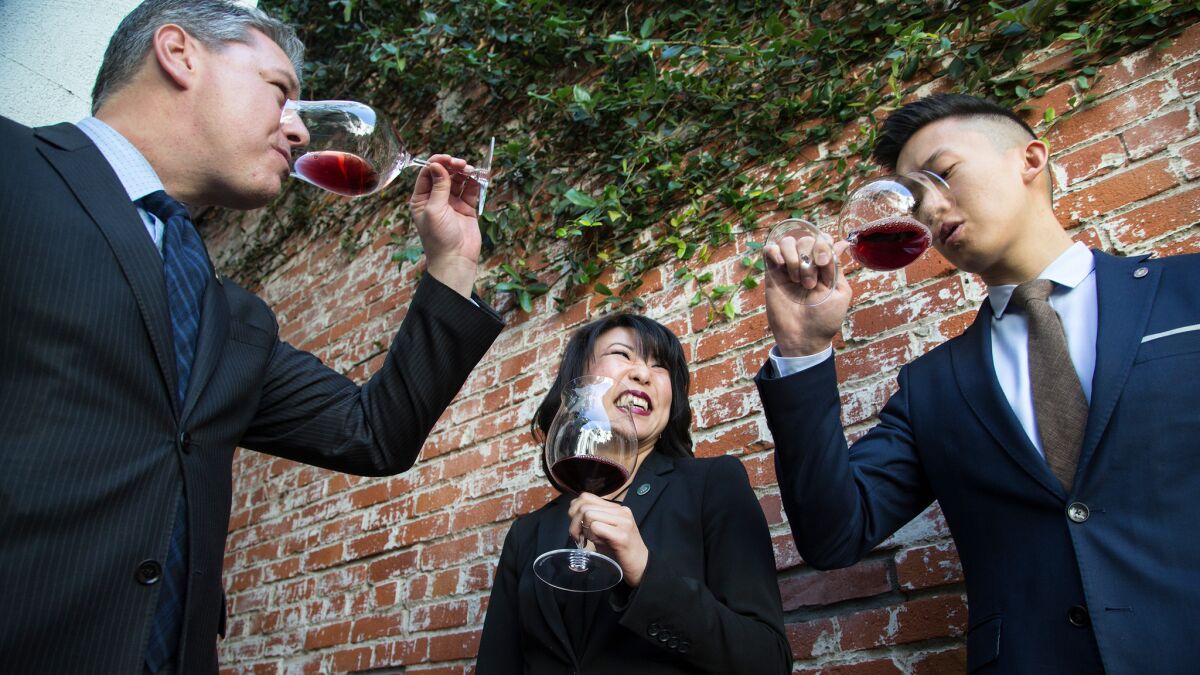 Phillip Dunn's first decision as wine director at Spago in Beverly Hills was to print his inherited wine list on double-sided paper. The move not only saved hundreds of trees, it was a means of making the immediate experience of finding something to drink feel less daunting: Suddenly a tome worthy of a lectern and a sherpa was half the size, half the bulk, more manageable in a literal and symbolic sense.
But let's not kid ourselves: A tome is a tome. At 3,000 selections, Spago's wine list is not only one of the largest in Southern California, it's probably the most important, the most comprehensive, and quite possibly the most extravagant. It is, in most respects, classical, and as such strengths turn up in the usual places — Bordeaux, Napa Cabernet, Sonoma Chardonnay, Austrian Grüner (bearing in mind the chef's nationality, of course). But it also has unprecedented depth in Champagne, in German Riesling, in Brunellos and Super-Tuscans, in South African Chenin Blancs, in large bottles, in half-bottles — Spago's half-bottle list is longer than most bottle lists in the city. Its Burgundy list, meanwhile, is one of the finest in California — so well-regarded in fact that Dunn was awarded the 2015 Prix le Montrachet, a prize given to exceptional lists by a hotel in Puligny-Montrachet for their comprehensive Burgundy selections.
Dunn took the reins of the wine program in late 2013, stepping into shoes once occupied by some of the greats in the profession: Mike Bonaccorsi, Kevin O'Connor, and his predecessor Chris Miller. Like Miller, Dunn is from the South (Montgomery, Ala.), and brings with him a highly cultivated sense of hospitality.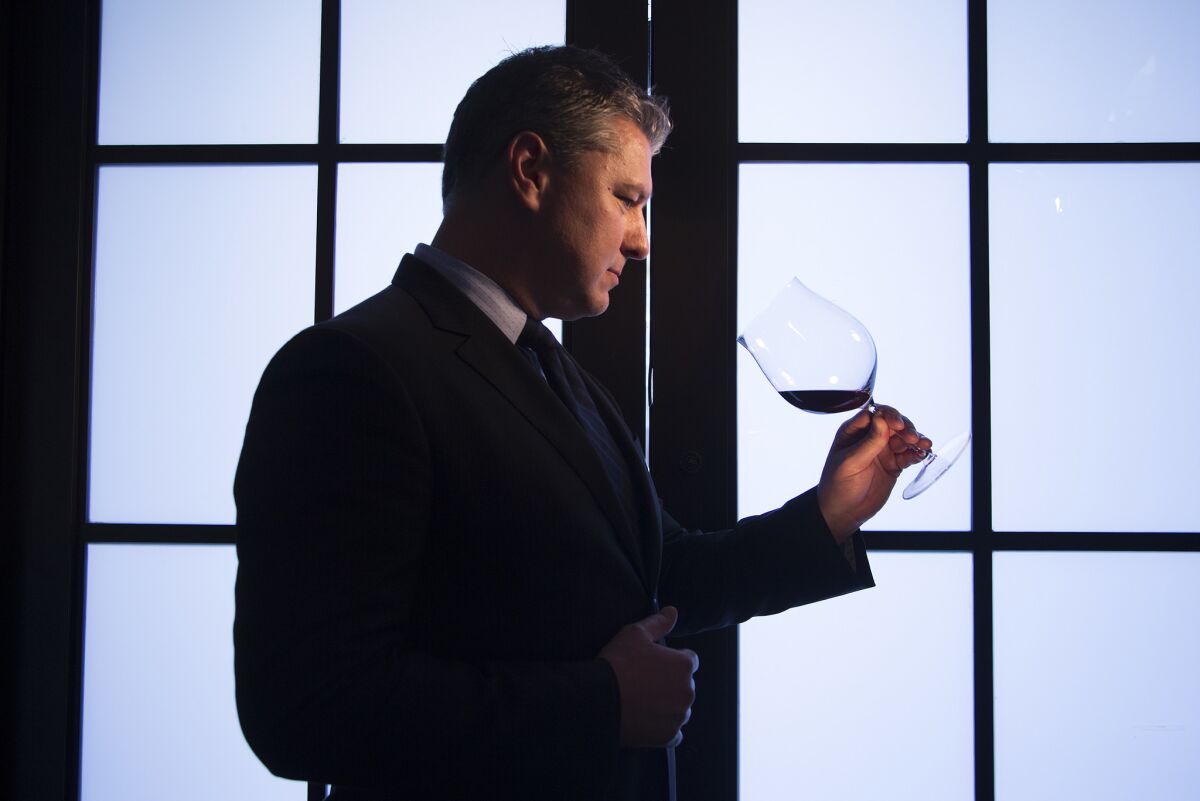 Also like Miller, Dunn came to Spago from Canlis in Seattle, a restaurant that functions as a regional flagship and culinary standard-bearer like Spago, albeit without the latter's distinctly SoCal clientele: stars and starlets, the producers and agents who keep them happy and well-fed, the ladies of Beverly Hills and elsewhere who lunch, high-rollers and those aiming high. Spago is where the palette of flavors is bold, sweeping and inclusive, a singular presence occupying and often defining the culinary heart of Los Angeles dining for three decades.
As such the wine list has never been exactly edgy; what it has become instead, especially in the last decade, is deep, with a breadth, a range of prices ($35 to $12,000), and a depth of verticals and older vintages that feels, for all practical purposes, complete.
See the most-read stories this hour >>
In recent years both Miller and Dunn have expanded the list to bring in new regions and tastes, while maintaining its obvious strengths. In recognition for this Spago has received five Grand Awards, a kind of wine list Oscar bestowed on the nation's restaurants by Wine Spectator, since 2010.
The obvious question for a list this size is: In what way is this practical? Well, Dunn, points out first, Spago has the storage facilities to preserve the investment, with whites and reds kept at different cellar temperatures in different rooms, and an off-site location for wines that aren't yet ready to drink. The new effort is typified by the wall of wine that forms the redesigned dining room's northern wall, not only placing a visual emphasis on wine as part of the dining experience, but giving the space a kind of repose.
Second, Dunn realized early on that such a program is fairly useless without some human interaction. So he set out immediately to elevate service, and bring it down to earth. "I wanted to make it so the sommelier was not the guy you didn't want to talk to," he says. "My staff and I try to visit every table." (At a recent busy lunch, Dunn, working alone, sold and opened the wines at all but two tables.)
Another innovation is in the front of the book; detailed, exquisitely shaded descriptions of the wines by the glass, and a page of Sommelier Selections which changes monthly, devoted to wines that Dunn and his staff feel deserve a little attention, and which might otherwise be overlooked. There are Bordeaux and Cabernet there, sure, but also little gems like Louis Métaireau's 2013 Muscadet Cuvee One ("light, crisp, and zingy, lemon, dandelion, chalk and fresh whey," $50) and the Moric 2013 Blaufränkisch ("dark spice and torched sweet earth undertones," $70).
Wine director: Phillip Dunn
Floor sommelier(s): Rina Bussell (assistant wine director), Eric Denq (cellarmaster), Cristie Norman
Number of wines on the list: Roughly 3,000
Number of white/red: About 54.9% red, 45% white, .1% rosé
Least expensive: $35
Most expensive: $12,000
Median bottle price: $135
% Domestic/Imported: about 50/50
Number of wines by the glass: 22
Particular strength: California Cabernet, Riesling, Red Burgundy, Champagne
Current obsession: White wines from the Iberian Peninsula, like the Albillo from Bodegas Valduero, called Yunquera. "It's great with our food," says Dunn. "It's the right weight as we move into the spring and summer season, different and also incredible value. Each drinks above its station, you might say."
Wine the chef has with his/her meal: Chef de cuisine Tetsu Yahagi enjoys a great sake, like the Ichinokura Taru Junmai, from Ace Brewery. As for Wolfgang Puck, says Dunn, "he'll have Pomerol, like the current vintage of Chateau Clinet, or a California Pinot like Littorai, Hirsch Vineyards, but with one rule: He prefers wines with not too much acidity."
What the wine director would have people drink more of: Syrah. "I'm not sure why this varietal doesn't do better," says Dunn, "especially from Côte Rotie, like Bernard Levet's La Chavaroche or Yves & Mathilde Gangloff's La Barbarine. Most have the weight and concentration of New World Cabernet. but with so much more character."
MORE FROM FOOD
Farmers market report: Berries are in season
At Hanjip in Culver City, Jonathan Gold says get the stuff you don't see at other Korean BBQ joints
Love za'atar? Try making the addictive Middle Eastern spice blend at home
Get our L.A. Goes Out newsletter, with the week's best events, to help you explore and experience our city.
You may occasionally receive promotional content from the Los Angeles Times.