Easy dinner recipes: Kale, beet and squash salads for post-holiday eating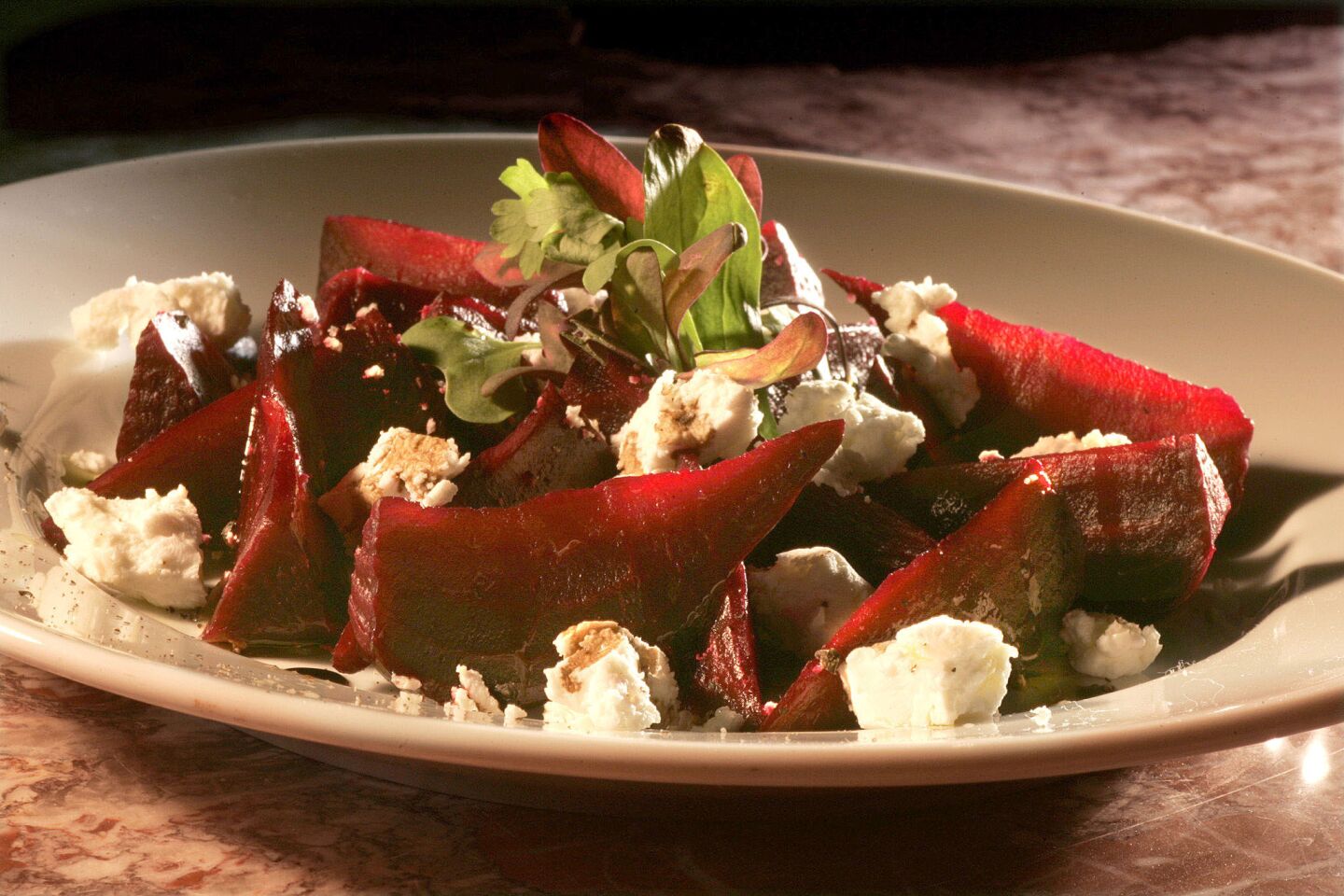 If you woke up this morning feeling like you needed to eat a big salad, you're not the only one. After all the prime rib, turkey, mashed potatoes and all that pie, it may feel good to eat some vegetables.
If you're a kale fan, try a recipe for Napa Valley Grille's kale salad with toasted almonds, sweet golden raisins, quinoa and a tangy lemon vinaigrette. Or if you like beets, try a recipe for a beet salad with roasted beets, goat cheese and a simple balsamic vinaigrette.
And for a hearty salad full of winter flavors, try a roasted acorn squash and apple salad with spicy baby mustard greens and toasted hazelnuts.
NAPA VALLEY GRILLE'S KALE SALAD
Lemon Vinaigrette
Ingredients:
Juice of 3 lemons and grated zest of 1 lemon
1/4 cup plus 2 tablespoons extra-virgin olive oil
1 shallot, minced
1 anchovy fillet, minced
1/4 cup shredded parmesan cheese
2 basil leaves, cut in thin strips
Sea salt
Finely-ground pepper
Directions:
In a medium bowl, whisk together the lemon juice, lemon zest, olive oil, shallot, anchovy, cheese and basil. Season to taste with one-fourth teaspoon salt and one-eighth teaspoon pepper. This makes slightly more than one-half cup vinaigrette, more than is needed for the remainder of the recipe; the vinaigrette will keep, covered and refrigerated, up to 1 week.
Kale salad
Ingredients:
1/4 cup quinoa
1 romaine heart, chopped
1 head green kale, chopped
1/4 cup almonds, toasted
1/4 cup golden raisins
1/4 cup shredded parmesan cheese
Sea salt
Freshly ground black pepper
Directions:
Bring a medium saucepan of water to a boil.
Meanwhile, place the quinoa in a strainer and rinse under cool running water to remove the outer coating of the quinoa (if not rinsed, the coating can give the quinoa a bitter flavor). Place the rinsed quinoa in a dry saute pan and toast, stirring frequently, until the quinoa is dry, lightly colored, and has a nutty aroma.
Place the toasted quinoa in the saucepan with the water, reduce the heat and simmer the quinoa until it is translucent and tender and the germ has spiraled out from the grain, 12 to 15 minutes (be careful not to overcook). Drain the quinoa and spread it out on a baking sheet to cool.
In a large bowl, combine the romaine, kale, quinoa, almonds, raisins and parmesan cheese. Add one-fourth cup vinaigrette and toss to lightly coat. Add additional vinaigrette as desired, and season to taste with salt and pepper.
Each of 6 servings: 170 calories; 5 grams protein; 15 grams carbohydrates; 2 grams fiber; 11 grams fat; 2 grams saturated fat; 5 mg cholesterol; 5 grams sugar; 153 mg sodium.
ROASTED BEET SALAD WITH GOAT CHEESE
Ingredients:
1 bunch beets, scrubbed and trimmed (about 4)
1 tablespoon olive oil, divided
Sea salt
4 ounces goat cheese, crumbled
1 tablespoon balsamic vinegar
Freshly ground black pepper
Directions:
Heat the oven to 400 degrees. Scrub and trim the beets, leaving an inch of the stem intact. Sprinkle the beets with 1 teaspoon of the olive oil and a pinch of salt (this is optional), then wrap them in foil, place them on a rimmed baking sheet and bake until tender, about 1 hour and 15 minutes.
Remove the beets from the oven. Cool, then peel, discarding the stems and peels.
Cut the beets into eighths and sprinkle the goat cheese around the pieces. Drizzle with the remaining 2 teaspoons olive oil and the vinegar. Sprinkle with a pinch of sea salt and freshly ground black pepper.
Each serving: 130 calories; 6 grams protein; 6 grams carbohydrates; 1 gram fiber; 9 grams fat; 5 grams saturated fat; 13 mg. cholesterol; 144 mg. sodium.
ROASTED ACORN SQUASH AND APPLE SALAD
Ingredients:
1 medium to large acorn squash, seeded and cut into wedges
Cooking oil
Salt and pepper to taste
1/4 cup Banyuls vinegar
3/4 cup grapeseed oil
2 large tart apples, such as White Pearmain or Hauer Pippin
Splash of lemon juice
1 pound mixed spicy baby mustard greens, such as Golden Frill, Red Streak or Suehlihung
1/2 cup toasted hazelnuts, roughly chopped
1/4 pound Rinconada Tomme cheese
Directions:
Heat the oven to 425 degrees.
Roast the squash: Lightly coat the squash segments with a cooking oil and season with salt and pepper. Place on a sheet tray skin-side down. Bake until cooked but still firm, about 15 to 30 minutes, depending on the size of the wedges. Cool slightly before assembling the salad.
Meanwhile, make the vinaigrette: In a medium, sealable container, combine the vinegar, grapeseed oil, 1 teaspoon salt and one-half teaspoon pepper. Seal the container and shake to emulsify the vinaigrette. Taste and adjust the seasonings and flavoring as desired. This will probably make more vinaigrette than is needed; the vinaigrette will keep, covered and refrigerated, up to 1 week.
To prepare the apples, julienne them using a knife or mandoline. Toss the apples with the lemon juice to keep them from browning.
Place the greens in a large bowl with the hazelnuts and apples. Drizzle a bit of the vinaigrette over and toss until coated, adding more as needed. Season to taste with salt and pepper.
Place the dressed greens in individual bowls and place segments of the roasted squash alongside. Drizzle a little dressing on the squash. Using a potato peeler, shave strips of cheese on top of the salad and serve.
Each serving: 556 calories; 16 grams protein; 43 grams carbohydrates; 11 grams fiber; 39 grams fat; 8 grams saturated fat; 29 mg cholesterol; 19 grams sugar; 667 mg sodium.
Want more recipes? Follow me on Twitter: @Jenn_Harris_
ALSO:
Watch this guy cook a turkey with a Lamborghini Aventador LP760
McDonald's tells employees fast food is unhealthy, make healthier choices
New Year's Eve 2013 in L.A. area: Where to ring in the new year, then recover

---
Get our L.A. Goes Out newsletter, with the week's best events, to help you explore and experience our city.
You may occasionally receive promotional content from the Los Angeles Times.