This chef is betting that people in Hong Kong will learn to love Mexicali food
Reporting from Hong Kong —
Chef Esdras Ochoa has come a long way in the last decade. Ten years ago, the Mexico City-born art-school grad started his cooking career, serving Mexicali-style tacos out of his Dodge Ram truck in downtown Los Angeles. Five years ago, Ochoa swapped the parking lot for a brick-and-mortar taqueria, Mexicali Taco & Co. In May 2016, Ochoa turned a former Elysian Valley (aka Frogtown) auto body shop into Salazar, which has become a wildly popular Sonora-style barbecue restaurant. Now, Ochoa is tackling another neighborhood — this time in Hong Kong.
"This area is what Frogtown was — it's up and coming, kind of hidden," Ochoa, 35, said recently in the kitchen of 11 Westside, his new restaurant and bar, set to open next month in the Kennedy Town neighborhood of Hong Kong.
Ochoa says he isn't going to serve only traditional Mexican cuisine at the 4,000-square-foot restaurant; he doesn't think Hong Kong is the market for that. "At first, you come very confident, then you realize it's not L.A. It's a whole different vibe," he said. "Here, a lot of people don't know what a taco is — especially locals — so I have to start from the very beginning."
At 11 Westside, Ochoa wants to experiment with his favorite L.A. dishes, using Asian ingredients and cooking techniques, not to follow any trends but to incorporate the ideas of his new staff with his own cooking. So far, the culture blending has yielded carne asada fries dressed with Korean short rib aioli and barbacoa translated into noodle soup.
"I want to have some fun," said Ochoa, who wants his new diners to think, Oh, this guy really respects our culture and respects being here."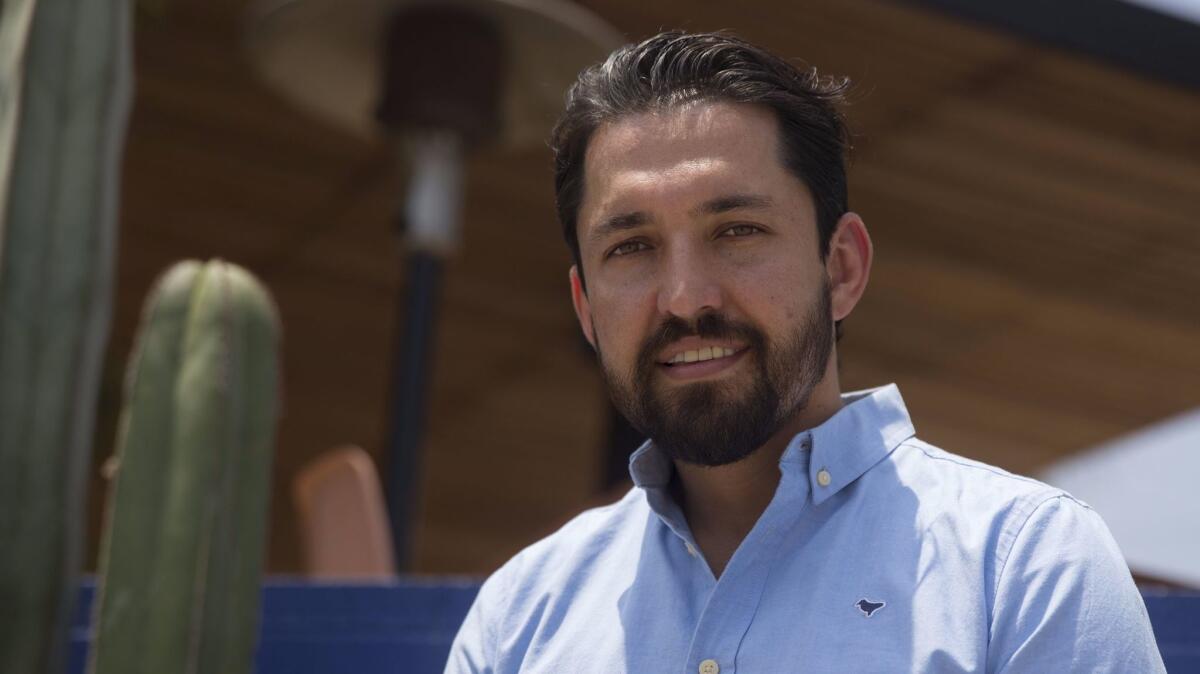 RELATED: Esdras Ochoa, the taco missionary »
Hong Kong was not originally part of his expansion plan. The chef was brought into the project by a founder of Boba Bear, a chain of boba, dessert and hookah cafes that opened in L.A.'s Koreatown in 2010 and has since expanded to Hong Kong from Southern California.
"They flew me over here for a week, and I fell in love with the city," Ochoa said. "It happened so fast."
Joining Ochoa in 11 Westside is another Angeleno: Daniel Eun, the former bar manager at the Normandie Club in Koreatown, was tapped to run the bar program. This will include craft cocktails at the restaurant — some on draft — but also at the Wilshire, a separate black marbled bar at the back of the restaurant, hidden away like a speak-easy.
When Ochoa first moved to Hong Kong and was trying to find his footing — geographically, gastronomically — he met Luis Porras, a chef and restaurateur from Sonora, Mexico. "He's the pioneer of anything Mexican in Hong Kong," Ochoa said. Years ago, Porras opened a glamorous Mexican restaurant with wealthy investors, going so far as to import building materials from Jalisco and Michoacán.
"He said he made it super-authentic — mole, enchiladas, all of the traditional dishes, and he said people didn't understand it back then. He was way ahead of his time." The restaurant closed a few years later. Porras then returned with Agave Tequila y Comida. Instead of focusing on traditional Mexican dishes, he divided the menu into two parts: one that Mexicans would find legit and one of touristy Mexican food. (Think sour cream and olive-topped nachos.) "That's how he's able to thrive," Ochoa said.
Ochoa's biggest challenge right now is hiring staff. "Nobody wants to be a dishwasher," he says. But while finding people to run the kitchen has been problematic, Ochoa isn't having many issues stocking it. "It is Hong Kong, so you can find anything you need, it just costs a lot more here," he says. Ochoa is working to keep prices low, even when imports, particularly dried peppers from Mexico, are costly. "You can find [dried peppers], but they're five to six times the price," Ochoa says. He's seen tacos in Hong Kong selling for $7 to $8, something diners wouldn't tolerate in Los Angeles, much less Mexico.
The high price may not be a deterrent to the expats who live near the new restaurant. Kennedy Town is going through gentrification much like Frogtown is in Los Angeles. Ochoa enticed Angelenos to Frogtown with tacos, but will he get those in Hong Kong to Kennedy Town?
"I could be very scared of a lot of things," Ochoa said. "It's been the same with all of my projects. I'll just focus on the positive, give this a shot and see what happens."
11 Westside, 1/F The Hudson, 11 Davis St., Kennedy Town, Hong Kong.
Get our L.A. Goes Out newsletter, with the week's best events, to help you explore and experience our city.
You may occasionally receive promotional content from the Los Angeles Times.