Food Truck Report: Fried chicken, avocado toast and fried eggs from Free Range L.A.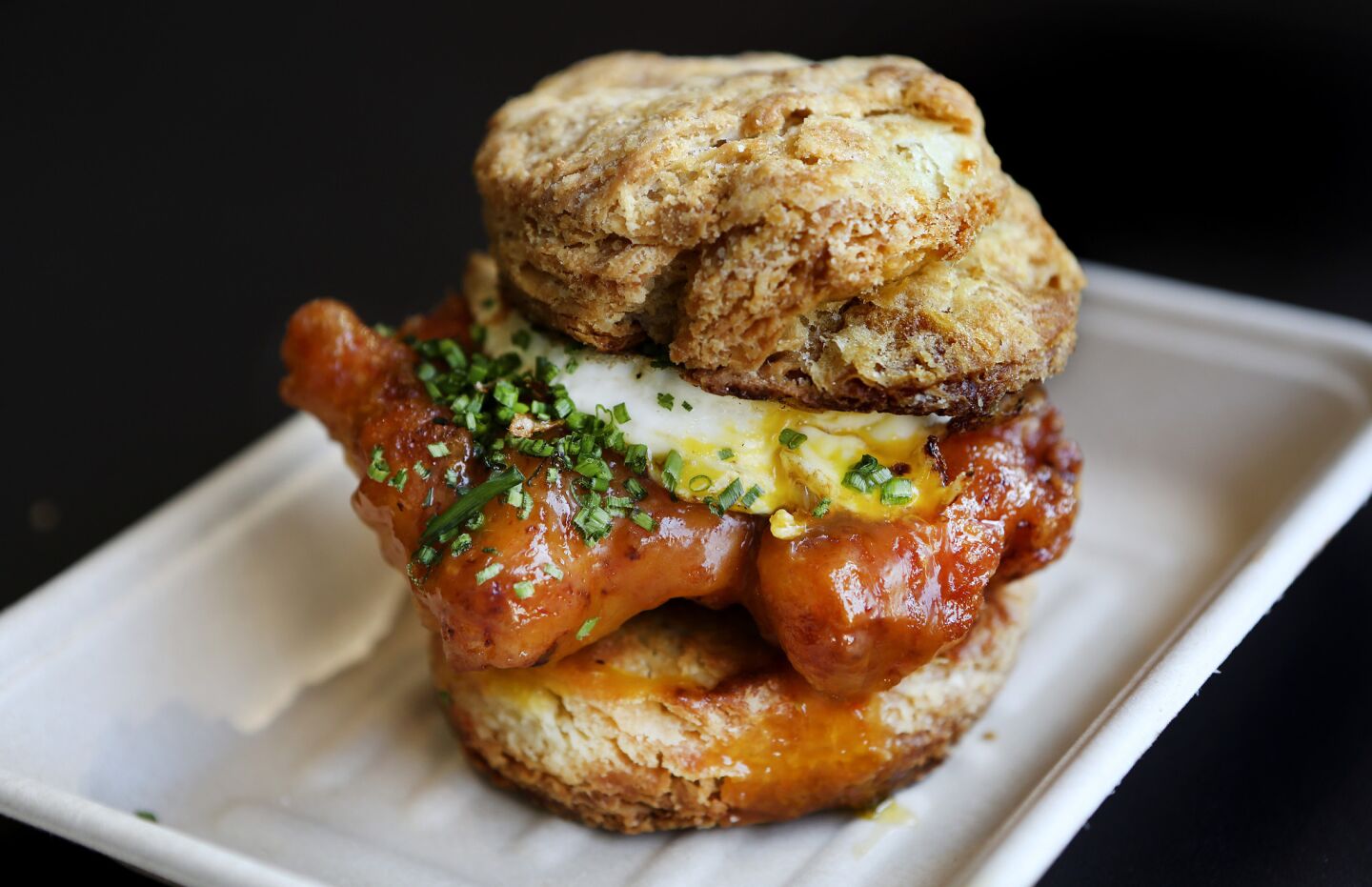 The honey-Sriracha-fried chicken biscuit from the Free Range food truck.
(Mel Melcon / Los Angeles Times)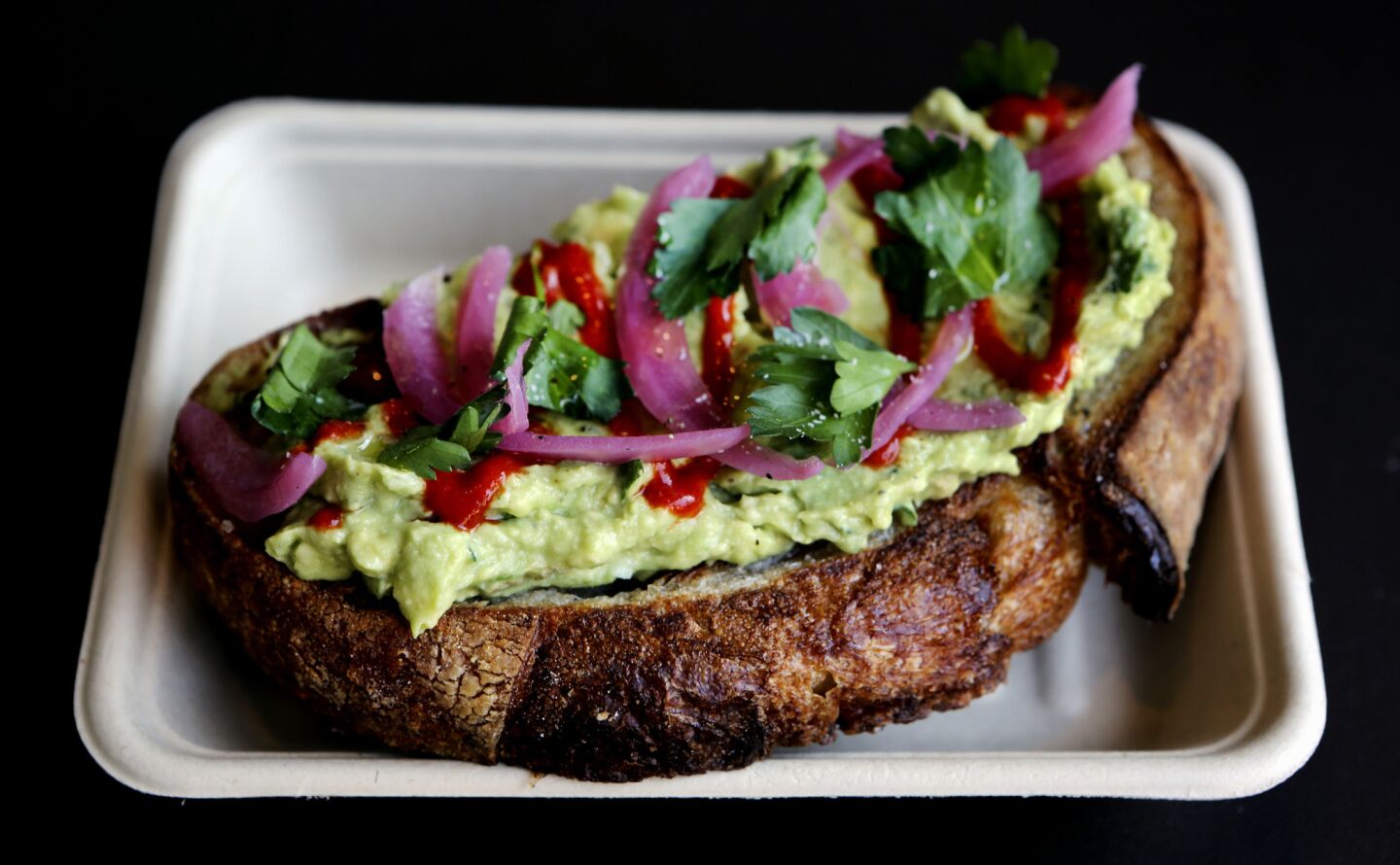 The avocado toast with fried egg at the Free Range food truck.
(Mel Melcon / Los Angeles Times)
Jesse Furman, chef/owner of the Free Range food truck, prepares the OG chicken sandwich.
(Mel Melcon / Los Angeles Times)
Chi Huynh, left, of El Monte, and friend Jonathan Aleman of El Sereno, photograph their food from the Free Range food truck parked on Sunset Blvd. in Silver Lake on Dec. 31. Hunyh ordered fried chicken and waffles and Aleman ordered honey Sriracha free-range fried chicken biscuit.
(Mel Melcon / Los Angeles Times)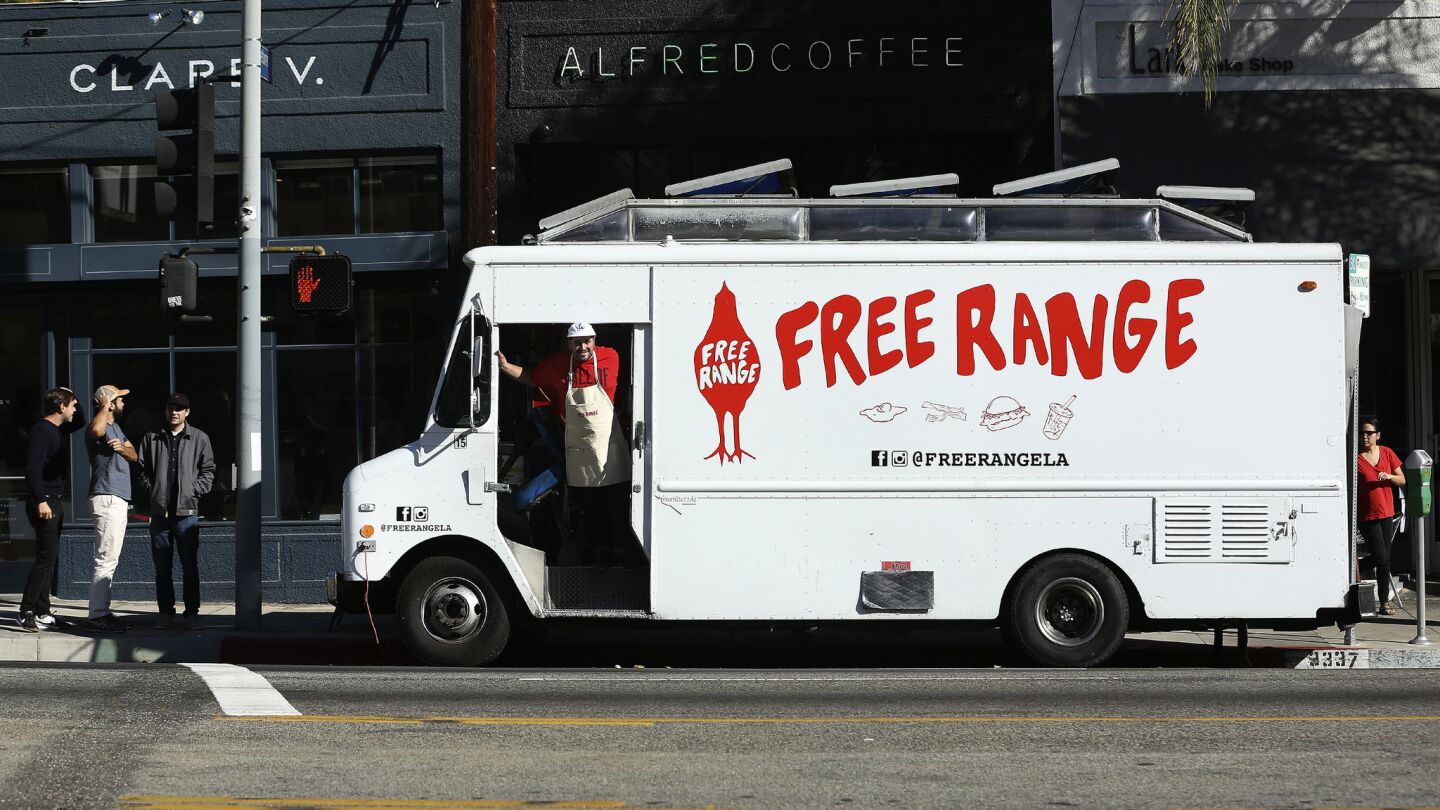 Jesse Furman, chef/owner of the Free Range food truck, inside his truck parked on Sunset Blvd. in Silver Lake.
(Mel Melcon / Los Angeles Times)
The Original Free Range chicken sandwich from the Free Range food truck.
(Mel Melcon / Los Angeles Times)
The obsession with the fried egg has gone from an adolescent crush to a full-blown movement. Exhibit A: the never-ending line for Eggslut, the truck-turned-food stall at Grand Central Market that specializes in #foodporn-worthy egg sandwiches.
The gooey middle of a fried egg is the perfect mix of high-low cuisine — just decadent enough to attract a loyal following among the food-minded, but not so fancy that it can't entice the masses, featured prominently on the menu of a food truck or food stall.
------------
For the Record
Jan. 5, 5:10 p.m.: An earlier version of this article incorrectly gave the name of Clark Street Bread as Clark St. Bakery, misspelled the avocado variety Hass as Haas, called Free Range L.A. chef Jesse Furman a former chef, and gave the name of Tyler King's business Coffee Commissary as Commissary.
------------
So it makes sense when you see a crowd gather around the Free Range L.A. food truck, parked outside the RIF sneaker shop in Little Tokyo on Wednesdays. There, sneakerheads wait for upwards of 30 minutes for a fried chicken sandwich or a slice of avocado toast, each served with an egg.
Yes, there's an egg hiding in the avocado toast. The Free Range L.A. version is made with a thick slab of Clark Street Bread sourdough with an over-easy egg nestled into the bread (think toad in a hole), topped with mashed Hass avocados, pickled onions and a drizzle of Sriracha sauce. This might as well be the trendiest piece of toast in town.
"We put an egg inside the toast because we like the surprise of the yolk gushing when you bite into the toast," said Jesse Furman, a chef (previously at Red Medicine and Short Order) and former food blogger who founded the truck with Tyler King of Coffee Commissary, after successful stints as a fried chicken pop-up at the Melrose farmers market.
As powerful as the avocado toast may be, Furman's truck is known best for its fried chicken sandwiches, which come on either a biscuit or a Portuguese-style bun. The fried chicken is coated in a tempura batter that keeps the bird juicy, with an ultra-crisp light coating capable of standing up to the sandwich's many toppings.
The OG sandwich, one of the truck's most popular offerings, is made with the tempura-fried chicken, a tangy Fresno chile coleslaw on a toasted Portuguese bun slathered with a whole-grain honey-mustard sauce. It's sweet and spicy, and you'll probably enjoy the mixture of coleslaw juice and mustard sauce that runs down your fingers.
The OG is worthy of the many photo shoots it prompts in front of the truck, with fans holding the sandwich out in front of them just so, searching for the ideal angle.
If you're a member of the eggs-are-my-everything camp, there's the honey-Sriracha fried chicken biscuit sandwich. A homemade biscuit is split into equally crunchy and fluffy halves, then stuffed with a piece of that same tempura-fried chicken tossed in a mixture of honey and Sriracha, topped with a soft-scrambled egg. It's the stuff breakfast dreams are made of.
The truck is serving traditional fried-egg breakfast sandwiches too, with a classic bacon, fried egg and cheese on a biscuit, along with an avocado, fried egg and cheese muffin.
The truck, unlike most of the more than 200 mobile food operations roaming around L.A., is on a fixed schedule. So when you're craving fried chicken, a fried egg and avocado toast, just visit the website.
ALSO:
What wine to drink on a food truck crawl
You need this food truck's Frito pie and brisket quesadilla
---
Get our L.A. Goes Out newsletter, with the week's best events, to help you explore and experience our city.
You may occasionally receive promotional content from the Los Angeles Times.