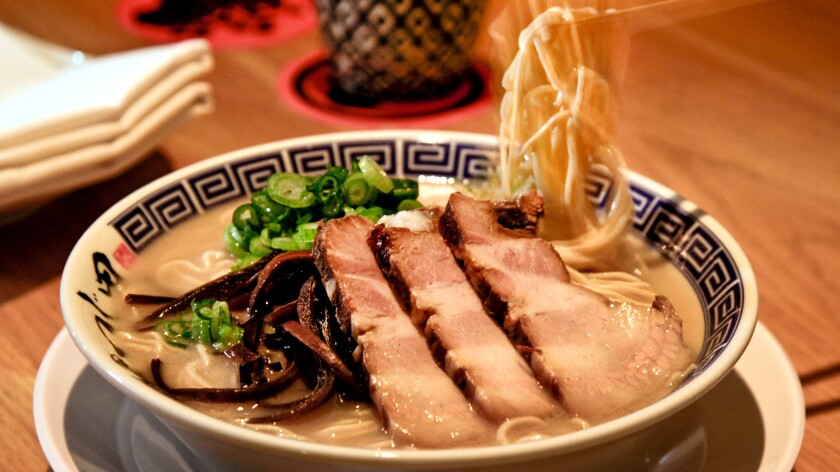 Keeping your Snapchat story full of whoa-I-want-her-life-that's-so-cool content is hard work. Here are a couple food events that will make it a little easier:
L.A. Food Fest, a three-night, two-day food event at Exposition Park, is happening July 8, 9 and 10. This year, there will be more than 100 food and beverage vendors, with appearances by Chris Oh (Seoul Sausage, Hanjip), Johnny Ray Zone (Howlin' Ray's) and Nguyen Tran (Starry Kitchen and Button Mash). The food fest starts July 8 with an opening party in the Rose Garden at Exposition Park. Then Saturday and Sunday there will be food from chefs, food trucks and carts. You can also purchase tickets to a sit-down dinner with food prepared by Margarita Manzke (République), Nyesha Arrington (Leona), Teresa Montaño (formerly of Ración), Bruce Kalman (Union, Knead & Co.), Ted Hopson (the Bellwether), Carlos Enriquez (Superba), Steven Fretz (formerly of the Church Key) and Jair Tellez (MeroToro, Laja). In addition to the food vendors, there will be a culinary stage with chef demos, something called "food porn cinema," live music and sets from KCRW-FM DJs. Tickets start at $15 and can be purchased online. For more information visit www.eventbrite.com.
The fourth annual Crab Cake to benefit Chrysalis, a nonprofit that helps those in need find jobs, will take place Sunday at the Maple Block Meat Co. in Culver City. From 2 to 6 p.m. hosts Michael and Bryan Voltaggio, Duff Goldman and Ben Feldman will serve traditional steamed Maryland blue crabs, peel 'n' eat shrimp, hush puppies, corn on the cob, boiled potatoes and Smith Island Baking Co. cakes (those crazy good, layered yellow cake and chocolate frosting cakes from Maryland). Maple Block Meat Co. chef Adam Cole will also be making barbecue pulled pork sandwiches. Tickets start at $150 and can be purchased online at www.eventbrite.com.
Vinny Dotolo, with Jon Shook half of the team behind Animal, Son of a Gun, Jon and Vinny's and the Trois restaurants (Petit Trois and Trois Mec), has organized an art show appropriately called "Please Have Enough Acid in the Dish!" The show will run July 7 to Sept. 2 at M+B gallery in Los Angeles. There will be an opening reception July 7 from 6 to 8 p.m. The show, which includes food-influenced paintings, sculptures and video, takes a look at the intersection between food, life and art in Los Angeles. During the reception, Dotolo will serve his green garlic bone broth and artist Ana Prvacki will supply guests with a special cocktail. M+B, 612 North Almont Drive, Los Angeles, www.mbart.com.
Sunscreen at a food event is your friend. Follow me on Instagram & Twitter @Jenn_Harris_
ALSO:
Gas station eats worth filling up on
Celebrate summer with 42 cocktail recipes
---