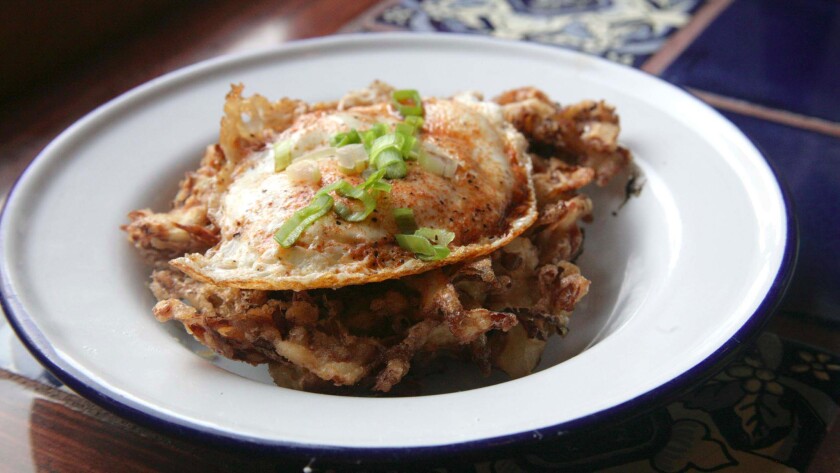 Name of restaurant: M•CON, which is short for "modern convenience." Owned by Jeffrey Ko ( who also owns Feast, a Mediterranean restaurant in Hollywood), this is Taiwanese street food by way of Los Angeles. The restaurant opened in April.
Where you are: on the northeast corner of Beverly Boulevard and Alfred Street, in the shadow of the Beverly Center. There's a small parking lot behind the Lenscrafters.
Concept: The menu reads more like a roll call of what's popular in L.A. right now than a stroll through a night market in Taiwan. Some of the items include Chinese five-spice cured brisket and turnip cake fries. Canadian bacon even makes an appearance on the menu.
And the upscale setting is quite a far throw from the hustle and bustle of an outdoor stall in Taiwan.
What you're eating: the pork belly and ribs bowl. It's a serving of white rice topped with pillowy soft pork belly, tender baby back ribs, pickled mustard greens and a sprinkling of cilantro. The pickled red ginger and Sambal chile sauce add just the right amount of fire.
As a starter, try the grilled street corn or the bird's nest with egg. The runny yolk oozing down is just what you want over the deep-fried vegetable fritter.
What else you're eating: If you're in the mood for a sandwich, try the Night Market fried chicken sandwich, which the restaurant serves at the 626 Night Market street food festivals. The fried chicken is hot, crispy and juicy, with just the right amount of sweet mayo, cilantro and homemade pickled mustard greens. And the chicken is served on a freshly baked scallion sandwich bun.
What you're looking at: The M.C. Escher-esque tiled wall in the back is highlighted by a neon sign of the restaurant's name, just in case you forgot where you are. Tiled tables and metal chairs sit above polished concrete floors underneath open woven ceiling lamps.
What you're drinking: An icy cold cup of the mango lemonade on a hot summer night. And you'll soon be able to enjoy a soju or sake cocktail, or glass of wine from a short list.
Info: 8459 Beverly Blvd, Los Angeles, (323) 592-3315, www.mconla.com.
ALSO:
Get caffeinated at these five new L.A.-area coffee shops
Bake up a batch of double chocolate zucchini mini-muffins
Treat yourself to this vegan Key lime pie recipe for Meatless Monday
---