Finding a great cup of coffee in Los Angeles isn't hard nowadays; it's certainly easier, anyway, than catching Snorlax in "Pokemon Go." Indeed, specialty coffee shops have opened across Los Angeles at a rapid clip over the last few years. As have become the norm, these new spots more often than not have high-quality coffee, skilled baristas, pretty ceramics and spaces that are more or less designed to be Instagrammed. From the South Bay to downtown L.A., here are five noteworthy new shops.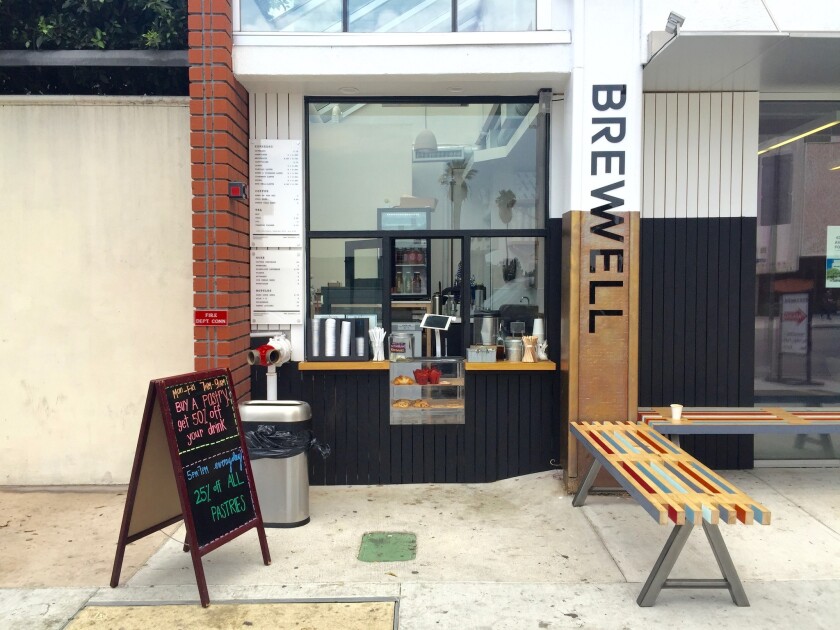 BrewWell
Those who mourned the loss of BrewWell when it closed its doors in Koreatown a year and a half ago will be happy to know that owners (and sisters) Elizabeth and Grace Rhee have relocated to Hollywood. It's a walk-up window now, with a chalkboard sign out front announcing specials and two benches in front for seating, but much everything else has remained the same. As they did at their Koreatown location, the sisters serve coffee from Heart Coffee Roasters here, and they've kept a few of their signature items too, like lavender espresso drinks and honey and cinnamon lattes. There are also sodas from Good Luck Soda and pastries from Quenelle. Note that this new BrewWell is just two blocks from the Sunday Hollywood Farmers Market; it wouldn't be a bad idea to fuel up before heading over. 6515 W. Sunset Blvd., Hollywood, www.brewwell.com
Cognoscenti Coffee
Downtown fans of Cognoscenti Coffee no longer have to make a trek to get their fix: Yeekai Lim has opened an outpost at the base of the LEVEL Furnished Living building in South Park. This would be Lim's third location (he also can be found at Proof Bakery in Atwater Village and has a café in Culver City), and his biggest one yet, with enough room for a large communal table, plus a few tables and chairs. There's also a bar along the window facing Olive Street and a retail area with goods from Your Local Hive. Lim and his team recently started to roast their own coffee, so you'll often find Cognoscenti Coffee in the hopper and on the shelves, as well as coffee from the likes of Heart Coffee Roasters. To eat with your cappuccino, there are pastries from Bread Lounge; sandwiches will come along soon. 868 S. Olive St., downtown, www.popupcoffee.com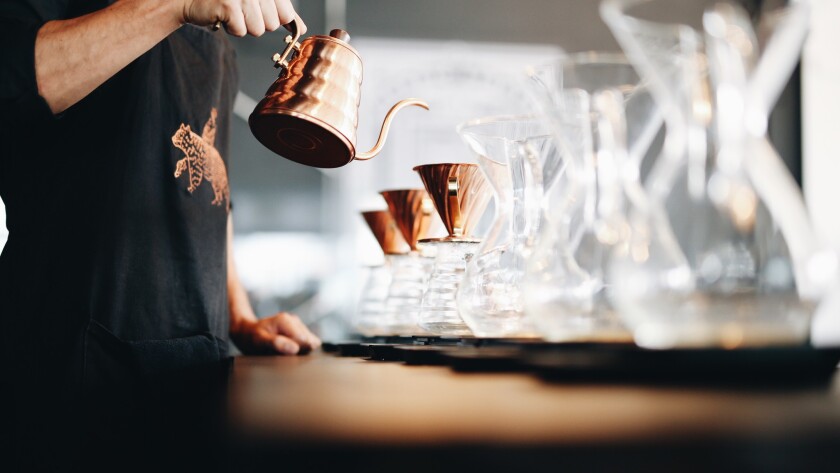 The Fika Co.
Some of the most interesting coffees in the area are being brewed at the Fika Co. in Redondo Beach. Owner Andres Pineros buys and roasts coffee from just three farms in Colombia; those farms sell only to him and, as it happens, are owned by his good friends. As far as direct trade coffee goes — in which coffee buyers like Pineros work directly with farmers and pay premium prices for high-quality coffee — you can't get much more direct than that. This is actually Pineros's second shop; he originally opened the Fika Co. in his hometown of Villavicencio, Colombia, in 2012 before moving to the South Bay in 2014. Nowadays, you'll find Pineros in Redondo Beach, roasting coffee in small batches on a teal Diedrich roaster that sits in the corner. You can have that coffee as a pourover or as a shot of espresso served with a bite of chocolate; there are also sparkling Americanos, specialty teas and pastries. Pineros often has noteworthy coffees from his farmer partners, as they experiment with various processing methods. "Fika," by the way, is the Swedish term for a coffee break; Pineros says the spirit of the fika is to take a moment to chat with friends over a cup of coffee and maybe a pastry. 350 N. Pacific Coast Highway, Redondo Beach, thefikacompany.com
Kindness & Mischief Coffee
Kindness & Mischief Coffee, on the busy-and-getting-busier stretch of Figueroa Street in Highland Park, is Monique Maravilla's shop, a place where you can sip a very good cortado made by friendly baristas. The beans are from local roasters, with Take Flight Coffee and Rose Park Roasters on deck at the moment, and the short menu features your pourover and espresso standards, plus fizzy teas, cold brew floats, popsicles and pastries from Crème Caramel. In keeping with the community spirit of the shop, there's an option to buy a cup of coffee for a stranger (the "Kind Cup"), and Maravilla says they will stay open late for the monthly art walk and other neighborhood events. For the bookworms, there's a "leave a book, take a book" library right outside next to the entrance (on the shelves not too long ago, a range: Kate Chopin's "The Awakening," Martha Stewart's "Entertaining"). The name of the shop, by the by, comes from a line in a Mary Oliver poem. 5537 N. Figueroa St., Highland Park
St. ALi at Gwen
"I'm a coffee fanatic," says Curtis Stone. Which is essentially why he, along with his brother Luke, wanted to serve top-notch coffee at their new Hollywood restaurant and butcher shop, Gwen. Also: The butchery is open all day, and there's space next to the meat case for an espresso machine. Thus, while you decide between the Wagyu and the heritage breed pork, you can have a flat white made with terrific beans from St. ALi, the Melbourne-based roaster that has a cult following — and whose station at Gwen is its first step into the United States. St. ALi barista (and multiple-award-winning latte art champion) Ben Morrow characterizes the roast as "somewhere between light and a little bit dark. Our coffees are always sweet; we want them to be a pleasant experience for everybody." The menu is "very Melbourne," he says, meaning it's espresso-driven, with Americanos and cappuccinos and, of course, flat whites. Baristas are on staff through dinner, so you can end your meal with a nice cuppa. 6600 Sunset Blvd., Hollywood, (323) 946-7513, www.gwenla.com
ALSO:
How to throw an Israeli-SoCal mezze party
Summer wine cocktails make a splash beyond sangria
What's new in Michael McCarty's garden of California cuisine: Miles Thompson takes over as chef
---