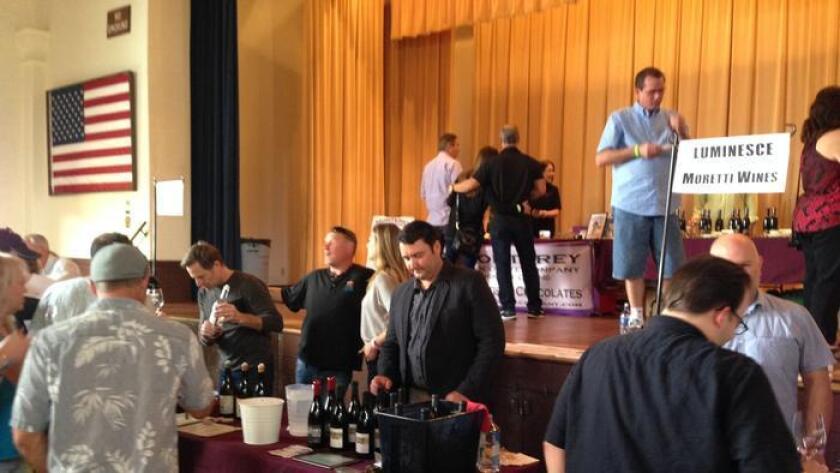 The calendar is filling up with more food and wine events — including three that are very different than the usual. One is a Latin food extravaganza, another a not-to-miss fest for cheese lovers up north and the last the Solvang edition of the famed Garagiste wine festival.
This year's Latin Food Fest and Grande Tasting will be March 21 at Hangar 8 at the Santa Monica Airport. One hundred restaurants, chefs and purveyors of wines and spirits will showcase a range of Latin flavors in a series of white tasting tents. Like any food festival worth its salt, Latin Food Fest includes tastings, cooking competitions, cookbook signings, live music (from the Martini Kings) — and a silent auction.
Latin Food Fest benefits Los Angeles Regional Food Bank. There will be cerveza for sure but also plenty of rum, pisco, tequila and mezcal. And if you're in the middle of reading Evan Goldstein's new book, "The Wines of South America" (or even if you're not), you can try wines from Argentina and Chile too, and also sample wines from Mexico, Spain and California. Information and tickets available online or by calling (858) 461-1970.
Cheese lovers, gas up the car and head to Petaluma for the ninth annual California's Artisan Cheese Festival March 20-22. Cheesemakers, cheesemongers, authors, chefs, brewers and winemakers — and just plain cheese lovers — show up for three days of tasting, learning and partying. Learning how cheese is made and getting to taste rare and limited-production cheeses is just part of what lures cheese lovers to Petaluma every year.
There are seminars, cheese pairings and more. Who wouldn't want to spend the day (with lunch) on one of Friday's farm tours? On Saturday author Janet Fletcher and biochemist and cheesemaker Soyoung Scanlan of Andante Dairy will be teaching seminars that include a catered lunch. And on Sunday, you can attend a brunch with cheese at every course. That day too is the big cheese tasting and marketplace that brings together more than 90 artisan cheesemakers, winemakers, brewers and chefs under one roof. Sounds like fun. Tickets available online.
And coming up March 27-29 is the Garagiste Festival: Southern Exposure in Solvang. If you haven't been to a Garagiste Festival, make this one. The weather should be fine, and that drive from Santa Barbara over the San Marcos Pass is a beauty. Southern Exposure features a "Grand Tasting" both Saturday and Sunday, each showcasing a completely different slate of winemakers. Many of them are pouring their wines for the first time at this event. You won't be talking to a PR rep but to the actual owners or winemakers.
Garagiste is a great way to discover new wines before they break into the mainstream. Many of these wines are normally available only by mailing list or at restaurants. Friday night's "No Repeats: Rare & Reserve" winemaker mixer, at which winemakers blind-taste each other's best wines and vote for the best red in the room, should be lively. Do check the website for information on seminars and other events around the festival. Tickets available online. Proceeds benefit the Cal Poly Wine and Viticulture Program. And hurry, this event tends to sell out quickly.
Follow @sirenevirbila for more on food and wine.
---