Margrit Mondavi pays a visit to downtown L.A.'s Rivera restaurant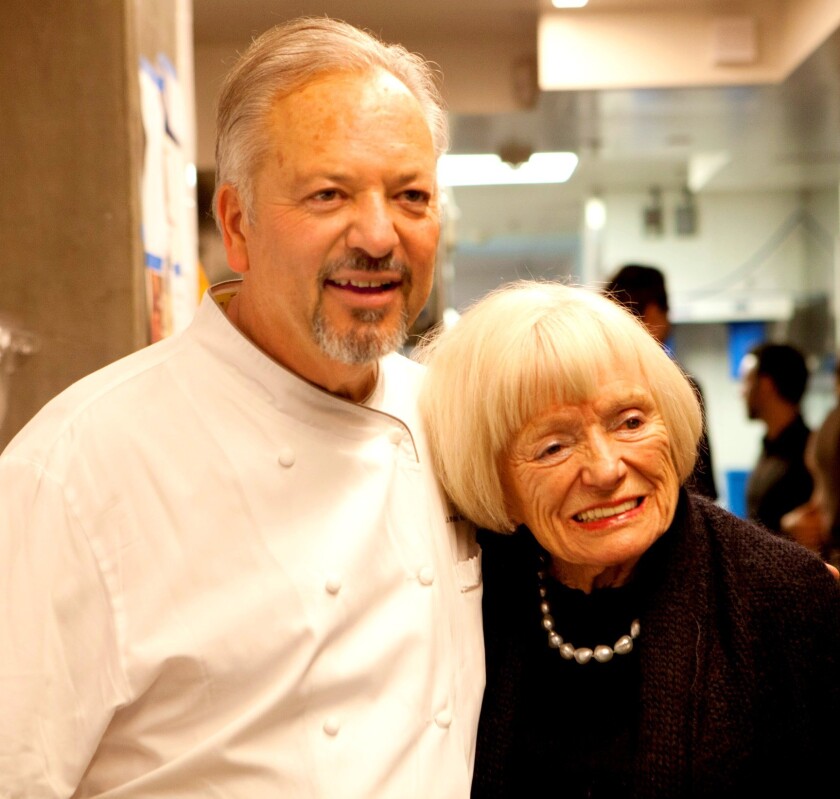 Margrit Biever Mondavi stopped in at downtown's Rivera restaurant Monday night for a dinner promoting Robert Mondavi Winery, founded by her late husband. She was just back from a trip to do the same in Brazil and, after a brief trip back home to Napa, was getting ready to head out to Hong Kong and Beijing.
"I've been getting a lot of opportunities to tell the story about Bob and our wines and I love to do that," said the 87-year-old. "I've got quite a few rings on my tree. But I've had such wonderful times in my life at the table and I like to share them with people."
Mondavi is one of those indefatigable people who gives hope to those getting a few rings of their own. The original plan Monday night was for her to make a few brief remarks before dinner. Then after the first course, she stood up and – at first without even a microphone – began an extemporaneous speech on the Fume Blanc that had just been poured, tossing in some history, some culinary theory and a few anecdotes.
"I love gastronomy and culinary artistry and when you add wine -- that's the best combination," she said.
Even in her eighties, she's still an active taster and thinker. When Rivera chef John Sedlar paired a spicy dish of scallops with broccoli puree and French green lentils, she was worried about how they would work with the Mondavi reserve Chardonnay – the flagship of the winery's white wine line.
After all, a more traditional pairing would have been the Fume Blanc – spice sometimes makes Chardonnay taste flabby and oaky. But in this case, the wine not only survived, but shined. That little bit of spice combined with the richness of the scallops brought out a sweet, buttery side.
"I'm discovering so much all the time," Mondavi said. "There are all those rules, but you have to discover things for yourself and see what is really true."
Monday night's dinner was a kickoff for a monthlong celebration of Robert Mondavi's 100th birthday, which will start in two weeks. For Sedlar, it's a chance to repay a debt. Back in the 1970s, when California cooks were still struggling for recognition, Margrit Mondavi was helping run the winery's Great Chefs series, bringing over famed French three-star chefs for cooking demonstrations.
Then in 1983, the winery threw open the doors to California cooks, and a few years later invited Sedlar, who at that time was making a name for himself at St. Estephe in Manhattan Beach. His menu at Rivera is an homage to those dishes.
"We had been hearing for so long about the big boys, and they were all European," Sedlar said. "Finally, someone was paying attention to California chefs as well.
"This menu is all about honoring two of the most extraordinary people in our extraordinary business."
Rivera, 1050 S. Flower St., Los Angeles, (213) 749 1460
ALSO:
Chicago chef Charlie Trotter dead at 54
Food world mourns Charlie Trotter's shocking death
Charlie Trotter defined what it meant to be an American chef
---
Get our weekly Tasting Notes newsletter for reviews, news and more.
You may occasionally receive promotional content from the Los Angeles Times.