This new Pasadena restaurant serves 11 kinds of poutine
When siblings Jessica and Shant Kalfayan ate at KFC as kids, they never quite understood the mashed potatoes and gravy.
"We assumed the gravy was for the French fries, not the mashed potatoes," said Jessica.
She and her brother, who moved to the U.S. from Montreal more than a decade ago, grew up eating poutine. The two now own Spudds, a new restaurant in north Pasadena that specializes in the Canadian dish made from fries, cheese curds and sauce that the two have been eating since they were kids.
Shant, who has experience working in restaurants in Pasadena, Burbank and Glendale, spent three to four months last summer in Montreal, eating as much poutine as he could, before opening Spudds earlier this year.
He makes his poutine with a soy-based sauce (you can find both soy- and meat-based sauces in Canada) and uses cheese curds made especially for the restaurant by a company in Wisconsin. The curds are a secret blend of multiple cheeses, including cheddar, mozzarella and havarti.
Shant fries each batch to order, covering the fries in a ladle or two of sauce and a mountain of curds. The thick, rich sauce sticks to the fries and turns the curds into small nubs of warm, pliable cheese that you can break apart and eat with each French fry.
And the fries at the bottom of this gooey mess 10 minutes later? They're still crispy.
There are 11 types of poutine on the menu, including the traditional (sauce, curds and fries), along with Mexican Fiesta (traditional poutine with carne asada, salsa, guacamole and sour cream); Crispy Poulet (poutine and fried chicken); Corn Dog (poutine with pieces of corn dog); and the Cowboy (poutine with chili, cheddar cheese and onions).
Next to the poutines on the menu, there's a section simply labeled "jacket potato." These are giant baked potatoes and yams, stuffed with toppings including chilli, cheese and onions; sour cream and chives; and even shrimp cocktail (seriously).
Shant and his sister are also making burgers, hot wings and sausages.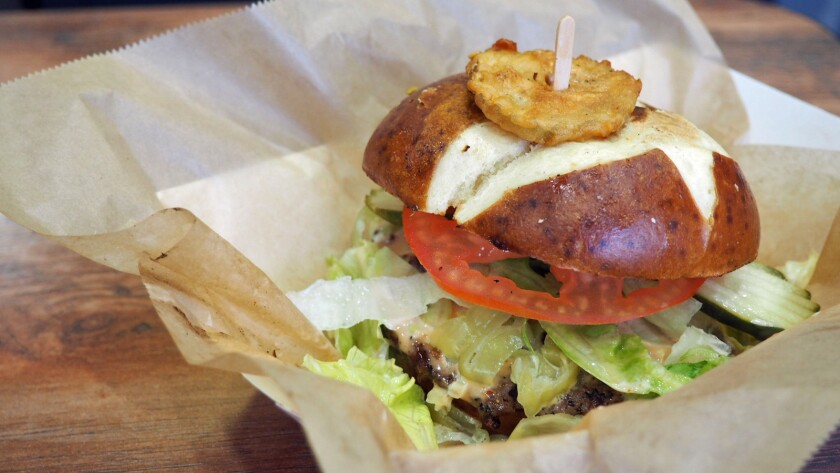 Spudds is open Monday to Saturday from 11 a.m. to 9:30 p.m. and Sunday from 12 p.m. to 9 p.m.
1802 E. Washington, Pasadena, (626) 486-2800.
Extra cheese please. Follow me on Twitter and Instagram @Jenn_Harris_
ALSO:
Love cheese? Try this fondue recipe
There's a truck full of free Pocky chocolate snacks, and it's headed for Los Angeles
What's next for Smog City Brewing? For starters, a satellite tasting room in Long Beach
---
Get our weekly Tasting Notes newsletter for reviews, news and more.
You may occasionally receive promotional content from the Los Angeles Times.