Ramen Manichi opens in Little Tokyo: black tonkotsu, gyoza, salaryman lunch
A bowl of Korumaru tonkotsu Shibori ramen in one of the bright red bowls that the owner of Ramen Manichi imports from Japan.
(Amy Scattergood / Los Angeles Times)
A plate of gyoza covered with green onions at Ramen Manichi in Little Tokyo.
(Amy Scattergood / Los Angeles Times)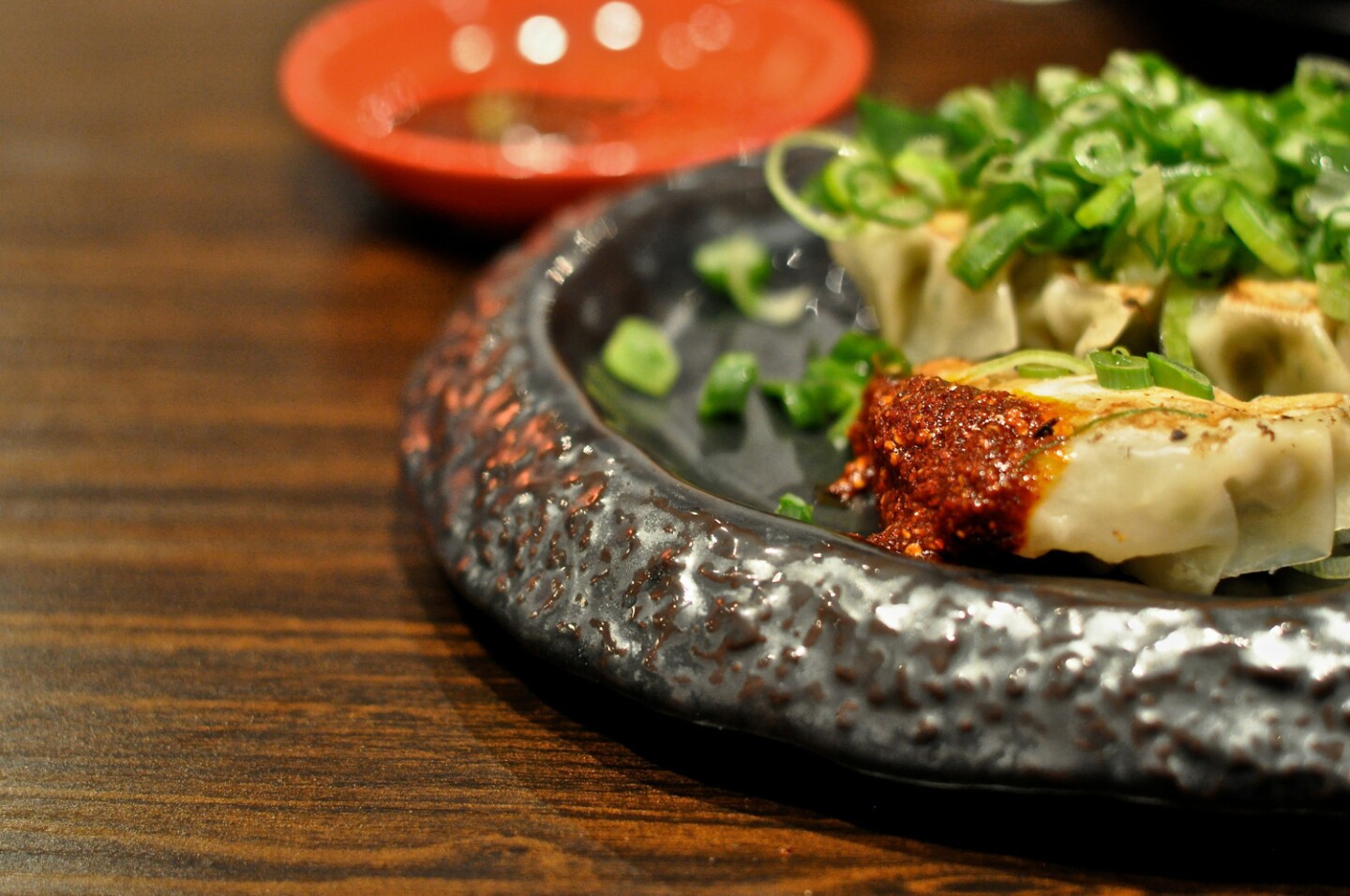 Pan-fried gyoza covered with green onions and dipped in house-made chile sauce at Ramen Manichi.
(Amy Scattergood / Los Angeles Times)
The owner commissioned an art student to draw a ramen composition in the back hallway.
(Amy Scattergood / Los Angeles Times)
The floors of Ramen Manichi date to a 1930s shoe shop.
(Amy Scattergood / Los Angeles Times)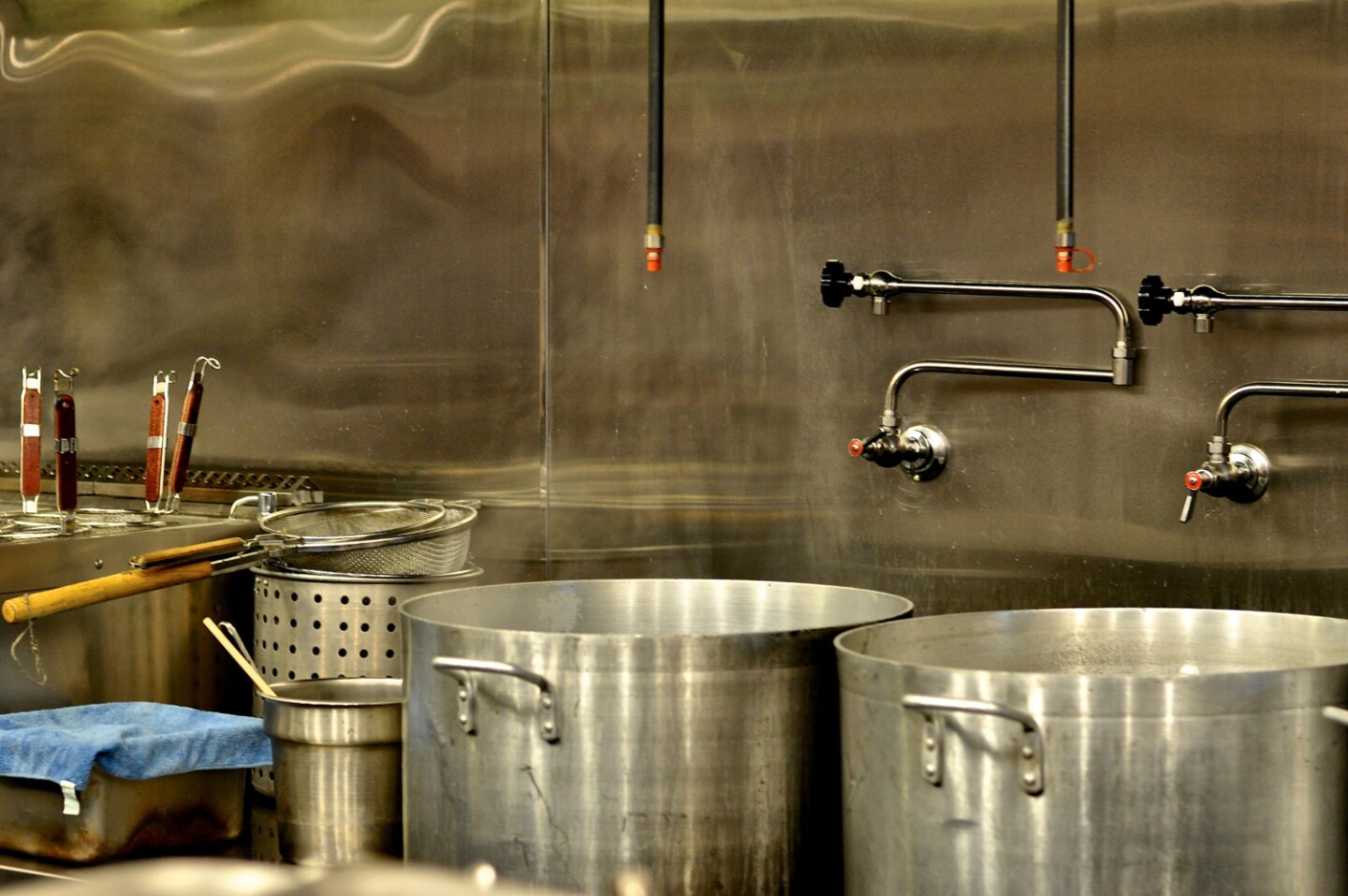 Ramen broth, including the thick pork tonkotsu, are made in giant pots behind the counter.
(Amy Scattergood / Los Angeles Times)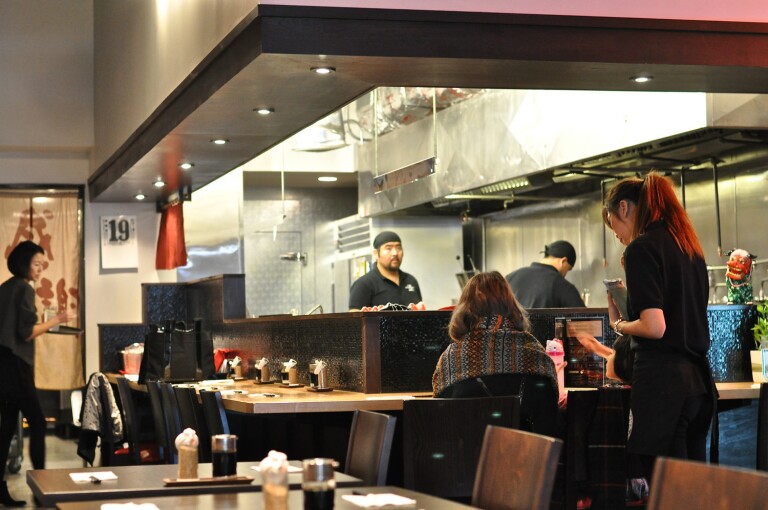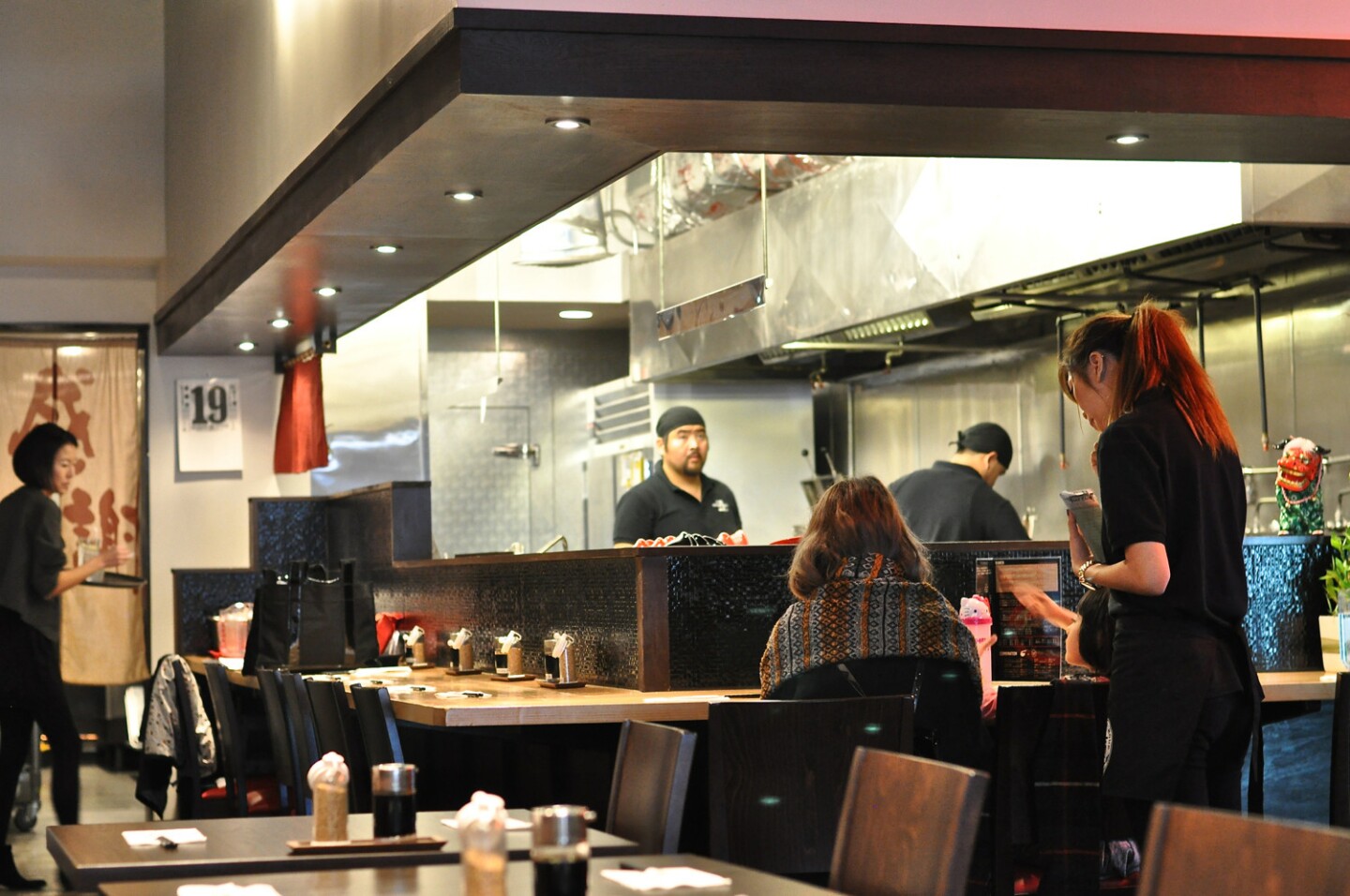 The latest ramen shop to open in Little Tokyo is Ramen Manichi.
(Amy Scattergood / Los Angeles Times)
Detail of the ramen-themed art painted on the back hallway of Ramen Manichi.
(Amy Scattergood / Los Angeles Times)
Sure, you can go to Torrance, Gardena or Sawtelle for excellent ramen, but there's something lovely and almost old school about slurping a bowl of the hot noodle soup in Little Tokyo. A thriving Japanese American community for well over 100 years, there have historically been plenty of ramen-yas there, most notably the original Daikokuya on 1st Street, where the lines are often longer than any you'll find at nearby Disney Hall.
If the lines there are too daunting, you might try a new ramen bar a few doors up the street. Ramen Manichi soft-opened two weeks ago. It's the first mainland American branch (there are three in Hawaii) of a Japanese ramen company that started in Kurume in 1953.
Ramen Manichi is a sleek ramen shop, with a red-and-black color scheme and photos of the original Japanese shop and owners, filled with 16 two-top tables and a 10-seat ramen bar. Behind that counter are the massive pots for the broth, the steaming hot water for the noodles, and the ramen chefs themselves, who are furiously filling your bright red bowls, all of which are made for Manichi in Kyushu, Japan.
Ramen Manichi specializes in tonkotsu ramen, the dense pork-built bone broth that originated in Kurume, a region known for its pigs. The tonkotsu broth here is simmered for 20 hours, then paired with straight, chewy noodles that are somewhat thicker than those for, say, Hakata ramen, since they have to stand up to the serious broth. You can get that rich broth further fueled with red miso or with black garlic, which comes in your bowl like a happy oil slick.
There are the usual accompaniments of soft-cooked egg, chashu pork (here roasted, fairly thinly sliced and spiraled like pancetta), spicy miso, pickled mustard greens, bamboo, and shrimp. They're also working on a spicy red chile paste that can be added to whatever you've ordered, which can include not only ramen but fried rice, spicy cod roe and fried chicken.
Ramen Manichi also specializes in gyoza, and in fact those dumplings predate the ramen. Back in 1953 the very first shop opened in the form of a gyoza cart.
Ramen was introduced by the owner's son, according to Ramen Manichi's Jason Easton, who not only owns the Little Tokyo shop but, since he's a general contractor, also built out the space. The location was previously a video shop, but Easton says that the distinctive tiles on the floor date to when it was a shoe store in the 1930s.
Easton is a first generation Japanese Chinese Angeleno from Los Feliz — a fitting lineage for a ramen shop owner, as both ramen and gyoza came to Japan from China. This is his first ramen-ya, and he specifically wants his shop to serve the local lunch crowd, targeting the 30-minute business lunch in much the same way that Japanese ramen shops serve the "salarymen" who need a quick lunch to fuel their workdays.
Easton has been busy, not only building out the space and getting the recipes, all of which come from Manichi's Japanese headquarters, but also commissioning artwork. If you head past the ramen bar into the back hallway where the restrooms are, you'll see the walls filling up with paintings, including an impressive piece by a local art student who has painted a kind of Steampunk black-and-white mural of a mechanical ramen god.
Ramen Manichi's official grand opening will be Feb. 14, Valentine's Day, something to consider if your loved one is a ramen fiend. Right now there's soda and tea, but Easton is working on a liquor license. He's also working on opening a second Ramen Manichi, in Torrance, hopefully by the end of March.
Ramen Manichi: 321 1/4 E 1st St., Little Tokyo, (213) 613-9888.
Beause taking pictures of ramen is almost as much fun as eating it, on Instagram @ascattergood.
---
Get our weekly Tasting Notes newsletter for reviews, news and more.
You may occasionally receive promotional content from the Los Angeles Times.