Ricardo Zarate to open Peruvian restaurant in old Comme Ça space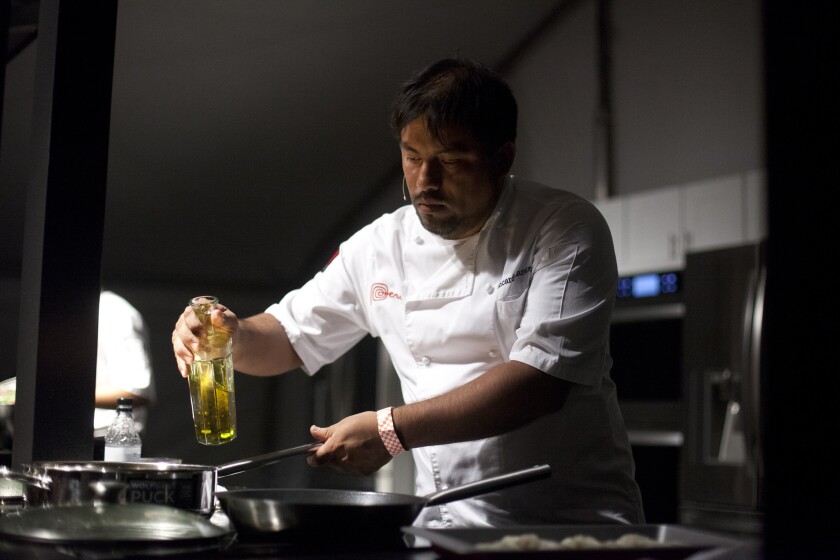 Ricardo Zarate will open a new Peruvian restaurant this summer, a still-unnamed project that will go into the West Hollywood space previously occupied by Comme Ça.
This is big news for Zarate, whose downtown restaurant Mo-Chica introduced many Los Angeles diners to Peruvian food and whom Food & Wine named Best New Chef in 2011. The chef has been without a restaurant since he split from his previous partners and closed not only Mo-Chica but Paiche, his other Peruvian restaurant in Marina del Rey. Both restaurants closed at the end of 2014; Zarate also left Picca, the other Los Angeles restaurant he helped open, in 2014.
For the new restaurant, Zarate is partnering with L.A.-based Culinary Lab (the company that operated Comme Ça and runs Hinoki and the Bird) on a Peruvian concept that will feature open charcoal cooking. Zarate will cook the food he's long been known for, versions of Peruvian classics updated with a Los Angeles farm-to-table ethos.
"This was always the plan," Zarate said of the new restaurant. "I went through a big transition, and this time, I wanted to be in a position where I'm going to be comfortable and be myself."
Zarate and his partners are working with architect Kevin Tsai to rework the space, which has been empty since Comme Ça closed. A central feature will be a big Josper oven. Zarate said he first encountered the Spanish-made charcoal ovens in his native Peru, where he was running a pop-up event. He says he's eager to experiment with cooking not only meat and seafood on it, but vegetables, as he's planning on having an extensive vegetarian menu at the new restaurant.
"It's going to be rustic," Zarate said. "I'm going to use a lot of vegetables from the farmers market."
He says his cooking will be similar to what he was doing at Once, the pop-up he ran in Santa Monica over the summer. "But it's going to be different too — more approachable."
For those diners who have been following Zarate since he started Mo-Chica out of a tiny stall in the Mercado la Paloma south of downtown in 2009, the chef said that yes, he'll have ceviche on the new menu.
"I'll use the experiences I've been through. I just want to cook the food I love, the food of my roots," said Zarate, who ended his pop-up when his first cookbook, "The Fire of Peru: Recipes and Stories from My Peruvian Kitchen," came out in October. "It's very personal."
As for the location, Zarate said he's excited about it for a number of reasons, including the Comme Ça legacy. (Although it was open for only a few years, that David Myers restaurant was part of the new wave of bistros in Los Angeles and among the first to launch what restaurant critic Jonathan Gold has called the New Cocktailanism.) "I'm very excited to start working on a cocktail program — and Comme Ça was a kind of pioneer for that."
Said Zarate: "I owe a lot to Los Angeles. How do you say in English? The bar is high."
8479 Melrose Ave., West Hollywood.
Because taking pictures of food is almost as much fun as eating it, on Instagram @latimesfood.
ALSO:
Danny Trejo talks vegan tacos at the new Trejo's Tacos on La Brea
Catch & Release in Marina del Rey closes; Italian restaurant forthcoming
Miami's Broken Shaker bar, Israeli restaurant by Jenn Louis are coming to downtown L.A.
---
Get our weekly Tasting Notes newsletter for reviews, news and more.
You may occasionally receive promotional content from the Los Angeles Times.