Three spring wine events: Paso Zins, STARS of Napa Valley, SLO Wine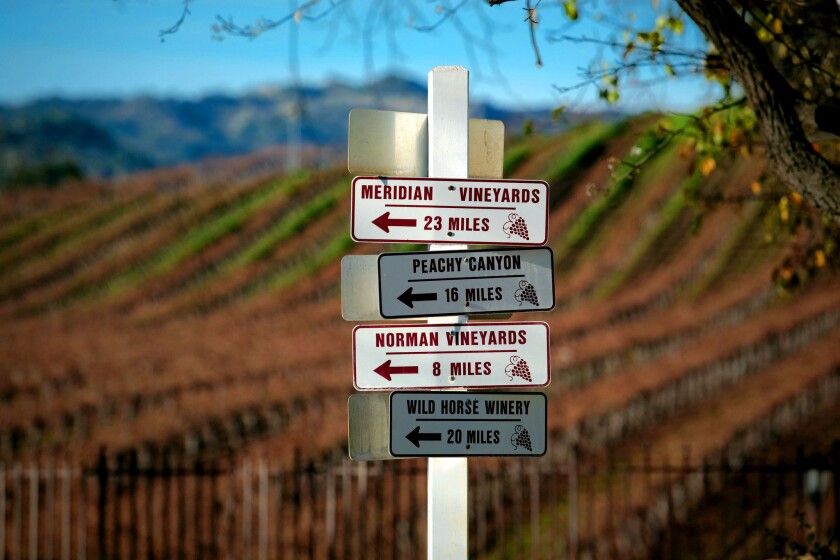 The weather may seem like summer, but, really, it's still spring. Vines are breaking bud and wine events are busting out too. Here are a few coming up in the next weeks.
In Paso Robles this weekend, March 20 to 22, is Vintage Paso: Zinfandel Weekend. Local vintners are into the grape in a big way and for the event more than 140 wineries will be presenting barrel tastings, winemaker dinners and/or vineyard tours. You know the drill.
The new "Zinposium," two Zinfandel-focused seminars are already sold out, which means early signups for other events are a good idea. Point your browser to the Zinfandel Weekend website and plug in the day or the name of a winery to get a list of activities planned. Ancient Peaks winery, for example, is serving their Zin with Santa Maria barbecue tri-tip sandwiches on Saturday and Sunday afternoon. On Sunday Castoro Cellars will have a 9 a.m. yoga class followed by an organic brunch and their own sparkling wine ($30). Caucus Cellars will be doing Zinfandel and blue cheese pairings all weekend. And so it goes — through 140 wineries.
Closer to home, Shade Hotel in Manhattan Beach (with wineLA) is hosting the first annual STARS of Napa Valley Wine Festival on Thursday, March 26, at 7 p.m.
Forty wineries will be attending and they include Heitz, Frank Family Vineyards, Signorello Estate, ZD Wines, Inglenook and more. The food will be hors d'oeuvres. And, like any proper wine festival, there will be a silent auction, in this case with proceeds to benefit Manhattan Beach Middle School. Regular admission is $125 for advance ticket sales. For tickets, call Ian at wineLA at (310) 451-7600 or visit www.winela.com/stars-of-napa-valley.
Starting April 1, SLO Wine in San Luis Obispo celebrates 25 years with Roll Out the Barrels, a monthlong series of events in wine country there.
If you're headed north anytime before May 3, check out the activities planned by visiting www.slowine.com. Join in a tasting to learn about different types of French oak. Accompany a winemaker on a ranch hike or enjoy a lunch of vegetables and wines grown on a wine estate. Some events are free, others have a charge. Pairing local oysters with Ancient Peaks Sauvignon Blanc sounds like fun: That happens the afternoon of April 11 ($2 per oyster). Scroll through the month to find winemaker dinners, farm-to-fork dinners, vertical tastings, barrel tastings and other fun things to do.
Follow @sirenevirbila for more on food and wine.
---
Get our new Cooking newsletter.
You may occasionally receive promotional content from the Los Angeles Times.