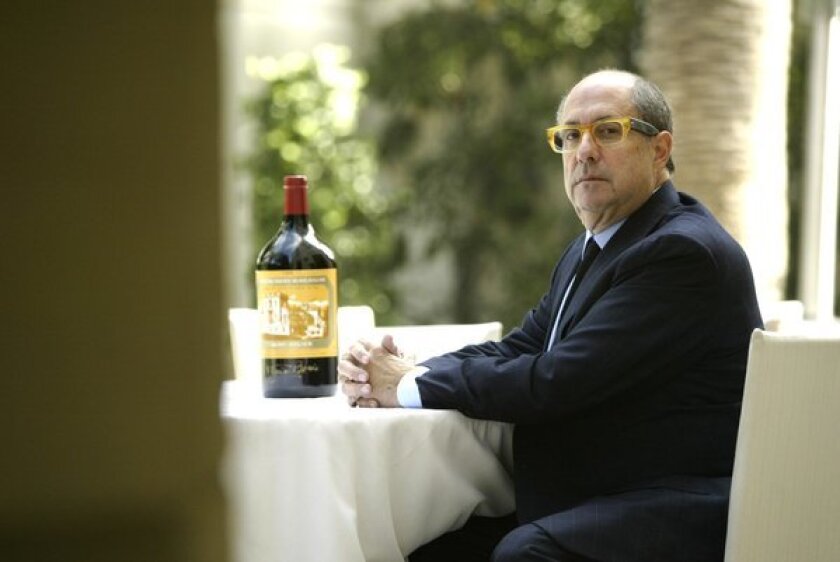 Steve Wallace, one of the founding foodies in Southern California, has sold his namesake Westwood Boulevard wine store Wally's Wine & Spirits to business partner Christian Navarro and a group of investors that includes longtime customers Maurice, Paul and Armand Marciano, founders of the Guess fashion empire.
Wallace started Wally's in 1968, as a liquor store -- well before the current passion for food and wine began. And as interest in the subjects grew, Wally's was at the forefront. It was among the first to sell fine European wines, and then to seek out and support the growing number of high-quality California wineries.
Along the way, the store became well-known not only for its wares, but also for its celebrity clientele, which over the years has included everyone from Jack Nicholson to Kareem Abdul-Jabbar – and the Marcianos. For the last decade or more, the handling of these customers has been a specialty of Navarro, who has been called the "wine therapist to the stars."
The news of the sale was first broken by the website The Daily Meal, which is run by Wallace's longtime friend Colman Andrews.
"The last few years I've been wanting to move on and do other stuff and I finally found suitable partners," Wallace says. "I've always had Christian and he had good relationships with the Marcianos, and this seemed like a deal that would make everybody happy.
"I was wanting to move on, Christian was wanting to move up and the Maricanos moved in. It worked out great. The passing of the baton will be very easy."
Navarro, who started working at Wally's more than 20 years ago, says the deal started to come about a couple of months ago.
"Steve wanted to go fishing," he says. "He's been doing this for 45 years and wanted to do other things. And as you'll get to notice, I'm very ambitions and I have a lot I want to do in helping food and wine culture in Los Angeles and beyond, and I thought it was time.
"And I'm lucky enough to have friends and now partners who are as energetic as I am and as passionate as I am about food and wine and are ready to make a go."
Navarro says his first order of business will be doing business as usual -- only better.
"The plan is to grow the company, but to grow it correctly, from the inside out," he says. "We're going to do what we do, only better, first, before we make plans to do anything else."
There has been speculation about expanding the store into other cities, but Navarro says that's premature. "First we have to take care of Los Angeles," he says. "We just want to enhance the great work Steve has done over the last 45 years."
At this point, he says, the main plans are to expand Wally's food program, increase its web presence, and push even further getting "hard-to-find and highly allocated wines from around the world."
Almost since the beginning, those high-cachet wines have been the centerpiece of the Wally's store, dating back to the days when Wallace would hand-carry wines from up-and-coming new wineries back to Los Angeles.
"In the old days, Steve used to drive up to the Napa Valley in his station wagon and fill up his car with wines from [Caymus Vineyard founder] Charlie Wagner and Robert Mondavi," Navarro says. "Things have changed. I can't do that anymore, but I'm able to converse with people in London, New York, Hong Kong, around the world, all in the same hour. With the speed of information, really we're all in just one living room, so to speak."
Despite the changes, that access to hard-to-find wines is still a centerpiece of Wally's business strategy. While Southern California wine retailing is notorious for price-cutting, Navarro says Wally's has been able to maintain its edge by delivering wines shoppers can't find elsewhere -- sometimes literally.
"If you need to have a certain bottle of wine at your home at 7 p.m., we'll make sure that happens, even if I have to drive it over myself," Navarro says.
The food world was much smaller when Wallace started out. And maybe more collegial. "I was just having lunch with [one-time Los Angeles chef] Jonathan Waxman and we were talking about the old days," Wallace says.
"That was some time. We had Colman [Andrews], we had Ruth Reichl, Randall Grahm, Michael McCarty, all of these wonderful people who were passionate about the same things we were. It was a culture of food and wine in which everybody shared information.
"I'm just happy to have been able to be part of that conversation."
Wally's Wine & Spirits, 2107 Westwood Blvd., Los Angeles, (310) 475-0606.
ALSO:
7 great California wines to try
Dunkel Dad Pie is a beer dessert
---