Where to get great vegan fro-yo and ice cream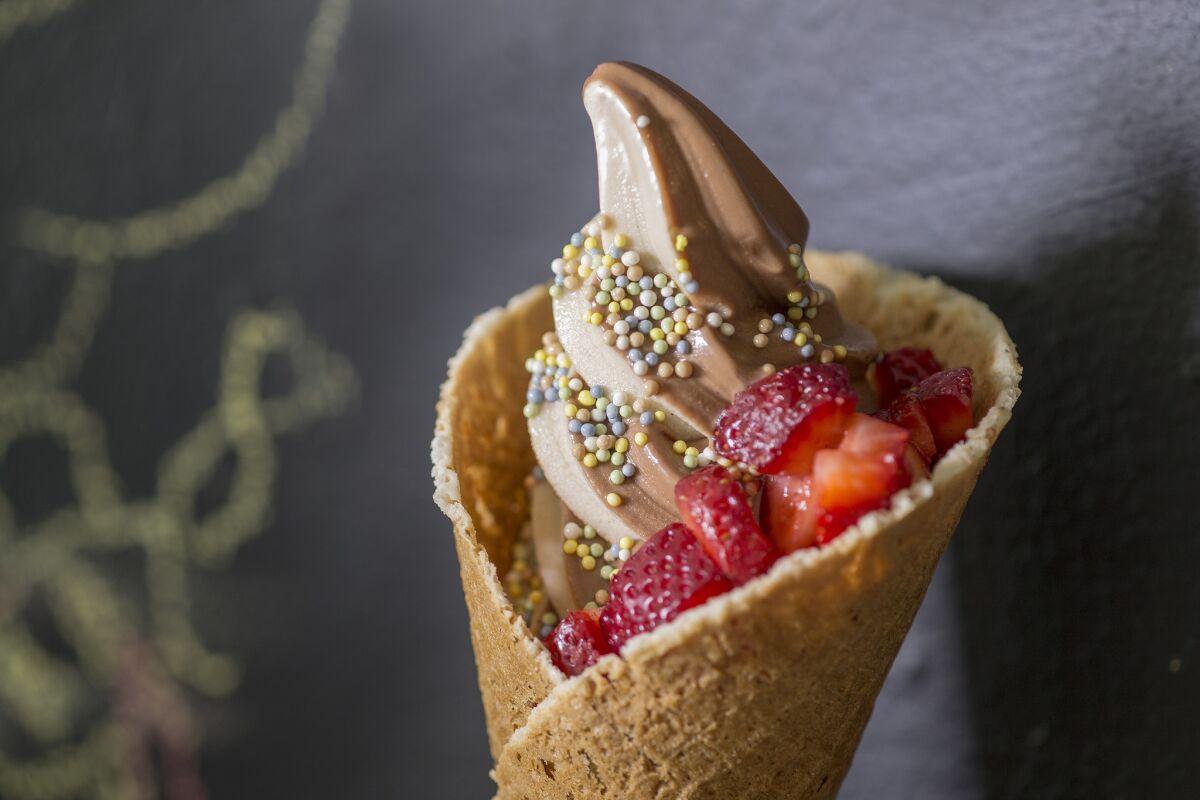 The term "vegan dessert" may be a little more exciting than it once was — or at least it should be. We have Gracias Madre, the vegan Mexican restaurant in West Hollywood that makes a pretty great key lime pie; Crossroads, Tal Ronnen's vegan restaurant on Melrose Avenue; and Little Pine, Moby's Silver Lake vegan cafe, to thank for that. And it's not just vegan restaurants that have propelled the vegan dessert market into something both vegans and nonvegans can get excited about. When you need something that resembles ice cream or frozen yogurt, there's no shortage of soy milk-based ice cream products at the grocery store. But what about when you want the full ice cream or fro-yo experience — to have it scooped for you at a shop, or dispense it yourself out of one of those giant yogurt machines into a perfectly imperfect swirl and add your own toppings?
Here are three shops where you can get pretty great fake ice cream, plenty of cacao nibs and vegan waffle cones. Because whether you're actually vegan, your blind date turns out to be vegan, or you're just trying to cut down on dairy, you shouldn't have to suffer.
Yoga-Urt
All of the "yogurt" at Yoga-Urt in Glendale is made on site using housemade nut milk. There's no soy, no dairy, no gluten, and it's kosher. In other words, PETA loves this place. You can find all the yogurt shop standard flavors including chocolate, vanilla, peanut butter and strawberry, only these versions are all made with a cashew nut base and almond milk. The texture is similar to regular soft-serve frozen yogurt, only creamier. And you can get any of the flavors in a waffle cone, in a cup, in a smoothie or on top of a banana split. If you really want to go wild, you can even add some dried mulberries and vegan gummy bears. 1407 Kenneth Rd., Glendale, (818) 545-3880, www.yoga-urt.com.
Kippy's
The ice cream at this Venice shop is made with raw and organic coconut cream. But no, it doesn't taste like coconuts. It's thick and smooth like real ice cream, not icy. There are flavors sweetened with raw honey (cinnamon, lemon creme, Mexican hot chocolate), then there are the truly vegan flavors (honey isn't technically vegan because it comes from an insect), coffee chocolate and vanilla, that are sweetened with dates, giving them an extra rich consistency and a subtle, fruity sweetness. And if you're wondering if there's any actual coffee or caffeine in the vegan coffee flavor, there isn't. Instead, it's flavored with the pit of a fruit from Guatemala that happens to taste like coffee. 245 Main St., #3d, Venice, (310) 399-4871, www.kippysicecream.com.
Milky's
This places looks just like a regular self-service frozen yogurt shop in Pico-Robertson, frequented by teenagers and families in the area. Only at this shop, next to the lever that dispenses Nutella fro-yo, are four vegan flavors. Milky's offers vegan soy-based chocolate, peanut butter and tart yogurt, as well as a rotating fruit sorbet. The soy-milk ice cream is smooth enough (just a tad icy), and you can swirl the peanut butter and chocolate together for something pretty close to a frozen Reese's in a cup. When you're done at the machine, the toppings are clearly labeled as vegan and nonvegan, so you'll know which of the chips are chocolate and which are carob. 1429 S. Robertson Blvd., Los Angeles, (424) 354-3197.
Sprinkles or it didn't happen. Follow me on Twitter and Instagram @Jenn_Harris_
ALSO:
How to make the perfect strawberry mojito
Want your dumplings and bao in different colors? Head to Rowland Heights
How to get a box of really cool Japanese snacks and toys delivered every month
Get our L.A. Goes Out newsletter, with the week's best events, to help you explore and experience our city.
You may occasionally receive promotional content from the Los Angeles Times.