Winemakers are optimistic about this year's early Sonoma harvest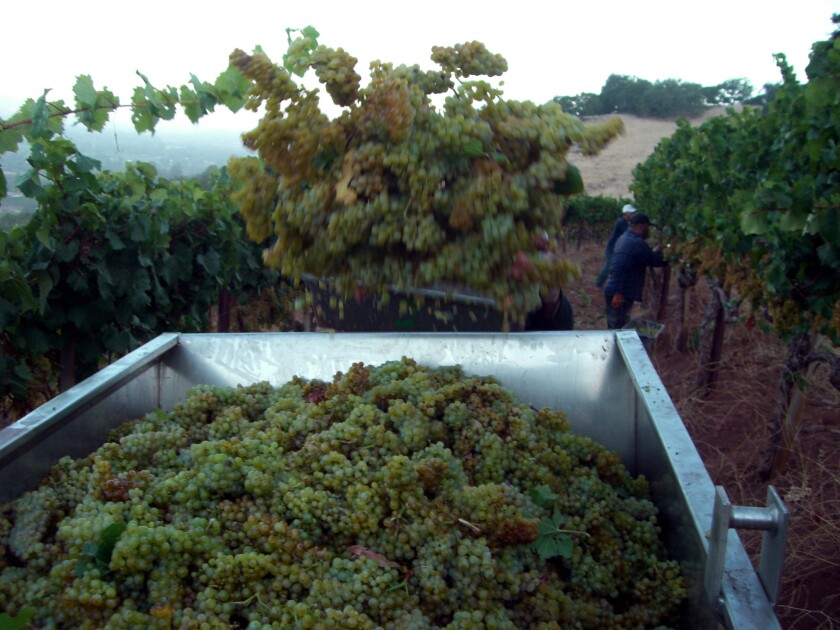 Sonoma County has such diverse microclimates and terrain, it can be hard to get a handle on the harvest as a whole. One thing for sure, the harvest was up to three weeks early and compressed into a shorter time frame than usual, which kept vintners to an exhausting pace.
Scot Bilbro, co-owner and winemaker for Marietta Cellars and Limerick Lane Cellars in Healdsburg says the 2013 harvest had "excellent quality on all the grapes, really concentrated flavors and great fruit. Other than two passing showers in the middle of harvest, it's just been beautiful weather that's really allowed us to wait until all the grapes were at optimal ripeness. Because Mother Nature cooperated so nicely, we could pretty much pick everything exactly when we wanted."
Bilbro has been making wine for seven years and since 2007, "it's just been one difficult harvest after another. In 2008, it was forest fires. 2009 brought horrible frost and then 2010 and 2011 were both very, very cold summers with early rains. It's been really erratic and volatile."
But 2013? "We get to enjoy the harvest for once."
Morgan Twain Peterson, owner and winemaker of Bedrock Wine Co. in Sonoma Valley, says, "Because we've had a number of cold and late years, 2013 felt early and fast, but in reality a lot of the grapes came in at about average timing." It just was a long harvest. He started picking grapes for a sparkling-wine project Aug. 8 and brought in the late-harvest Sauvignon Blanc just last week, at the end of October. He's happy to be done, he says. "It always feels good when you know you're sitting on a cellar full of good wines."
Last week, Ross Cobb, winemaker for Hirsch Vineyards and for his family's estate Cobb Wines, both on the Sonoma Coast, was just finishing up. How did it go? "I have no idea. I can't even taste my wines in barrel right now. This has been one of the most difficult vintages I've ever been through."
Why? "It was very fast and compact. Usually Hirsch Vineyard Pinot Noir comes in the first or second week of September and over a two- or three-week period. This year it all came in the first week of September and all of the Hirsch Vineyard came in within nine days." In other years, the Cobb Wines vineyards come in two or three weeks later than Hirsch does. But this year everything came in within the same 10 days.
"We all worked 40, 50 days without a day off. It was very difficult physically, mentally and also logistically. Right now is the most difficult time to generalize about the quality of the harvest," he says. "We're just trying to figure out what happened and what went where." He will say that all the fruit came in "pretty clean, with good flavors, good natural acidity and not too ripe. The overall quality should be excellent."
And that's a wrap.
ALSO:
Wine Riot arrives in downtown L.A. on Saturday
Charlie Trotter: A pioneer in wine as well as food
Margrit Mondavi pays a visit to downtown L.A.'s Rivera restaurant
Twitter: @sirenevirbila
---
Get our weekly Tasting Notes newsletter for reviews, news and more.
You may occasionally receive promotional content from the Los Angeles Times.