The joys of charcuterie: 8 L.A. restaurants with great plates of cured meat
It's between the lunch and dinner rushes at Miro, a new Mediterranean restaurant in downtown L.A., and chef Gavin Mills is at the back of his kitchen, breaking down a hog. The chef gets two 110- to 120-pound hogs a week from Marin Sun Farms and Finley Farms, both in Central California. And half of that will be used to make charcuterie, the French word for smoking and curing meats such as salami and prosciutto.
Mills, who has been making charcuterie for 15 years — he had a charcuterie company called Mills & Co. Meat and Provisions for three years in Los Angeles before opening Miro — takes a saw and starts separating the hog's front shoulder, which he'll use to make sausage, pork ragu, bolognese sauce and salami. Then he uses a boning knife to separate the section that will eventually become coppa, a tender, fatty salumi (the Italian word for charcuterie; salami is one of the many salumi).
Mills separates the belly from the animal, which he'll use to make bacon and pastrami. Then he trims the back fat for pâté, terrine and sausages, and dries the skin for chicharrones (crispy pork skin). And, finally, he uses the saw to separate the rear leg, which he'll use to make prosciutto. After all this hard work, he won't know if the prosciutto he's cured in his meat locker downstairs is delicious, or even edible, for the next four to six months. Welcome to the world of charcuterie.
See the most-read stories in Life & Style this hour >>
Before chef Chad Colby opened Chi Spacca in 2013, a member of the Mozza family of restaurants that serves as an elaborate ode to meat on Melrose Avenue, in-house charcuterie programs were near nonexistent. (Colby helped Mozza to become the first L.A. restaurant to be licensed to both cure and serve meat.) Colby has since left the restaurant, but he paved the way for chefs around the city to start curing their own meat. And in the last three years, boards covered in housemade sliced rounds of salumi, smears of pâté and blocks of terrine (the French name for a formed meat loaf) have shown up on tables across the city. If you're looking for culatello (a cured portion of the large muscle in the rear leg of a pig) that melts on your tongue, rich chicken liver pâté or salty duck prosciutto, here are some places making their own.
Bestia
At chef-owner Ori Menashe's downtown restaurant, his charcuterie shows up on the chef's salumi board, but Menashe says "it's part of the layers that we add into many dishes on the menu." So the 'nduja, an Italian spicy salami spread, might make an appearance on a pizza or in a bowl of mussels and clams. Bits of salumi will be used to start sauces for a little extra umami. Each week it's different — Menashe says he likes to switch things up because "I don't want to be boring." And his charcuterie is anything but. A recent slab of terrine was peppered with fresh mint and Thai basil. And his version of ciccioli (pressed fatty pork) is smoked, then served with lemon basil and opal basil, a sticky pomegranate molasses, pickled mustard seeds and chile. And everything comes with a couple slices of bread that Menashe bakes in his wood-burning oven. The charcuterie may make it hard to save room for a bowl of spaghetti rustichella (sea urchin pasta with squid ink bottarga), but ordering the board is an absolute necessity. 2121 E. 7th Place, Los Angeles, (213) 514-5724, www.bestiala.com.
Cassia
Bryant Ng, the chef of the Viet-French restaurant Cassia in Santa Monica, is making what may be the most eclectic charcuterie board in the city. "I wanted to present different types of charcuterie that involved cooked charcuterie as well as dry-cured meats that would take a longer commitment," said Ng, who waits one and a half to three years for his Yunnan pork (a silky pork with a texture between prosciutto and lardo) to be ready. "Its's like waiting to open a present during Christmas, only Christmas is still at least six months away." And each component is meant to mimic an item you'd traditionally find in Southeast Asia (the chef's family is from Singapore, his wife's family is from Vietnam and his family once owned a Cantonese-Polynesian restaurant in Santa Monica). There's a smoked red sausage inspired by the red sausages of northern China; Singaporean candied pork (a sweet, salty, charred bacon); smoked curried duck (similar to the stuff you'll find in Saigon); and Vietnamese meatloaf — similar to the baked egg found at some Vietnamese restaurants). And everything comes covered in a combination of herbs commonly found next to a bowl of Vietnamese pho. "There are no rules as to how to eat the herbs or with which charcuterie item," said Ng. "The idea is to try it all and to come up with what you like best." 1314 7th St., Santa Monica, (310) 393-6699, www.cassiala.com.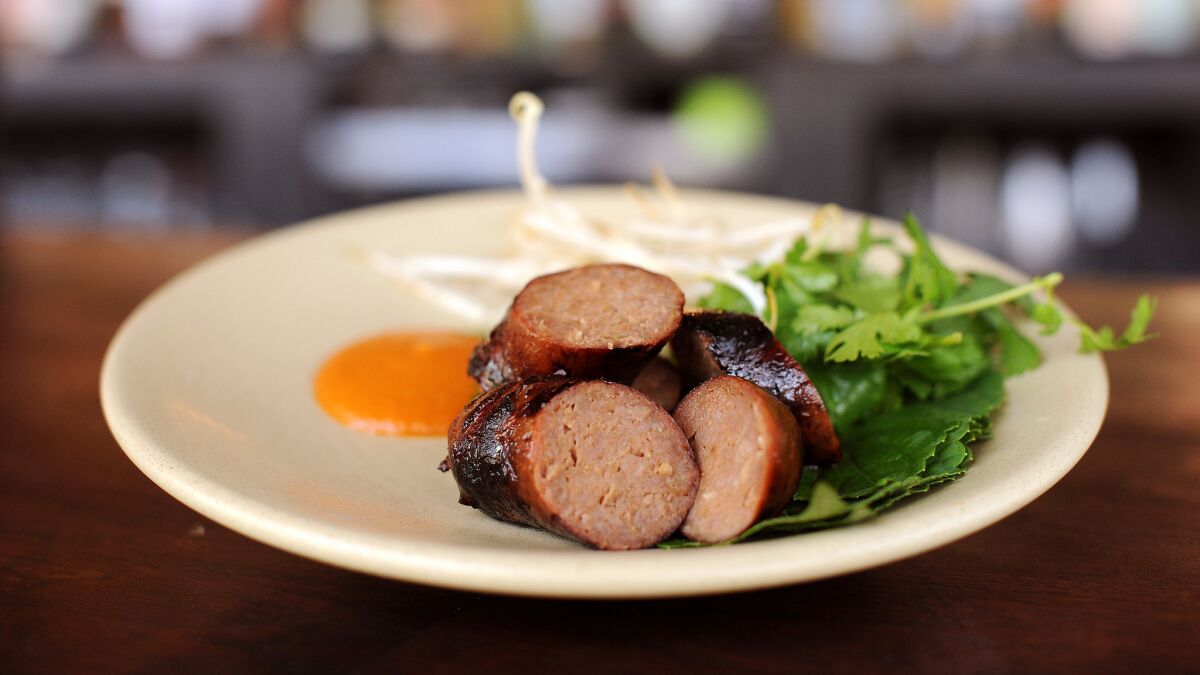 The Cannibal
Francis Derby, chef at the Cannibal, a new meat-centric restaurant in Culver City, doesn't like to wait eight months to find out if a piece of salami is edible. So he's sourcing cured meats and limits the house charcuterie program to pâté, terrines and sausages. He hasn't let that limit his creativity. "For me, it's a complete dish, rather than what I can pair with a certain sausage," Derby said. That kind of thinking leads to a cornbread and root beer sausage made with diced, frozen cornbread blended into a sausage with root beer seasoning; a chicken liver mousse; a Korean bulgolgi sausage served with sesame leaves so you can wrap the sausage and eat it ssam style; and a cochinita tostada (a pig head terrine head cheese flavored with cochinita pibil spices). "We just have fun," Derby said. "I take my job very seriously, but I don't take myself too seriously." 8850 Washington Blvd., Culver City, (310) 838-2783, www.thecanniballa.com.
Chi Spacca
Ryan DeNicola, executive chef at Chi Spacca, has a pig delivered each week, and each week he and his team break down the animal, divvying up the rear legs for culatello or prosciutto, maybe a shoulder for coppa, the belly for pancetta tesa (flat instead of rolled Italian bacon) and the heart for a terrine. If he decides to make a culatello, DeNicola removes the most muscular part of a rear leg, rubs it with Lambrusco, garlic, black pepper and salt, stuffs it into a cow's second stomach, then ties the entire thing up to be cured. He'll have to wait 15 months to try it, but it's well worth it. The culatello is basically meat butter — the strips salty and pungent with an umami similar to good, aged cheese. He's also making trotter fritti (a breaded and fried crispy pork cake made with pigs feet). "Not a lot of ways to make Americans eat pig feet," DeNicola said. "These are the things that people in L.A. usually don't eat. Somehow, we've been very successful with it." 6610 Melrose Ave., Los Angeles, (323) 297-1133, www.chispacca.com.
Church and State
Chef Tony Ensault, who co-owns the downtown restaurants Spring on 3rd Street and Church and State in the Arts District, has a "grande charcuterie" board at Church and State — it spans the length of the table. This impressive display of meat starts with slices of country pâté; a dollop of whipped lardo pierced by a crispy, airy chicharron; slivers of duck prosciutto (which involves the laborious process of trimming, curing, rinsing and drying a duck breast); pickled vegetables; a mound of duck rillette; a quenelle of chicken liver mousse with apple; and a couple slices of head cheese (gelatinous squares of pork made by cooking a whole pig's head, de-boning it, pressing it overnight, then forming a terrine). Expect rabbit rillettes in the spring and summer, and blood sausage in the fall and winter. 1850 Industrial St., Los Angeles, (213) 405-1434, www.churchandstatebistro.com.
Gwen
Curtis Stone is using his new butcher shop in Hollywood to build a charcuterie program to be reckoned with at the adjacent restaurant, Gwen. The restaurant's tasting menu changes often, but a recent iteration included a plate of duck speck, a rustic pork and liver terrine and slices of an ash and porcini salami (dried and fermented, seasoned with porcini powder, leek ash and marsala) that will probably make you think of an Italian version of lap cheong, the sweet Chinese sausage. You are also served a small dish of spicy, spreadable 'nduja. The restaurant has been open only a month, but Stone said he now has a couple thousand pounds of charcuterie, including a dry age locker full of cured meat hanging from chains. "The butcher shop is really the heartbeat of the restaurant," said Stone, who works with his house butchers Alex Jermasek and Daniel Roderfeld. Stone said the charcuterie program is also a way to eliminate waste and ensure the butcher case is always stocked with interesting items. "If I want to have pheasants in the case or rabbit, they might not sell, but there's all this other stuff we can do with it." 6600 Sunset Blvd., Los Angeles, (323) 946-7500, www.gwenla.com.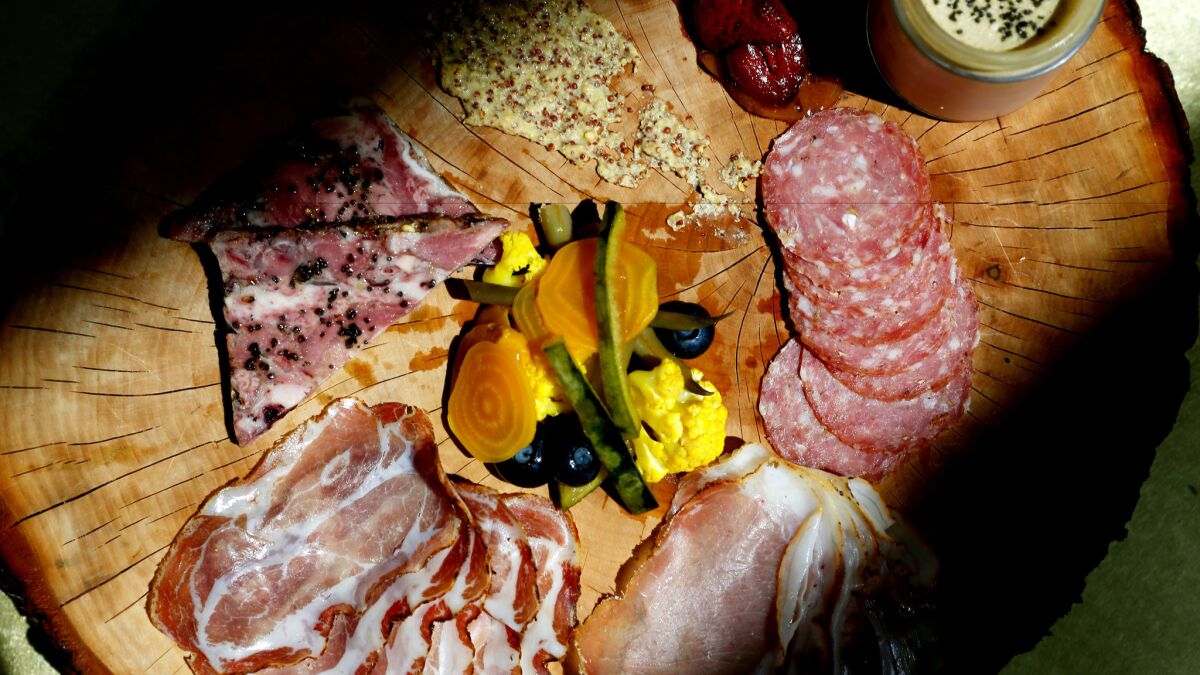 Miro
The charcuterie offerings at Miro change weekly, depending on what Mills and Harsha Parthirana, who does most of the butchering, feel like making. Parthirana happens to be from Sri Lanka, and when he comes back to the States from visiting home, he brings his mother's curry powder blend with him. You'll find it in a Sri Lankan-spiced lamb terrine seasoned with cumin, fennel, pepper, cardamom and cloves. And Mills is making one of the best chicken liver pâtés in town. He starts by slow-poaching chicken livers in butter for two hours before adding a wine reduction, some fresh herbs and eggs. He grinds the mixture, then puts it through a sieve, adds some cream, then sous vides the pâté for four hours. If you don't think you like chicken liver, or you've been afraid to order it, this is the place to start. 888 Wilshire Blvd., Los Angeles, (213) 988-8880, www.mirorestaurant.com.
Terrine
When an order of charcuterie is presented at Kris Morningstar's Beverly Boulevard restaurant, it's quite the production. A food runner will arrive with a large, circular board full of little quenelles, shmears, slices and dollops of meat and mostarda. And the runner will stand there and name each one, explaining what it is and what it should be paired with. And what's on that board at the moment depends on everything else Morningstar has going on in the kitchen. "Right now I have a lot of beef trim because we do our steaks in-house," said Morningstar. "Some of it will be blended with some pork and turned into a knackwurst or savory meatloaf." He's also working on a jellied consume made with anything from chicken to duck and pork (he describes it as a savory meat jelly). Half the fun of the board are the accouterments, including housemade pickles and mustard. There's quite a variety each week, so whatever you do, just don't ask your food runner to name everything twice. 8265 Beverly Blvd., Los Angeles, (323) 746-5130, www.terrinela.com.
ALSO
Get caffeinated at these five new L.A.-area coffee shops
Where to find Jonathan Gold's favorite cold noodle dishes
Three new happy hours you should know about: $20 bottles of rosé, foie gras burgers and $1 oysters

Get our L.A. Goes Out newsletter, with the week's best events, to help you explore and experience our city.
You may occasionally receive promotional content from the Los Angeles Times.