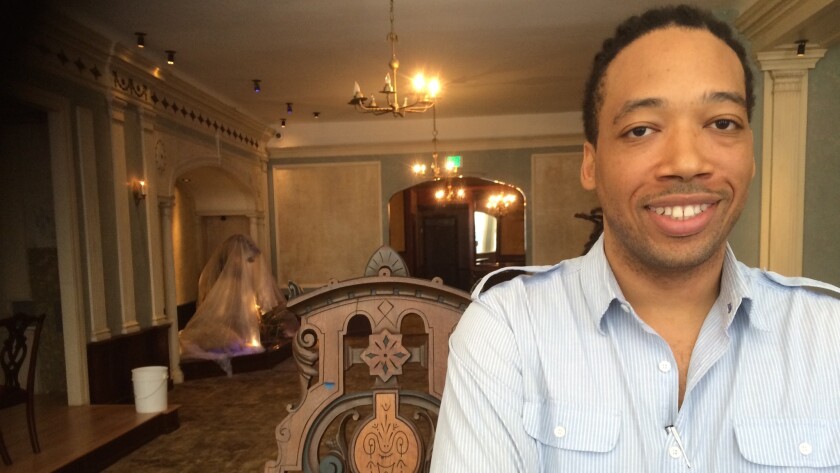 It's been a week of openings, almost openings, and closings — one of them not by choice. Rocio Camacho's Sun Valley restaurant was heavily damaged by arson last weekend, a stunning blow to a veteran chef whose moles many of us still dream about. We'll keep you posted as soon as we hear more news, but in the meantime, she'll be cooking at her other restaurant, Rocio's Mexican Kitchen, in Bell Gardens. It's probably a good time to show support for her — and get some excellent mole in the process.
In less depressing news, Russ Parsons checks out the newly revamped Clifton's Cafeteria, where Jason Fullilove has been reworking old recipes. S. Irene Virbila drinks a lot of wine at Ink. And Jenn Harris finds fancy kids' meals at Bouchon — and a downtown lunch menu that will set you back considerably less than Thomas Keller's meals.
Planning your Labor Day weekend eating? Please join Jonathan Gold at the Los Angeles Times' The Taste at Paramount Pictures Studios, where he'll be hosting Flavors of L.A. on Sunday, Sept. 6. For more information, please click here.
And be on the lookout for Wednesday's In the Kitchen newsletter, with cooking tips and news, including new recipes from the L.A. Times Test Kitchen.
What you'll be ordering at Clifton's Cafeteria
Russ Parsons visits with chef Jason Fullilove, the new chef at the newly revamped Clifton's — which is finally reopening in September. There's been a massive make-over (five stories of cafeterias! A giant fake redwood tree!), and Fullilove has been having fun playing with the original Clifton's recipes he discovered in a set of file drawers.
Thomas Keller cooks kids' food
Keller has just launched a fancy kids' menu at Bouchon, in what may be the most expensive kids' meal in L.A. Well, why not — if you're hanging out in Beverly Hills with your hungry kids, chicken paillard with French fries or a croque monsieur may be just the thing. Jenn Harris gives the details on the dishes — including salmon and spinach — and their price.
Arson damages Rocio's Mole de los Dioses
An arsonist set fire to Rocio's Mole de los Dioses in Sun Valley last weekend, Daina Solomon reports, gutting chef Rocio Camacho's mole-intensive restaurant. There had been break-ins several times of late, but fire investigators didn't have any suspects. Camacho and her team are trying to salvage what they can and are considering opening a truck in the meantime.
How to order wine like a pro at Ink
S. Irene Virbila checks out the wine list at Ink, Michael Voltaggio's West Hollywood restaurant. As you might expect from an innovative restaurant, the wines aren't boring — wine director and somm Will Mountford has bottles from Croatia, Lebanon and South Africa, as well as, yes, wines from California and France.
Patricia Zarate can make your lunch
Tabachines Cocina recently opened in downtown, with healthful Mexican food by chef Patricia Zarate — who is also the founder and chef of Homegirl Cafe and Catering, a division of Homeboy Industries. Zarate's menu may include the best lunch special in town — $16 for salad, soup, a rice or pasta, a main dish and dessert.
Beer in Ktown
John Verive reports that there's a cool new craft beer bar and shop opening in Koreatown next month. Southland Beer is going in just a few blocks south of Beer Belly on Western Avenue. Look for 20 taps and bottles to-go. From former librarian Tim Sturm and his wife (and current librarian) Orchid Mazurkiewicz, Southland will share a parking lot with St. Martha. No reparking! Awesome.
Counter Intelligence: Sign up for Jonathan Gold's weekly newsletter
Check out the thousands of recipes in our Recipe Database.
Feedback?
We'd love hear from you. Email us at food@latimes.com
---