Review: You're probably going to want to try Gus's Fried Chicken
Fried okra, greens and fried chicken are served up at Gus's Fried Chicken in Arlington Heights.
(Mariah Tauger / For The Times)
Gus's Fried Chicken, a branch of the Mason, Tenn., original in Arlington Heights, attracts a mixed crowd and it's nearly always packed.
(Mariah Tauger / For The Times )
Don't miss the chess pie at Gus's Fried Chicken.
(Mariah Tauger / For The Times)
At Gus's Fried Chicken, the chicken is powerfully good and the sides are up to grandmother's standards.
(Mariah Tauger / For The Times)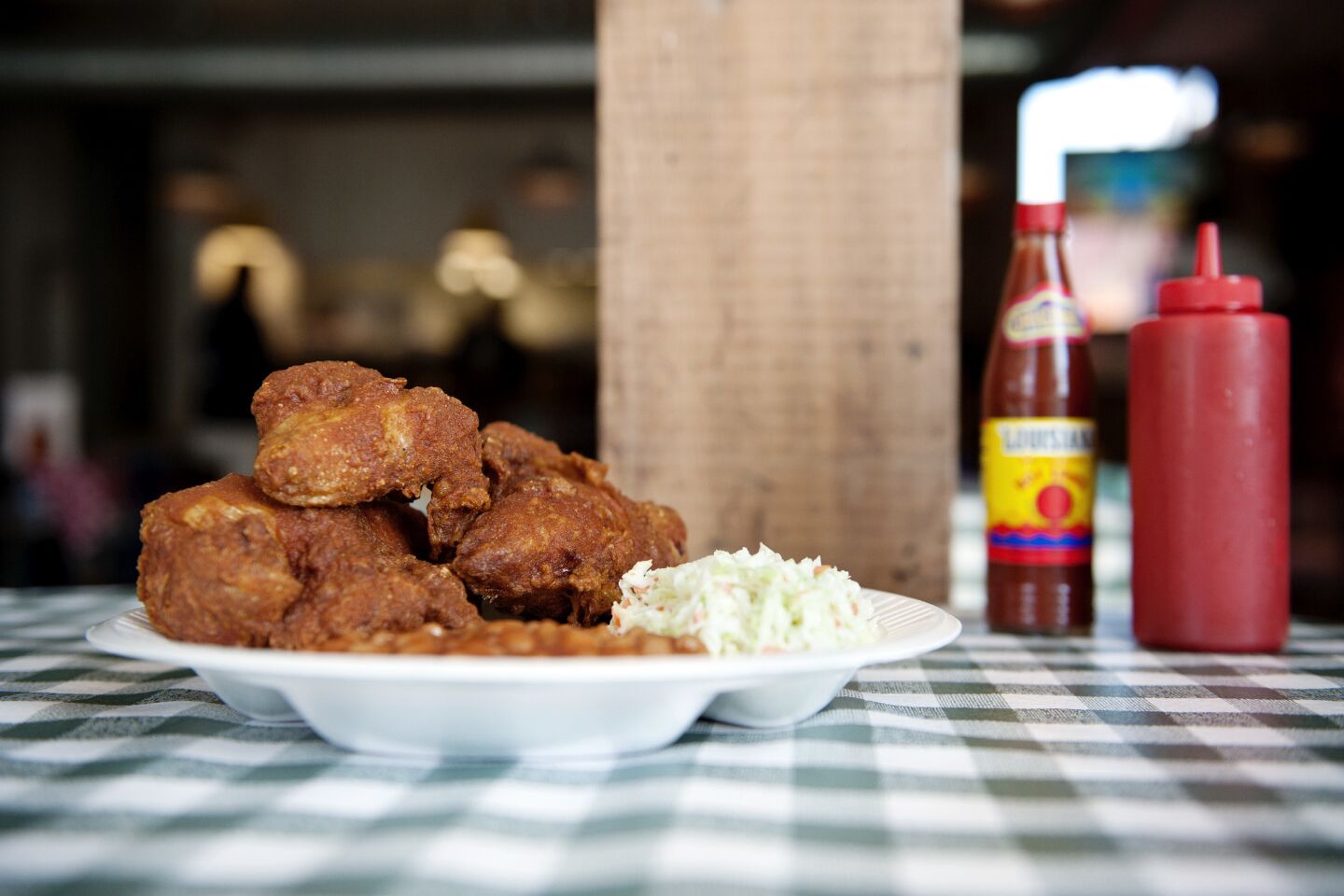 Wait a few seconds before diving in to your plate at Gus's Fried Chicken, which comes burning hot and powerfully good.
(Mariah Tauger / For The Times)
Gus's Fried Chicken attracts a mixed crowd and it's nearly always packed.
(Mariah Tauger / For The Times)
Have you tried Gus's Fried Chicken? You're probably going to want to try Gus's Fried Chicken. Because it's pretty remarkable stuff, even in chicken-obsessed Los Angeles: a burnished red-gold, pieces bigger than they are small, whose peppery heat at first seems mild, even nonexistent, until it starts creeping up a few bites in, a heat that makes you glad you have a pint of sweet ice tea by your side.
You may be thinking of Nashville hot chicken, the kind you can stand in line for at Howlin' Ray's in Chinatown, but this isn't that — you don't worry whether you've renewed your life insurance after a wing or two, and the crunch, although considerable, is of a completely different sort. Classic Nashville chicken has a complex, multilayered crunch that maintains much of its integrity even after a day or two in the fridge. Gus's chicken is more of a batter-fried phenomenon, with a thin, fragile crust that shatters under your teeth, releasing a flood of scalding juice.
Gus's chicken is always at its best in its first 10 or so minutes out of the fryer, so powerfully good that the Tennessee original is considered by some to be the best fried chicken in the world. Many have tried to reverse-engineer Gus's process. Most of them, who call for a buttermilk marinade and a quick dredge in flour, have failed — it clearly sits a spell in some kind of highly seasoned slurry. (The Fried Chicken Blog posits that the batter is made wholly with cornstarch instead of flour, which as anyone who has experimented with Chinese fried chicken can attest, would explain some of the Gus's characteristics.) Gus's fried chicken is not particularly useful as picnic chicken — you have to go to the source.
The area around the restaurant is at the top end of what is often thought of as the Crenshaw district but also on the border between Mid-City and Arlington Heights, and a good 3-iron shot from Koreatown. The delicious paletas from Mateo's are right there — try the ones made with smoked milk — as are the Korean barbecued ribs from Ham Ji Park and the Guatemalan black-clam cocktails from La Cevicheria. It is surrounded by both churches and nightlife. The residential streets paralleling Crenshaw are a fantasyland of turn-of-the-century Los Angeles architecture; on the west are beautifully restored Italian villas, Tudor mansions and neo-Swiss chalets; on the east, a neighborhood built on the original home of the Los Angeles Country Club.
I mention all this because you are going to be spending a lot of time driving up and down the long, long blocks of the neighborhood looking for a parking space when you visit Gus's, because on weekends the modest parking lot is reserved for takeout orders and the rest of the time that lot is going to be full. So you could think of the walk from your car as a forced march, or you could think of it as a chance to experience a neighborhood you may not have visited since the last time you went dancing at the old Jewel's Catch One.
Gus's is remarkable in its own right, a branch of a Mason, Tenn., fried-chicken restaurant in what I think used to be a dark Korean bar. The walls have been stripped to the bare brick and hung with neon beer signs, although Gus's doesn't yet sell beer. Television screens hanging around the room seem permanently set to ESPN. The music oozing from the sound system seems mostly to be B.B. King-era blues, although there are occasional excursions into both dad rock and 1970s R&B. And the crowd — there's always a crowd — may be the most mixed in Los Angeles, equal parts African American, Asian, Central American and white. The ache for good fried chicken knows no bounds.
You're probably going to want some of the garlicky fried pickles to start, cut into spears before they are battered and fried, which are probably the best I've ever had — fried spears are so obviously superior to fried pickle chips that I am surprised that they are not standard. The fried green tomatoes and the slimy-crisp fried okra are good too. Of the side orders, the baked beans and tart slaw are pretty standard, but the meaty stewed collard greens are delicious, and the mac 'n' cheese is pretty much up to grandmother standard: gooey, sharp cheddar taste, slightly grainy in a way that indicates nobody bothered too much with the béchamel.
The chicken shows up garnished only with a few slices of white bread, its sides flanking it on a massive tray that dwarfs even the table, too hot in its first seconds to either touch or eat. But you do anyway. You double up on sweet tea. And you finish with a cut of chess pie.
Gus's Fried Chicken
A branch of a Mason, Tenn., fried-chicken restaurant in Arlington Heights
Location: 1262 Crenshaw Blvd., Los Angeles, (323) 402-0232, gusfriedchicken.com
Prices: Starters $6.50-$7.50; chicken plates $8.90-$15.90; sides $2.40-$6.50; desserts $3.50.
Details: 11 a.m. to 9 p.m. Sun.-Thurs., 11 a.m. to 10 p.m. Fri.-Sat. No alcohol (permit pending). Extremely limited lot parking. Credit cards accepted.
Recommended dishes: Fried chicken; fried pickles; greens; mac & cheese; chess pie.
Get our L.A. Goes Out newsletter, with the week's best events, to help you explore and experience our city.
You may occasionally receive promotional content from the Los Angeles Times.