How to make the Filipino dessert halo-halo like a world-class pastry chef
Chef Margarita Manzke shows how she makes the Filipino ice cream dessert halo halo at République.
In the hands of a gifted chef, a dish can operate rather like an object lesson, the pattern of sauce and arrangement of ingredients demonstrating her relationship to a cuisine, a memory, a culture. Consider Margarita Manzke's halo-halo, a dish she grew up eating as a kid in the Philippines, learned long ago to make herself and now has translated to both of her Los Angeles restaurants — a little Filipino food stall and an ambitious French bistro.
Halo-halo — "mix mix" in Tagalog — is a deeply emblematic dish, sold on street corners in the Philippines and lately in restaurants all over America as part of the recent renaissance of Filipino cuisine. It is a homey dish, a childhood dish, the Southeast Asian version of our hot fudge sundae or banana split — a hodgepodge assembly of ice cream and crushed ice, gelée and fruit, tapioca and crispy rice that forms a colorful and deeply craveable dessert. It's also just a little weird, which may be part of its appeal.
"It's a fun dessert," Manzke said recently at République, the Hancock Park bistro she owns and operates with her husband, chef Walter Manzke. "But if you didn't grow up eating it, you'd be like, 'What? What were they thinking?' It's like whatever's in the refrigerator."
At Sari Sari Store, the Filipino food counter the Manzkes opened in July in the middle of downtown L.A.'s century-old food court Grand Central Market, the halo-halo comes in a 12-ounce plastic cup, with a domed lid and a plastic spoon and straw if you're taking it to go. It's the kind of thing you'd find at a county fair or soda shop: crispy rice-like sprinkles on a scoop of ice cream atop a layer of watermelon ice, pink as bubblegum, the cubes of diced fruit and gelée falling into a layer of old-fashioned tapioca.
Order the same dessert at République and you get a dish built from exactly the same components, but one that looks like it emerged from the copper doors of a haute cuisine pastry kitchen. A collage of colors and shapes fills an elegant Champagne coupe like a work of abstract art, crowned with a perfect quenelle of ice cream and a confetti of caramelized rice.
"It's a very traditional dessert," said Manzke, "but we didn't want to make it too traditional; we wanted our own spin on it." So instead of using ube ice cream ("ube is very predictable"), the distinctive purple concoction made from yams that is in most versions of halo-halo, Manzke uses either coconut or pandan ice cream. She has the tapioca, rich and silky with coconut milk, stand in for the evaporated milk that is in most renditions of the dish. And the beans — often a combination of mung, red and chickpeas — are noticeably absent.
"Growing up, I liked halo-halo, but I never liked some of the things that went into it," said Manzke, a native of Manila who came to the U.S. in her 20s. "I never liked the beans." If not beans, then flan, lots of it, smooth as silk and rich with caramel, made from a recipe Manzke got from her sister. "I'm a sucker for anything flan."
As Manzke arranged the components of the dish at République, the gorgeous restaurant that occupies a legendary space in Los Angeles — before it was République, it was the bell tower-topped restaurant Campanile, and before that it was a brick edifice built for Charlie Chaplin — it was easy to forget halo-halo's street food origins.
Instead, the dish seemed like a master class in pastry skills — a class Manzke would be highly qualified to teach. A Culinary Institute of America graduate, she's an alum of such notable L.A. white-tablecloth restaurants as Patina, Bastide and Mélisse, and earlier this year was a James Beard nominee for outstanding pastry chef.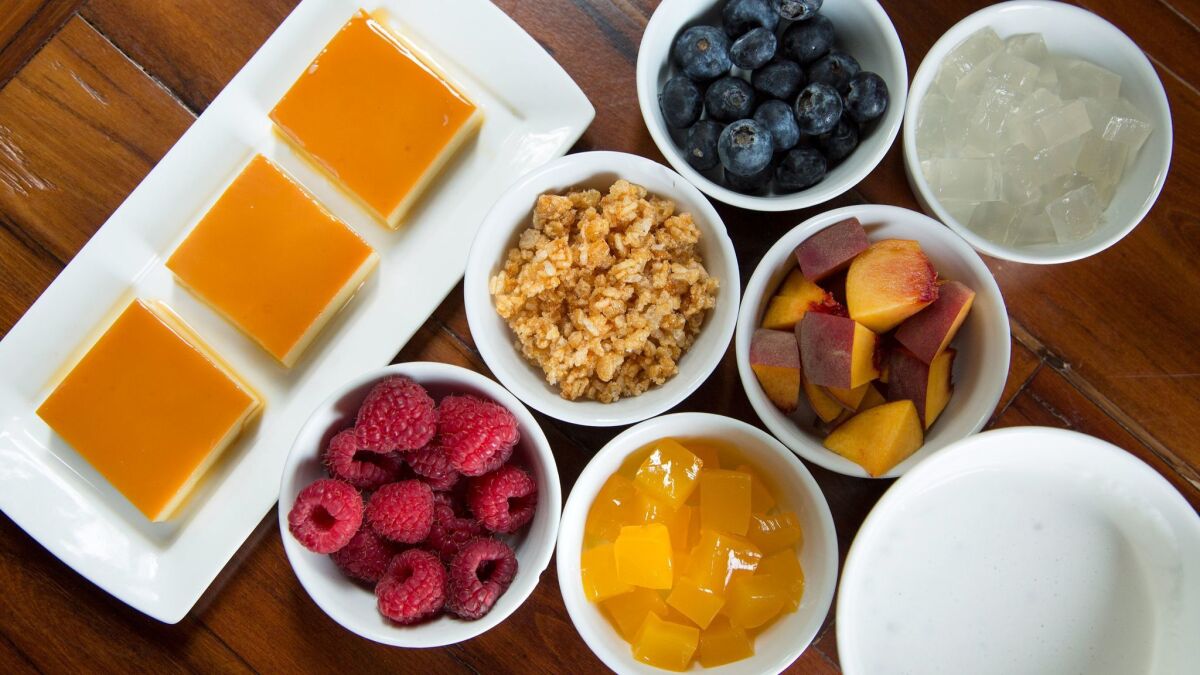 On the table, the halo-halo ingredients looked like a plated dessert diagram: frozen component, base, garnish, sauce, crunchy bits. And the chef's beloved flan? The squares of custard could easily have been served alone, an example of lovely satin geometry. As she built the dish, it became a perfect equation of color and texture, contrast and temperature.
"What I like about it is that you can change it," said the mother of two, her long, black hair pulled back in a ponytail that made her look about half her 43 years. "Kumquats, peaches, berries — in the winter, we put persimmons in it — whatever's in season. Just really whatever your heart desires." She says she likes the nata de coco, the coconut jelly used in the Philippines, but that so many of the halo-halo ingredients in restaurants there "come out of a jar."
Manzke's halo-halo comes not from any jar, of course, but from the intersection of farmers market and pastry kitchen, of nostalgia and invention. It is a beautiful dish, a jigsaw of simplicity and aesthetics. And duplicating it at home is both an homage to a culture and an exercise in technique. It can also be a kind of hodgepodge in its own right, as you can make all or some of the components, and assemble them as you please. Just please don't forget the flan.
ALSO:
Restaurant review: Polished, modern République with maybe the best fries in L.A.
Sari Sari Store, the new Filipino stall serving rice bowls at Grand Central market, is now open
République's new wine director is now one of the most influential Latina sommeliers in the country
---
Get our L.A. Goes Out newsletter, with the week's best events, to help you explore and experience our city.
You may occasionally receive promotional content from the Los Angeles Times.