21 ideas for the foodie on your holiday gift list
Whether you're staying at home, or close to it, this year or traveling far afield, it can be fun to do your gift shopping locally. So this year we've curated our gift guide with our home state in mind, picking up a few things — olive oils and jams, chocolates and earthenware pots — that have been produced here in California. Here are 22 things you could wrap a ribbon around this year.
ICE CREAM
McConnell's, the Santa Barbara-based creamery, has been making ice cream since 1949, and if you can't get to their flagship shop in Santa Barbara, or their Los Angeles outlets, you can sign up for their Pint of the Month Club. Get three pints of salted caramel, Eureka lemon and marionberry — or whatever makes you happy — for three, six or 12 months and never have an empty freezer. $132, $264 or $484. www.mcconnells.com
VINEGARS
Start with premium varietal Napa Valley wine, age in oak barrels, introduce a vinegar culture from the Azores, and wait — that's how the Petaluma company "O" makes its blossom vinegars. A gift box contains three: orange blossom Champagne vinegar; honey white balsamic vinegar; and one of honey apple cider vinegar. $36. www.ooliveoil.com
PRESERVES
Amy Deaver makes jams, pickles and preserved cherries in Wrightwood, a ski town in the San Gabriel Mountains outside of L.A. Among her creations: Elephant Heart plum jam with tarragon, garlic scape pickles and Southern-smoked cherries. The Lemon Bird preserves are sold individually, in gift boxes and in "of the month" clubs. $12-$250. https://shop.lemonbirddesign.com
CHOCOLATES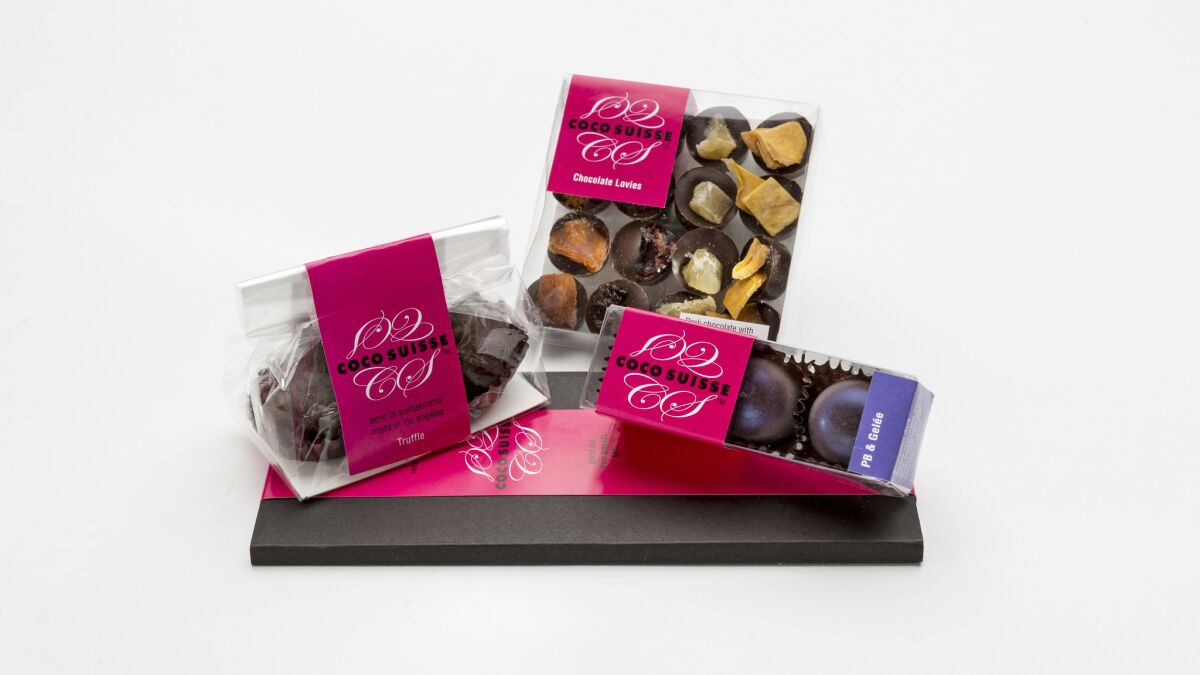 Marianne Manes is a third-generation chocolatier from a Swiss family, and her Coco Suisse chocolates come from cacao beans sourced at origin, roasted in Switzerland and made into truffles, bars, giant nonpareils and other items in L.A. $20 to $36. cocosuisse.com
OLIVE OIL
With floral, almost grassy notes, the Oleo Paso olive oil that Beverly Hills Cheese Store owner Norbert Wabnig sells under his shop's label is cold-pressed extra virgin olive oil from Arbequina olives grown in Paso Robles. $25 and $35. cheesestorebh.com
DUKKAH SPICE BLENDS
Dukkah, the Arabic word for "to pound," is an Egyptian dry-roasted spice, herb and nut blend typically eaten with bread and oil or sprinkled on vegetables. Clif Family Winery and Kitchen, an organic farm in St. Helena, makes three varieties: classic hazelnut; toasted sesame and pistachio; and savory coconut. $10. www.cliffamily.com
GOURMET LATKES
After years of making Hanukkah latkes for friends and family, Linda Hausberg launched her Van Nuys-based business to share her potato pancakes with the rest of us. They come full-sized and bite-sized, and include varieties such as artichoke and sweet potato. (Hausberg also sells apple and pear sauces. $29.50 and higher. www.lindasgourmetlatkes.com
CHOCOLATE TRUFFLES
There is candy, and then there are chocolate truffles. And then there are Marco Paolo's hand-painted, sweet and savory chocolate truffles in flavors such as tamarind, tea and green cardamom; and raspberry, pink peppercorn and mint. Pasadena-based chocolatier Mark Lewis uses Kallari chocolate from an indigenous cacao cooperative that keeps 100% of profits. $14-$48 www.marcopaolochocolates.com
BRITTLES
Confectioner Max Lesser has been making small-batch nut and seed brittles in his Los Angeles Morning Glory Confections kitchen since 2008. His signature varieties include fleur de sel and peanut; chocolate, bourbon and pecan; New Mexico chile and pepita; and Masala chai and cashew. Sold individually and in gift boxes. $4.99-$49. www.morninggloryconfections.com
PEARS
Frog Hollow Farms is an organic farm in the Northern California city of Brentwood that delivers boxes of Warren pears, a thin-skinned, European-style pear known for its sweetness, juiciness and smooth texture. $31-$260. www.froghollow.com
CORNER SPOONS
In her San Francisco Mission District studio, designer Windy Chien hand-carves walnut corner spoons, which are not only functional — they have points that get into corners and ergonomic handles — but also transition to the well-set table. $92-$200. www.windychien.com
HOT CHOCOLATE ON A STICK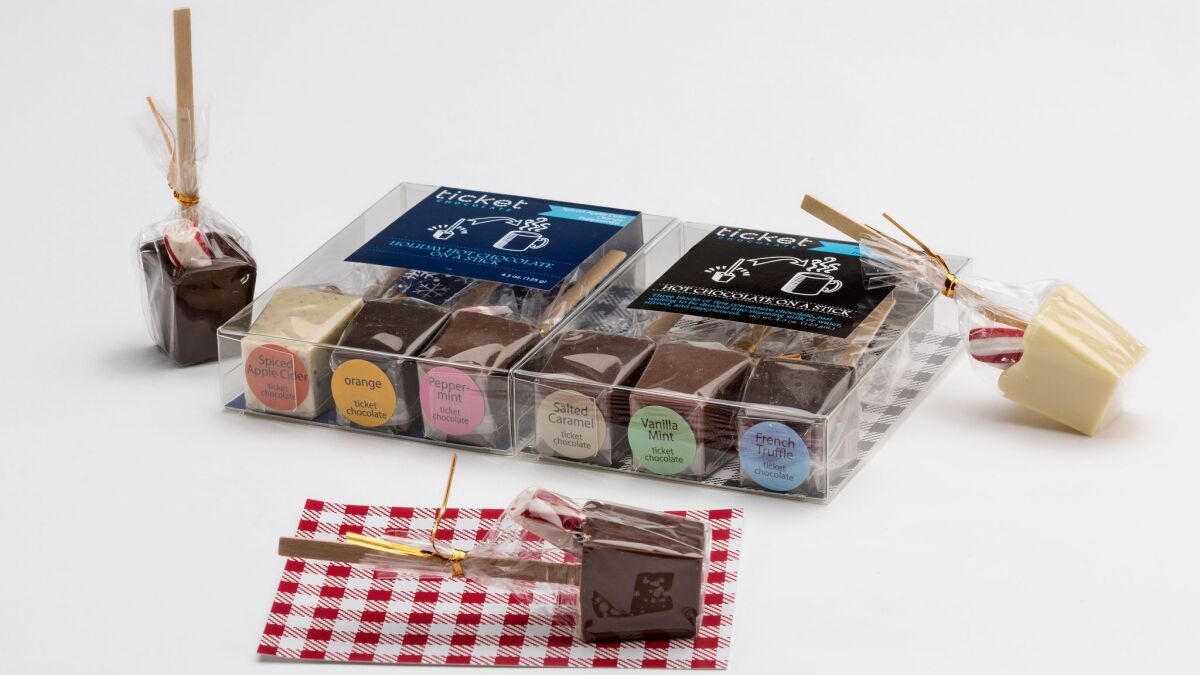 Hot chocolate on a stick is a couverture chocolate cube on a popsicle stick that melts in hot milk. Ticket Chocolate of Loomis makes nearly a dozen flavors, including 3-chili chocolate and French dark truffle. They also make S'Mores kits, like dulce de leche, with caramel swirl marshmallows, honey graham crackers and salted caramel chocolate. $4.50-$25. www.ticketchocolate.com
ORGANIC LIQUEUR
At Greenbar Craft Distillery in Los Angeles, husband-and-wife team Melkon Khosrovian and Litty Mathew have been distilling their own organic spirits for a dozen years. They specialize in using local plants as flavorings, making an aperitif flavored with California poppies, coastal herbs and local citrus that was inspired by their hikes through Griffith Park. (They also create organic liqueurs in flavors such as ginger, hibiscus and orange.) Grand Poppy, suggested retail price is $27.99. For a list of stores that carry Greenbar products, go to www.greenbar.biz
GARDEN-IN-A-CAN
In 2009, two UC Berkeley seniors, Nikhil Arora and Alejandro Velez, traded corporate futures to grow mushrooms in recycled coffee grounds. Their Back to the Roots grow kits, including the Garden-in-a-Can Set and the Water Garden, a hydroponic set-up based on the symbiosis between plants and fish, are found in many California classrooms. $19.99-$99.99 www.backtotheroots.com
CORITA KENT MUGS
Thanks to Janek Boniecki, a London-born Los Angeleno who brought Bauer Pottery back from extinction, the L.A. company reproduces the colorful Ringware dishes they were known for in the 1930s. Boniecki's own Bauer Style collection includes a series of coffee mugs featuring the serigraphs of Sister Corita Kent, the 1960s California pop-artist whose peace-inspired works hang in the permanent collections of the National Gallery and LACMA. $12-$45. www.bauerpottery.com
LONGNECK STONEWARE POT
Set salad dressing or a favorite sauce on the table in this earthenware vessel, hand-made by ceramicist Len Carella in his San Francisco studio. Carella uses locally sourced materials and fires his ceramics at 2,300 degrees Fahrenheit, creating very durable pots. $106. www.firecrackerusa.com
INSULATED JUTE GROCERY BAG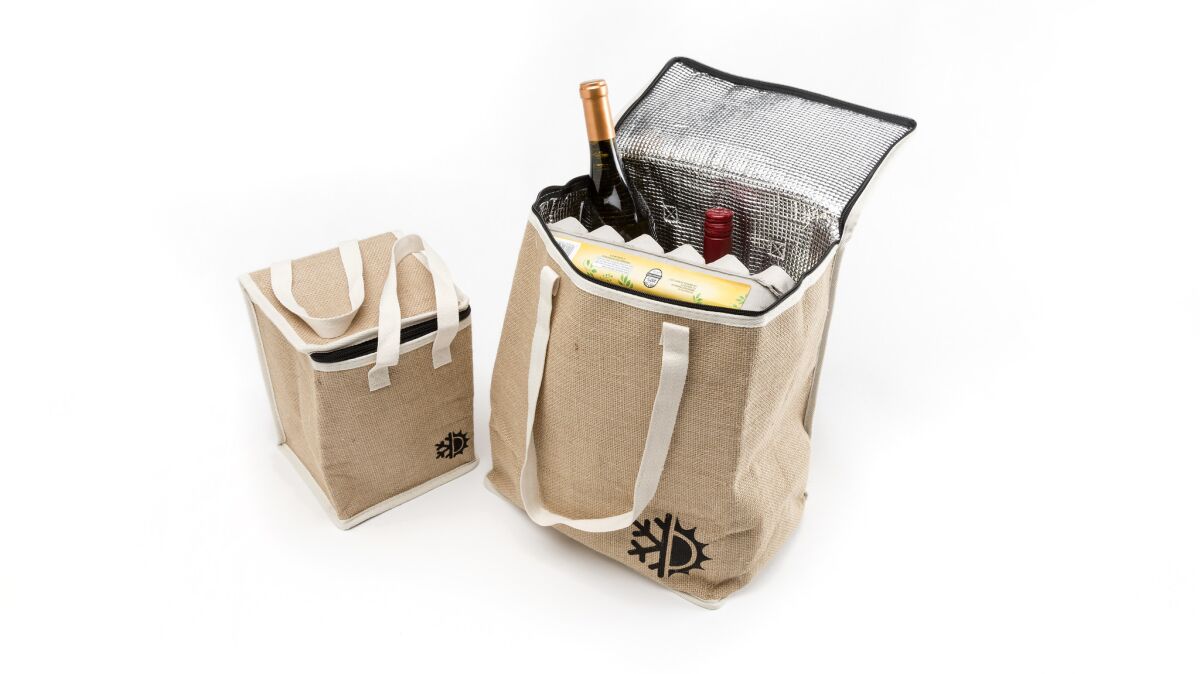 In 2014, California was the first state to enact a ban of single-use plastic grocery bags (at grocery stores and other, similar businesses), and the state has been innovating reusable grocery bag design ever since. Earthwise in Burbank offers durable jute bags, insulated to keep food warm or cold for up to three hours. Set of two, $12.99. https://www.amazon.com
KHORDZ MUGS
Daniel Fontius and Krista Harris of Santa Cruz challenged themselves to reduce plastic from their lives, especially take-out coffee-cup lids. They did so by creating Khordz reusable mugs: Mason jars wrapped in colorful paracord and with an integrated handle created by intricate knot-tying. $20-$65. www.khordz.bigcartel.com.
POPCORN
Christopher Pollastrini has been experimenting with original popcorn recipes since his days at UC Santa Barbara. He and partner Leiha Dulawan make all their savory popcorn flavors with non-GMO, organic corn from the Central Valley's family-owned Pleasant Grove Farms, the only organic corn grower in California. $6. www.sbpopcorn.com
WINE CLUB SERIES
Pam and Bruce Boring founded California Wine Club in 1990 to help small family wineries across California share their small-batch wines. Their Premier Series features two bottles from a different California winery every month; they've included Santa Barbara County winery Lucas & Lewellen and Kokomo Winery in Sonoma County. $39.95. www.cawineclub.com
DONATION TO CENTER FOR FARMWORKER FAMILIES
This educational and advocacy nonprofit was founded in 2008 to address the needs of California farmworkers and their families. Donations help improve the lives of the people who harvest our produce. www.farmworkerfamily.org
ALSO:
All 2016 gift guide categories
Get our L.A. Goes Out newsletter, with the week's best events, to help you explore and experience our city.
You may occasionally receive promotional content from the Los Angeles Times.