There's Goat Horn chile on everything at the Mapuche Native Argentinian Food truck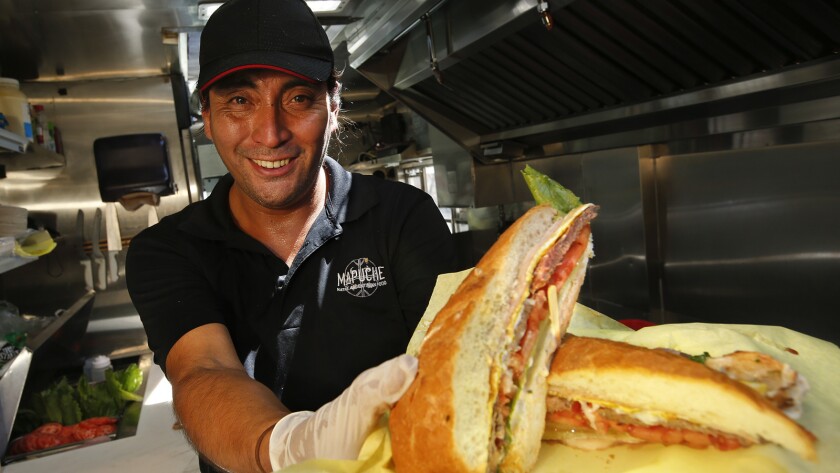 Have you tried merkén? Imagine the taco/fish/chicken/pork/stew seasoning of your dreams,a wonder spice that has a distinct earthiness and tastes of chiles, paprika and smoke.
The rust-colored spice is made from Goat Horn chile (aji cacho de cabra), cumin and coriander. It's featured predominantly in the cooking of the Mapuche people in Chile and Patagonia, and it can take several months to smoke — with three to four different kinds of wood —before it's ready, depending on the tribe making it. Yes, it's pretty special stuff. And that's why chef Carlos Leiva, who is part of the Mapuche in Patagonia, gets his merkén from three different tribes near the Andes and uses it as the flavor base for every single dish he serves on his Mapuche Native Argentinian Food truck.
That includes Leiva's chimichurri, the Argentinian herb-based condiment that's as ubiquitous to the cuisine as ketchup is to us . Leiva is proud of his version of chimichurri, which he makes using a mixture of parsley, garlic, olive and grapeseed oils, paprika, cumin, oregano, Champagne and red wine vinegars — and, of course, merkén.
It was an important recipe to have when launching the truck almost two years ago in Los Angeles.
"I was cooking at beautiful restaurants like Boa and I was trying to find good sandwiches — good Argentinian sandwiches — and I couldn't," said Leiva, who moved to L.A. 11 years ago after cooking in kitchens in Spain, Italy and Mexico. "So I said, 'I need to do something for Angelenos and try to bring this kind of native Argentinian concept to them.'"
Thus the chimichurri, used as a marinade and sauce on Leiva's sandwiches, tacos, French fries and empanadas. It's what he uses to marinate pounded out petite filet mignon for his lomito sandwich. (The merkén gives it that distinct smoked chile flavor you'll start to pick up in all of Leiva's dishes.)
The steak is grilled and added to a sandwich with a fried egg, sliced ham and cheese, lettuce and tomato. For bread, Leiva is using a French baguette that reminds him of the sandwich bread in Argentina, made for him by Grand Casino Bakery, an Argentinian-style bakery near Culver City. It's a crisp, airy baguette that may remind you of the kind used for Vietnamese banh mi sandwiches, only Leiva's are slathered with a chimichurri aioli made with his signature sauce, mayonnaise and a little extra lemon juice.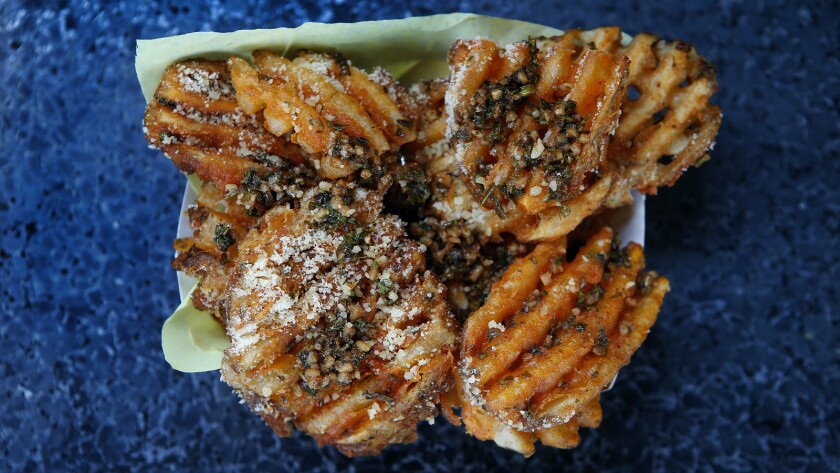 He's using that same chimichurri to marinate free-range chicken breast before it is battered and fried for his milanesa sandwich. It's also the topping for his chimichurri fries, for which he ladles a mixture of chimichurri and grated Parmesan cheese onto crispy French fries. They're wonderfully salty and herbaceous, the perfect alternative to all those gastropub Parmesan truffle fries. Are chimichurri fries the new carne asada fries? They could be.
Leiva is also using the chimichurri to season his empanada fillings, including chicken, beef and quinoa. Yes, quinoa. It's on the menu because of its importance to the Mapuche, rather than a nod to L.A.'s ongoing obsession with the stuff.
"We use a lot of quinoa in our tribe," said Leiva, who makes his filling with bell pepper, carrots, onions, corn, spinach, mushrooms and more chimichurri. "It's the base of a lot of things there, and it works really well for almost anything." You could say the same for all that chile.
While Mapuche posts its schedule on the website, you'll soon to be able to find the truck parked nightly on Washington Boulevard in Culver City. This is where Leiva is getting ready to open a coffee shop, also called Mapuche, that will feature chocolate and ice cream.
It's all part of Leiva coming full circle, bringing the culture of his homeland to his current home in L.A., an idea that mirrors the kultrun circle of life symbol that serves as the logo for the truck.
"Everything at the shop will be from L.A., including the coffee, the machines, everything," said Leiva, who is already working with Groundwork Coffee on the new shop. "That's the only way to do it, helping my new community."
Mapuche the coffee shop is scheduled to open in late August.
10846 Washington Blvd., Culver City, (424) 333-1755, www.mapuchenative.com.
ALSO:
New Vivace Pizzeria truck offers Leopard-spotted pies for Neapolitan pizza fans
A former business consultant from Spain is making some of the best sandwiches in the city
With fresh pasta, truffles and actual Italian royalty, this could be the most impressive food truck in L.A.
---
Get our weekly Tasting Notes newsletter for reviews, news and more.
You may occasionally receive promotional content from the Los Angeles Times.