One of Mexico's best chefs is opening a restaurant in West Hollywood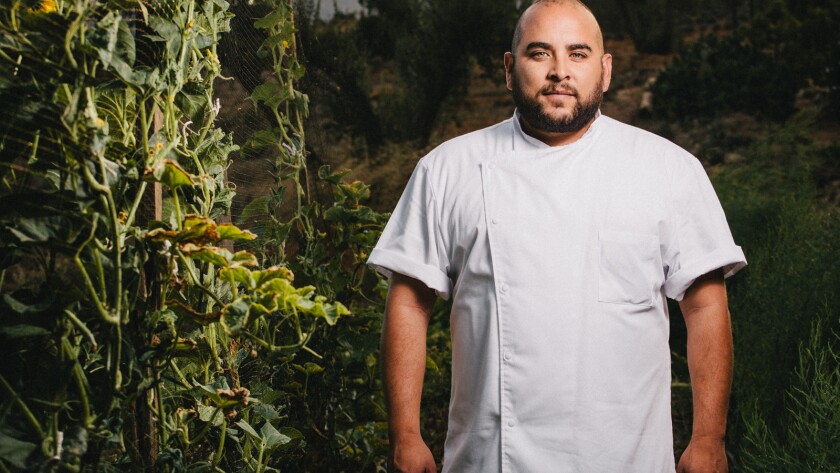 From a new West Hollywood restaurant by a Mexican culinary superstar to a chocolate shop in Silver Lake, here's what's happening in the Los Angeles food and drink world:
From Baja to WeHo: Diego Hernandez, one of the most celebrated chefs in Mexico, is opening a restaurant in West Hollywood this winter. The chef has partnered with Select Hospitality & Design (the same team behind Hinterland in Santa Monica) to open Verlaine restaurant in the former Dominick's space on Beverly Boulevard. Hernandez, who is the chef and owner of Corazon de Tierra in Baja, listed among the top restaurants in Latin America by World's 50 Best Restaurants, br plans on a menu that incorporates Mexican, Mediterranean and Japanese influences. 8715 Beverly Blvd., West Hollywood.
Silver Lake gets sweeter: Chocolatier and chef Valerie Gordon and partner Stan Weightman Jr. will open a Valerie Confections boutique in Silver Lake, next to the original Valerie location on 1st Street. The 1,000-square-foot shop will house Gordon's retail operations while the cooking will continue to take place in the original space. The full Valerie chocolate line will be available at the shop, along with preserves, marmalades, granola, almond toffee and sugar cookies. There will also be a selection of housewares. 3364 W. 1st St., Los Angeles, www.valerieconfections.com.
Union Station's new crêpes: Café Crêpe, the Santa Monica French restaurant, has opened a new location at Union Station in downtown L.A. The cafe is located in the station's waiting area and includes outside seating as well. The menu includes savory and sweet crêpes, a full breakfast menu, pasta and grilled panini. The restaurant joins a growing list of new restaurants at the station including Green Bowl 2go and Oto Oto. 800 N. Alameda St., Los Angeles, cafecrepe.com/welcome.
The Abbey's new chapel: David Cooley, owner of the Abbey in West Hollywood, has opened the Chapel at the Abbey, which includes two new bars adjacent to the original Abbey. The bars continue the Abbey's church theme with gothic lighting, religious-themed statues and a DJ booth inspired by a pulpit. One bar is called Steeple Bar, the other Chapel Bar (both are inside the Chapel). The 40-foot Steeple Bar overlooks the patio and includes seven bar stations and two draft beer towers. The Chapel Bar overlooks the dance floor with three bar stations. The Chapel's patio features its own fireplace and dancer stages between the tables. The Chapel bars are open, but new additions are coming, including a 48-foot tall steeple. 969 N. Robertson Blvd., West Hollywood, www.theabbeyweho.com.
Making a move to the beach: Marché Moderne, a regular on Jonathan Gold's 101 Best Restaurant's list, will move from its current location inside South Coast Plaza to Crystal Cove Shopping Center next year. Chef Florent Marneau will continue the restaurant's French, market-inspired menu, with signature dishes such as foie gras, coq au vin and grilled octopus. The new location is slated to open next spring. 7862 E. Pacific Coast Highway, Newport Beach, www.marchemoderne.net.
Pasta pasta: Avner Lavi, the chef behind the Cento pasta pop-up in downtown L.A., is also at Birch in Hollywood with a new lunchtime pop-up called Andare. Every weekday between 11 a.m. and 3 p.m., Andare will be open with Cenot's pastas, along with sandwiches, salads, desserts and larger entrees. Andare will also host Monday dinners once a month through a ticket system and feature new dishes from Lavi with wine pairings. Delivery from Andare will be available beginning Nov. 7. 1634 N. Cahuenga Blvd., Los Angeles.
Still hungry?
Laurel Point, a new sustainable seafood restaurant, is open in Studio City. Aaron Mitrano is the new executive chef at the Anchor on Main Street in Venice. Blaze Pizza has opened at Staples Center. Salazar in Frogtown has started serving brunch on Fridays. Michael Bryant is the new executive chef at Cliff's Edge. Nekter Juice Bar has opened in Redondo Beach. Sugarfina will open a flagship location at the Americana at Brand in Glendale. 21 Square Bar + Kitchen, a new restaurant featuring coastal comfort food, is opening in Torrance in November. Ozu East Kitchen is open for brunch in Atwater Village.
Love a good scoop? (I'm talking about ice cream). Follow me on Twitter & Instagram @Jenn_Harris_
ALSO:
This guy eats hot wings with celebrities for a living. Seriously.
Chef Casey Lane talks about why his new DTLA restaurant is in a hotel
Tired of pumpkin spice lattes? Where to find five great turmeric lattes instead
---
Get our weekly Tasting Notes newsletter for reviews, news and more.
You may occasionally receive promotional content from the Los Angeles Times.