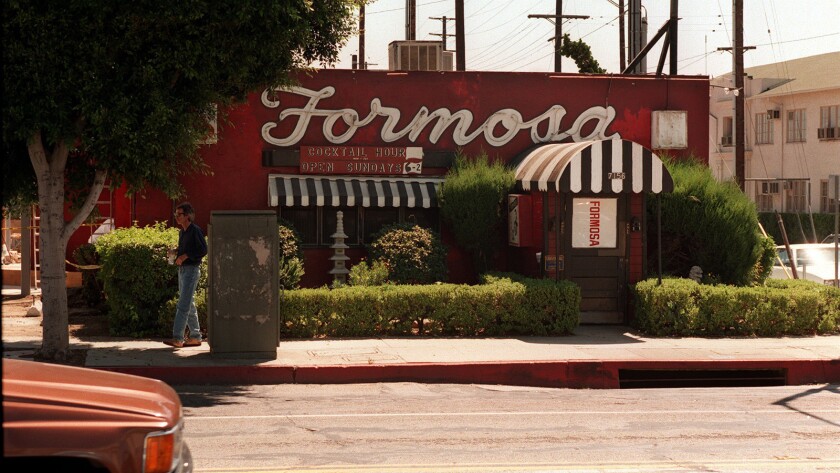 From the return of a West Hollywood favorite to a multi-course dinner by a 16-year-old chef, here's what's happening in the L.A. food and drink world:
New friends, same place: John Wayne, Clark Gable, Elvis Presley and Marilyn Monroe all hung out at the Formosa Cafe in West Hollywood. The restaurant, which features a red facade and black-and-white striped awnings, opened on Santa Monica Boulevard, just west of La Brea Avenue, in 1925 — and closed in December 2016. Now, 1933 Group owners Dimitri Komarov, Bobby Green and Dmitry Liberman, who are responsible for a number of L.A. bars including Idle Hour in North Hollywood, have signed on to reopen the restaurant. They'll work with the cafe's owners to refurbish the space. Construction will begin soon and you can expect to see the same Chinese-inspired dishes on the menu when the cafe reopens. 7156 Santa Monica Boulevard, 2, West Hollywood.
Flying high: Chefs Jon Shook and Vinny Dotolo of Animal, Jon & Vinny's, etc., are getting into the airline business, sort of. The two are teaming up with Delta airlines as new in-flight culinary partners. Beginning late this fall, Delta One customers on flights from LAX to JFK and DCA will be able to eat food inspired by Shook and Dotolo's restaurants. Here's hoping the airline finds a way to duplicate the duo's oxtail gravy poutine from Animal. www.animalrestaurant.com.
Sweet 16: A 16-year-old chef is taking over the Crepery Cafe in Palos Verdes on Saturday for a pop-up prix fixe dinner. Chef Holden Dahlerbruch is a sophomore at Palos Verdes High Peninsula High School. He started a boys cooking club when he was in the fifth grade, and now he stages at the Wallace restaurant in Culver City and on some food trucks; he also works with the Palo Verdes Unified School District to revamp the school lunch program. Dahlerbruch's pop-up on Saturday will be his third pop-up restaurant (he previously cooked two other dinners at Stage & Table in Santa Monica). The five-course dinner is $55 per person and will include a salad, entree, dessert and "a few more." Reservations and tickets are available online. 810 Silver Spur Road, Rolling Hills Estates.
Downtown digs: Partners Beau Laughlin (who is part of the team behind Sawyer and Kettle Black) and Steve Edwards of Assembly Group, have just revamped a downtown lobby at the Wedbush Center in downtown's financial district. In the space, there is now a cocktail lounge, cafe and restaurant called Harbor House. There are pastries from Suzanne Goin's Larder Bakery Co., coffee from Stumptown, and on the menu: poached salmon salad and buttermilk fried chicken sandwiches. Harbor House is open daily from 8 a.m. to 10 p.m., and closed on weekends. 1000 Wilshire Blvd., Los Angeles, (323) 642-8393, www.harborhousedtla.com.
Back in action: Chef Nick Barainca has cooked in some of the most lauded kitchens in Los Angeles, including Josiah Citrin's Mélisse. Now he's operating his own pop-up dinner series out of the kitchen at the OP Cafe in Santa Monica (the cafe still serves breakfast and lunch). The series is called Gargantua and dinners are served every Thursday through Saturday. Some of the menu highlights include green garlic bread; sprouted grains and English peas; sweet potato and kefir cream; and BBQ pork and leeks. Dinner is $47 per person. 3117 Ocean Park Blvd., Santa Monica, (310) 452-5720, www.gargantua.la.
Still hungry? Tart restaurant has opened an outdoor bar called the Lemonade Stand. Maestro in Old Pasadena is now serving weekend brunch from 10:30 a.m. to 2 p.m. Throughout June, iPic theaters, including the one in Westwood, will be serving chef Roy Choi's Veggie CheeseBurg, created as part of iPic restaurant division chief operating officer Sherry Yard's monthly guest chef menu. Casa Vega in Sherman Oaks has launched an extended happy hour, with 20% off all cocktails, beer, wine, tequila and appetizers every Friday through Sunday, from 1 to 7 p.m., through Sept. 4. Arroyo Seco Weekend Festival attendees can pre-order chef-curated picnic baskets from Crossroads Kitchen, République, Barrel & Ashes, Rose Cafe and Redbird full of three-course meals for two for the festival (the deadline for orders is June 21).