Revolutionario, the North African taqueria near USC, is closing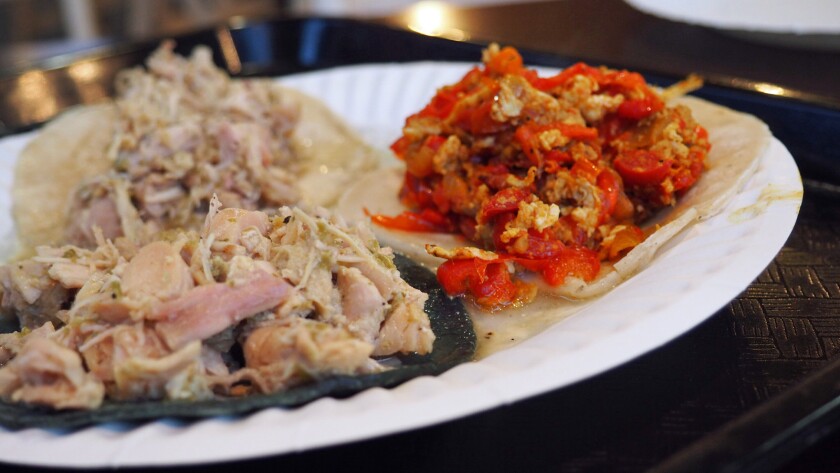 From the closing of a North African taqueria in Exposition Park to tacos at Alma, here's what's happening in the L.A. food and drink world.
Follow that taco: Revolutionario, a North African taqueria in Exposition Park run by chef-owner Farid Zadi, will close in mid-July. Zadi, who opened the restaurant in summer 2015, was born in France, and his parents are Algerian. He was cooking at a pop-up in Koreatown when his wife, Susan Park, found the Exposition Park location, and they decided to open a taqueria — but with tacos filled with shakshuka and smoked chicken. Zadi makes his own harissa. You can find it in a squeeze bottle near the front counter, along with a fiery habanero sauce and an impressive condiment bar with pickles. In the two years it has been open, Revolutionario has become a neighborhood spot for USC students and a stop for people on their way to LAX. The walls of the restaurant are covered with $1 bills with the names of their owners written in Sharpie underneath them. (Zadi says that when the restaurant closes, the money will go to his son's bank account.) Zadi and Park will continue to focus on their food truck, Revolutionario 2.0, which serves halal chicken and rice. They will also continue to provide prepared food to With Love Market & Cafe and focus on catering. "I've spent 36 years in the kitchen, and this is probably one of the most fun places ever," Zadi said. "The cooking is pretty simple, but I do whatever I want and that's the beauty of it." 1436 W. Jefferson Blvd., Los Angeles, (424) 223-3526, www.revolutionario.com.
Back in action: Chef Jesse Barber, formerly of Dudley Market in Santa Monica and Manresa in Los Gatos, is cooking two pop-up dinners as part of the Imperfetta dinner series he started last year. The first dinner will be on Saturday in downtown L.A. and is limited to 20 people. The second dinner will serve 40 people at a location in Culver City on Sunday. The tasting menus for both dinners will be Italian (Venetian black risotto with chanterelles and pork belly) and include wine from winemakers Laura Brennan Bissell of Inconnu Wines and Faith Armstrong Foster of Onward Wines to pair with each course. The Saturday dinner is $200 per person (tickets here) and the Sunday dinner is $125 per person (tickets here).
Alma tacos: Ari Taymor, the James Beard Award-nominated chef behind Alma at the Standard in West Hollywood, is now making tacos for the hotel. You can order the tacos on the pool deck along with sangria. Tacos include squash blossom with shishito pepper; ancho-braised pork with salsa verde; and market fish with goat cotija. 8300 Sunset Blvd., West Hollywood, (323) 822-3131, www.standardhotels.com.
Food fest: The Culver City Centennial Westside Food & Wine Festival is happening Sunday at the Courtyard by Marriott Los Angeles Westside in Culver City. Participating restaurants include Hanjip, Public School, Mayura Indian restaurant and Wildcraft. There also will be wine, spirits and craft beer. Proceeds will benefit Culver City Council PTA's Backpacks for Kids program, Culver Palms Meals on Wheels and YouCaring. Advance tickets are $75 per person and $85 at the door. Advance VIP tickets are $100 per person or $110 at the door. 6333 Bristol Parkway, Culver City, (310) 827-0873, www.eventbrite.com.
Virtual coffee: Goodboybob, a new coffee bar in Santa Monica, has opened. The shop is inside owner Erich Joiner's Tool of North America production company, which includes a virtual reality studio and theater. The coffee shop name is a nod to Joiner's family dog Bob. The shop serves coffee, locally made jams, sandwiches made with bread from Gjusta and pastries from Sugarbloom Bakery. 2058 Broadway, Santa Monica, (310) 453-9244, www.goodboybob.com.
Still hungry? Shake Shack will open a location at LAX's Terminal 3 on Wednesday. Blaze Pizza, the build-your-own pizza restaurant whose investors including LeBron James and Maria Shriver, has opened a new location in North Hollywood. Westbound in the downtown L.A. Arts District has a new happy hour; new late-night menu; new seasonal menu; new bar manager, Akos Orosz; and a newly promoted executive chef, Taylor Persh. Umami Burger at the Grove has undergone a remodel, as well as adding new menu items, and will reopen Thursday. Erven, chef Nick Erven's vegan restaurant in Santa Monica, will start serving meat and dairy on Wednesday. BOA Steakhouse on Sunset Boulevard has just added a vegan section to its menu.