Review: Jonathan Gold reviews Kobee Factory & Syrian Kitchen in Van Nuys
Mjadara at the Kobee Factory & Syrian Kitchen.
(Glenn Koenig / Los Angeles Times)
Fried kobee, hummus and yogurt with cucumber at the Kobee Factory & Syrian Kitchen.
(Glenn Koenig / Los Angeles Times)
Kobee Barbecue, yogurt with cucumber and hummus.
(Glenn Koenig / Los Angeles Times)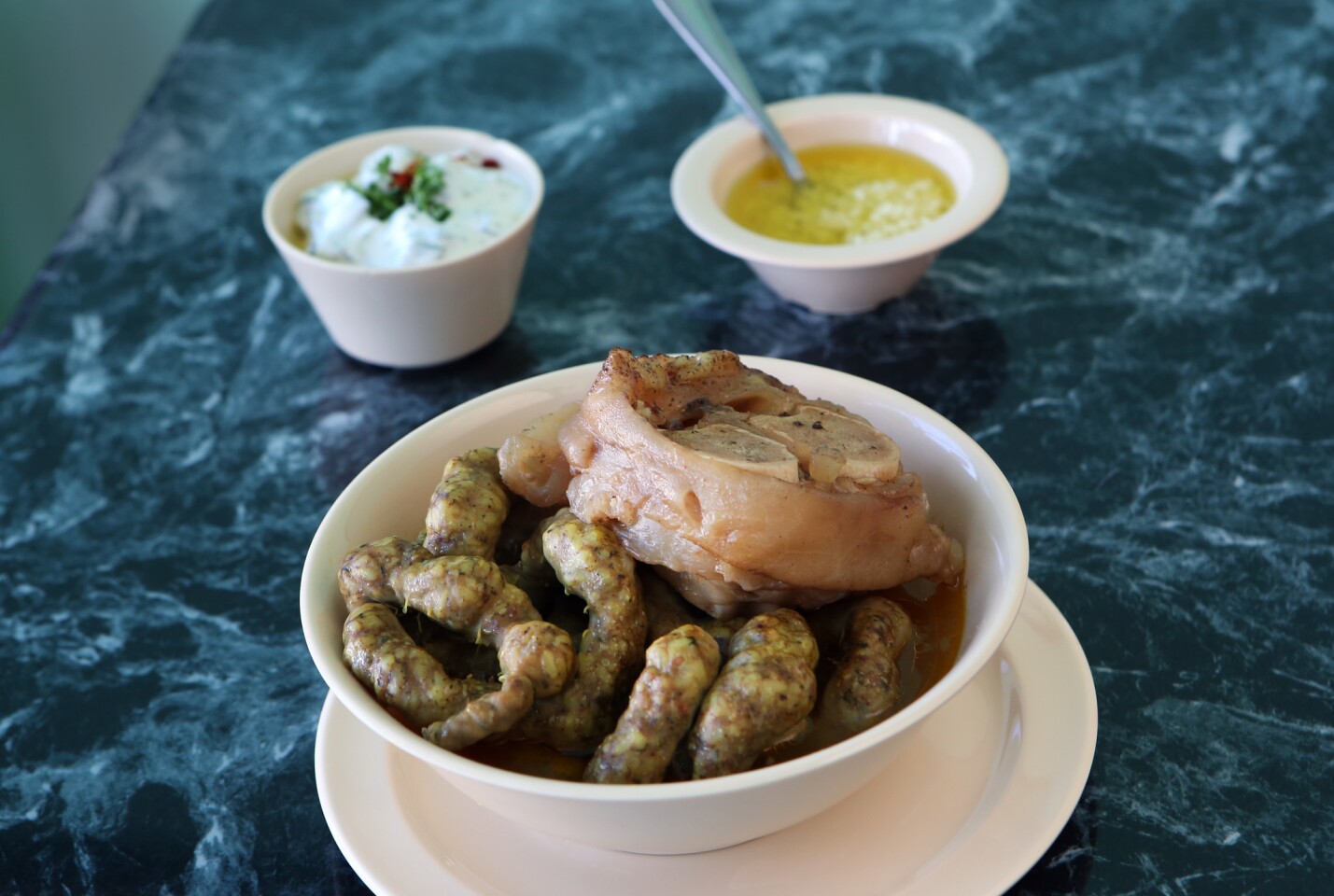 Stuffed lamb intestines at the Kobee Factory & Syrian Kitchen.
(Glenn Koenig / Los Angeles Times)
Owner Waha Ghreir.
(Glenn Koenig / Los Angeles Times)
Lucia Tovmasyan, second from right, and Harut Taymizyan sip Turkish Coffee at the Kobee Factory & Syrian Kitchen in Van Nuys.
(Glenn Koenig / Los Angeles Times)
Food Critic
Is it possible to become obsessed with a dish as simple as mjadara? Because mjadara, an Arab dish of bulgur wheat cooked with lentils, isn't much to look at: a murky, slightly ominous mush, its color lingering in that zone between tan and battleship gray, with a texture usually stiff enough to support a fork upright.
There are as many variant spellings for the dish as there are countries in the Middle East — mujadara, mujadra, moujadara, mujaddara, mejadara, megadara — and it shares things in common with Egyptian koshari and British kedgeree.
It can be cooked with a pantryful of spices, no spices at all or just a pinch of cumin. It can be greaseless or practically fried. In a lot of places, including Bar Moruno in the Grand Central Market downtown, it is made with rice in place of the bulgur. But the highlight is always a handful of thinly sliced onions cooked into a fragrant, crunchy tangle. There will always be some form of yogurt in the general proximity.
And if you talk to someone from Syria, she will always claim that whatever you have in front of you is mere sawdust compared with what comes out of her mother's kitchen. She will say this to distract you while she snags a bit of fried onion from your plate.
Kobee Factory & Syrian Kitchen is probably as unassuming a restaurant as exists in Van Nuys, a barely renovated storefront on a strip of auto-body shops, with four or five tables, a soda cooler in the corner and a takeout business that dwarfs the sleepy pace of the café.
If you come in midafternoon, after the stragglers at lunch have finished mopping up the last bits of shawarma but before the kids start streaming in for after-school falafel, you will see four women gathered around an enormous plastic bowl holding more bulgur and chopped meat — kibbeh, kubbah, kobee — than you have ever seen in your life. They scoop the meat into balls and form it into pointy capsules for frying or flat pucks for tossing on the grill. They do not lose a beat of conversation.
When Waha Ghreir moved here from Homs, Syria, 40 years ago, she swears she did not know how to so much as crack an egg. At her modest café, which Ghreir opened in October 2014, you sense that she has become the surrogate Syrian mother for half of the San Fernando Valley.
Her menu is small and basic. If you come to Kobee Factory looking for the kind of lavish, meze-oriented feasts you find at places like Niroj, Carnival or Adana, you may be slightly disappointed. If you get a falafel plate or an order of kibbeh, it will probably be your dinner instead of part of an array of appetizers. The hummus is smooth and chickpea-intensive, but the dry, heavyish shawarma and kebabs are of the sort you can find on almost any street corner in Glendale.
Still, those kobee — they're fairly extraordinary, juicier and looser textured than what you might be used to, gently spiced, seasoned with citrus and pine nuts. The barbecued kobee, black grill lines neatly bisecting the round capsules, are unique to Kobee Factory, at least in this area, and the crackly edges have a textural resemblance to the corners of well-baked cornbread — it's the experience without the grease. You may slightly prefer the fried kobee, which give a compelling illusion of lightness when the thin, supple crust all but dissolves under your teeth.
Like almost everything at Kobee Factory, the kobee come with a side of cucumbers in herbed yogurt (unless you insist on a dinner salad), a slosh of hummus with olive oil and a small dish of pickles. It is enough.
Is there an uglier plate in Los Angeles than Kobee Factory's stuffed lamb intestines? I'm guessing not — the gray mass may look like the entire gnarled, knotted insides of a sheep turned out into the inside of a bowl of cinnamon-spiced broth. But the dish turns out to be a delicate, mild rice sausage whose taste wouldn't bother anyone who's ever enjoyed Korean soondae, with a pleasant chewiness and a deep if restrained umami you may associate with French charcuterie.
If you show up at breakfast time, there is one of the best versions of fateh in town, a bowl of crunchy toasted pita submerged in a bowl of chickpeas, hummus, tahini and yogurt: an exemplary thing in a bowl.
And then there is that mjadara — restrained, golden with olive oil, almost bland for the first few bites until you realize that you can't stop eating it, alive with the fragrance of onion and as satisfying as any plate of hoppin' john or red beans and rice you've ever tasted. It is a plate that could sustain a civilization. And it has.
::
Kobee Factory & Syrian Kitchen
LOCATION
14110 Oxnard St., Van Nuys, (818) 909-2593.
PRICES
Soups and salads $3.99; main courses $8.99-$14.99.
DETAILS
Open 10 a.m. to 8 p.m. daily. Credit cards accepted. No alcohol. Takeout and delivery. Limited lot parking.
RECOMMENDED DISHES
Mjadara, fateh, kobee, stuffed lamb's intestines
MORE FROM JONATHAN GOLD
Where to dine in Southern California if you love tasting menus
The Tsujita brings its intense ramen bowls to Glendale
onathan Gold: Gwen, a manly restaurant and butcher shop, simply screams 'steak'
---