How your Korean sashimi dinner gets there: From sea to tank to plate
Outside of Seoul, Los Angeles is one of the best places in the world to eat Korean sashimi. As with the Japanese style, this involves a parade of raw sliced fish, often of different varieties, the utterly fresh fish accompanied by various Korean dipping sauces. However, unlike most Japanese sushi, Korean sashimi prizes live fish — swimming in restaurant tanks often just moments before it arrives at your table.
"We like it fresh, right when that rigor mortis hits," says chef Deuki Hong, who co-wrote with Matt Rodbard the recently published cookbook "Koreatown: A Cookbook," of Korean live sashimi. "The flesh kind of firms up — it's got this bite and texture — and it's that freshness that Koreans love."
"L.A. has the best Koreatown," Hong says of why he chose to concentrate much of his book on this city's vibrant and food-centric Korean neighborhood. "If I had to go to one Koreatown for the rest of my life, it would be Los Angeles'."
A good Korean sashimi restaurant will have fish tanks competing for space with tables, which sometimes makes them look more like an aquarium or fish store than a place for a meal.
There's plenty of raw fish and seafood in these sashimi-centric restaurants, most of it served with the chili paste gochujang and other Korean accouterments such as banchan or corn cheese. Several of these restaurants dot L.A.'s vibrant Koreatown neighborhood, and the fish served is often imported from South Korea — live.
Most of this live seafood arrives by air at LAX (as well as other airports around the world for other markets), about a dozen miles away from L.A.'s Koreatown.
Several varieties of live Asian fish, such as flounder and grouper, are regularly transported in crowded tanks by air cargo to be sold in Asian markets and restaurants in Los Angeles and elsewhere.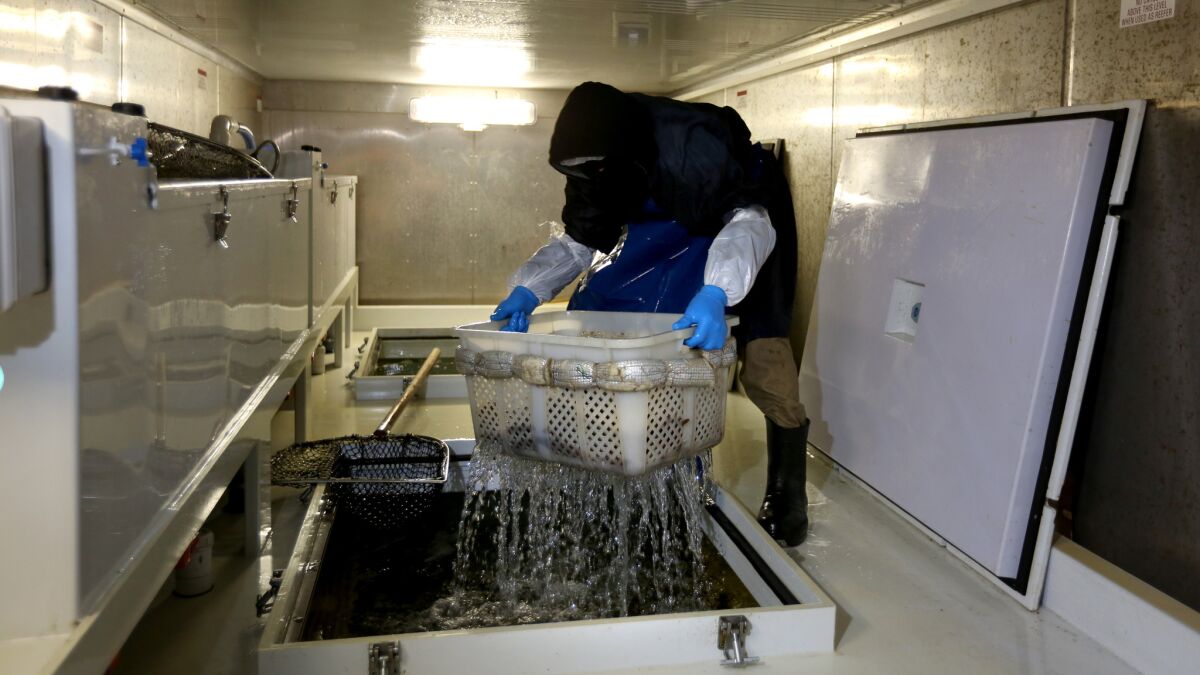 But to meet the high demand for live Asian fish within Southern California specifically, one local company is changing the landscape by engineering a more environmentally sustainable and cost-efficient method: shipping containers specially designed for live fish transport.
The Pacific American Fish Co., a nearly 40-year-old, family-run seafood importing business, recently developed this innovative technology after years of government-funded research with scientists at Gyeongsang National University in South Korea. In the last four years, the company, also known as PAFCO, has built 15 standard-size (40-foot-long) industrial shipping containers outfitted for live fish transport. Each container takes about one month and $100,000 to build. They essentially serve as farm-spas for Korean fish: flounder, rockfish, cod, mullet, turbot and other farmed varieties specific to Asian waters.
"Our fish don't even know they're transiting," says second-generation PAFCO Chief Executive and Chairman Peter Huh. "It's an idyllic environment: We monitor the oxygen levels and the temperature, and the water is filtered continuously. So the fish arrives stress-free."
It takes 10 days to transport the fish from South Korea to Long Beach, a far more environmentally conscious method than by air, even with varying efficiencies by specific ship. "From an energy efficiency and carbon emissions standpoint," Brad Schallert, senior program officer of the International Climate Change Policy of the World Wildlife Fund says, "aviation has been shown to be at least an order of magnitude less efficient than shipping." Each container — to date, the only such containers approved by the USDA and the FDA — houses four built-in tanks that together hold approximately 4,000 to 5,000 pounds of fish and 48,000 gallons of water.
To put it another way: Korean sashimi in L.A.'s Koreatown exists in large part because PAFCO is shipping water over water.
The company even purchases approximately 5,000 gallons of California ocean water each month to help filter the full tanks, as the fish wait for a short time for distribution at the company's headquarters in Vernon, just south of downtown Los Angeles.
Even though younger chefs like New York City-based Hong prefer the more sustainable, if untraditional, options of local fish, Korean and Chinese cultures — both of which have large communities in Southern California — prize not just live fish, but live fish of varieties that are native to Asia.
Driving much of this market is the Korean sashimi restaurant experience, which begins with sea-food-inspired banchan and pro-gresses to the sliced raw fish, freshly killed, as well as sometimes the cultish dish of live octopus and other seafood, such as Santa Barbara sea urchin.
It's nearly impossible to replicate this cuisine without live fish, particularly the subtle and sweet Korean sashimi favorite, live flounder. While Hong wonders how this all disrupts the terroir of the seabed — eating live fish farmed in waters far away — "on the other hand," he notes, "it's cool that you're getting fish from Korea."
If this seems like a lot of trouble for a prized delicacy, it is.
But considering that the United States imports 90% of the seafood Americans eat (the vast majority on ice or frozen), while exporting a third of what it catches, according to fishing industry author Paul Greenberg, shipping live fish by sea might be a better alternative to flying live fish overseas everyday.
Huh and his PAFCO colleague Young Soo Kang, who heads up the company's live fish division, say this will reduce fuel usage, translating into lower costs, and transport more fish at a time, which they say results in healthier fish as well.
Which is why PAFCO will add 25 more live fish containers in the next two years, with plans to ship to markets farther away such as Vancouver, Canada, Houston and even New York City via the Panama Canal — a trip that takes 22 days.
Meanwhile, unless you're reading this in Seoul, L.A.'s Koreatown is still one of the best places in the world to find actual Korean sashimi — that is, with your meal still swimming as you pull up a chair.
::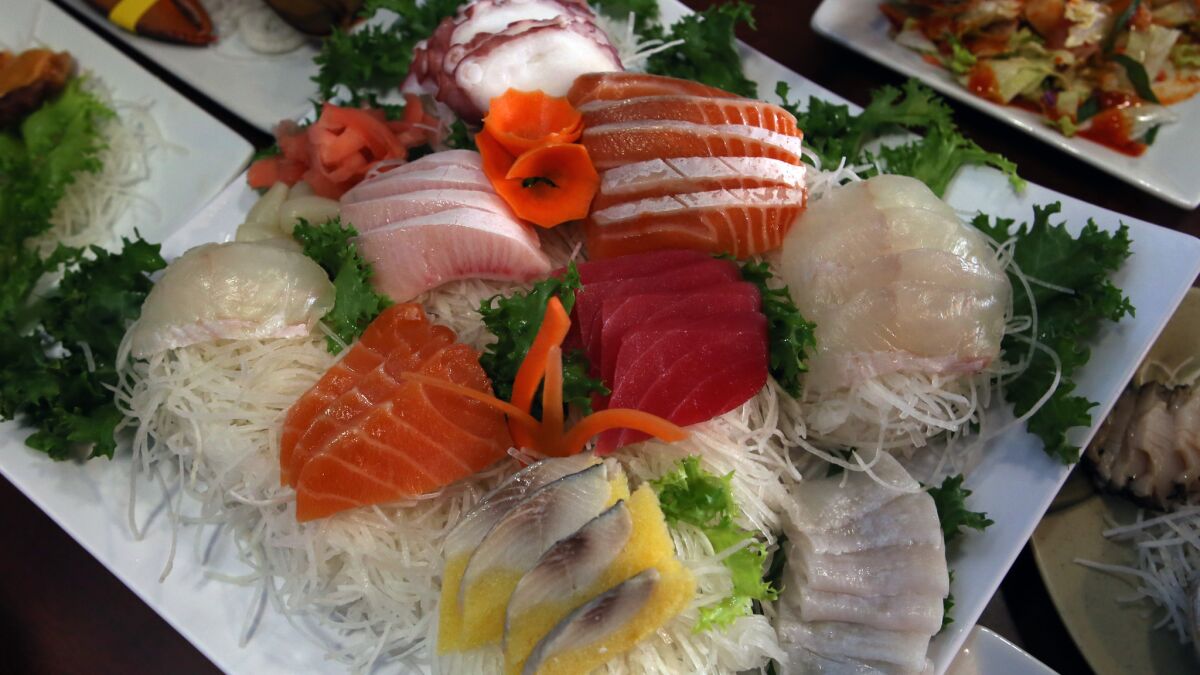 Three restaurants in Koreatown to sample (nearly) live seafood:
Chung Hae Jin: This family-owned strip-mall restaurant offers a traditional live Korean sashimi experience. Be sure to save room for the impressive rainbow-hued sashimi platter that arrives after the generous banchan, which might include clam soup, raw shrimp or raw lobster, a chopped raw fish and lettuce salad, oysters, snails and other seafood served on their half-shells. 3470 W. 6th St., 8-A, Los Angeles, (213) 819-0078.
LA Hwaluh: What looks like a fish market is actually a bustling restaurant (also known as LA Sashimi) with most of its business devoted to elaborate takeout orders packed on ice. Ask for the sashimi platter and live octopus, but don't forgo the sesame oil dipping sauce for the latter, which acts as both a flavor enhancer and helps slide the octopus down. 2707 W. 8th St., Los Angeles, (212) 387-8589.
New Shogun Sushi: A more upscale restaurant, with Japanese-inspired flourishes like private dining rooms to fit small groups. Along with the sashimi, regulars prize the maeuntang, a spicy fish and vegetable stew that's made with the fish heads and bones that the kitchen pragmatically saves from the production of your sashimi. 987 S. Vermont Ave., Suite D, Los Angeles, (213) 365-0213.
ALSO
Where to go for ibrik coffee, also called Arabic or Turkish coffee, in L.A.
Jonathan Gold reviews Kali Restaurant: It's too much of a good thing
This new Little Tokyo restaurant is bottling its cocktails and putting strawberries on your pizza
Get our L.A. Goes Out newsletter, with the week's best events, to help you explore and experience our city.
You may occasionally receive promotional content from the Los Angeles Times.