This retro camper is also an espresso stand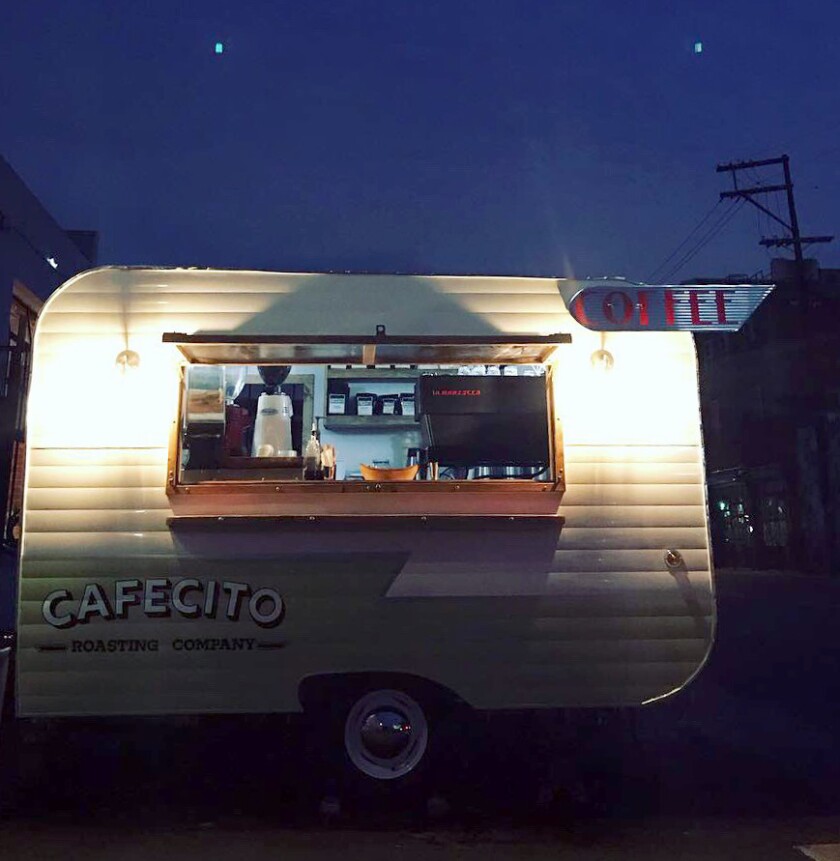 Coffee culture in Los Angeles, at least in the last decade or so, has taken hold in fancy food halls and shops that look more like steampunk boutiques than old-school coffee-pot-and-pancake diners.
So perhaps it's no surprise that Cafecito Roasting Co., the new arm of the longtime L.A. coffee company Cafecito Organico, has opened its first coffee shop in a swank white-and-lime-green replica of a vintage 1963 Shasta Santa Fe camper.
That Cafecito camper is now up and running — or, more accurately, pouring and pulling shots, as the trailer is unhooked and chained down — in the massive parking lot outside of downtown's A+D Museum.
Before parking his new camper in the architecture and design museum's parking lot, Cafecito partner Mitch Hale had a 42-square-foot camper stationed at the now-closed Elysian restaurant in Frogtown. "I will never have a bricks-and-mortar shop," he said on a recent Saturday morning. "I'll always have a camper.
The coffee being served is, of course, Cafecito, which specializes in organic coffees sourced from family farms and small growers in Central America. To pair with all that caffeine, there are pastries from Bread Lounge bakery, also in the Arts District, and Donut Farm, the organic vegan doughnut shop on Sunset Boulevard.
The price of coffee is in crisis. Here's why you should care »
"The idea," said Hale, an Espresso Vivace veteran who partnered with Cafecito Organico founder Angel Orozco almost a decade ago, "is to find permanent locations, and to build seating around them."
To that end, Hale says there are plans for patio seating (chairs, Wi-Fi) outside the museum. Until then, you can order an espresso and a matcha vegan doughnut under a green umbrella before spending a few hours looking at art installations — an experience that is arguably more enjoyable when caffeinated.
900 E. 4th St., Los Angeles. Instagram: @cafecitoroastingco. Open daily 7 a.m. to 5 p.m.
Instagram: @AScattergood
---
Get our weekly Tasting Notes newsletter for reviews, news and more.
You may occasionally receive promotional content from the Los Angeles Times.