Fun summer cocktails to float your boat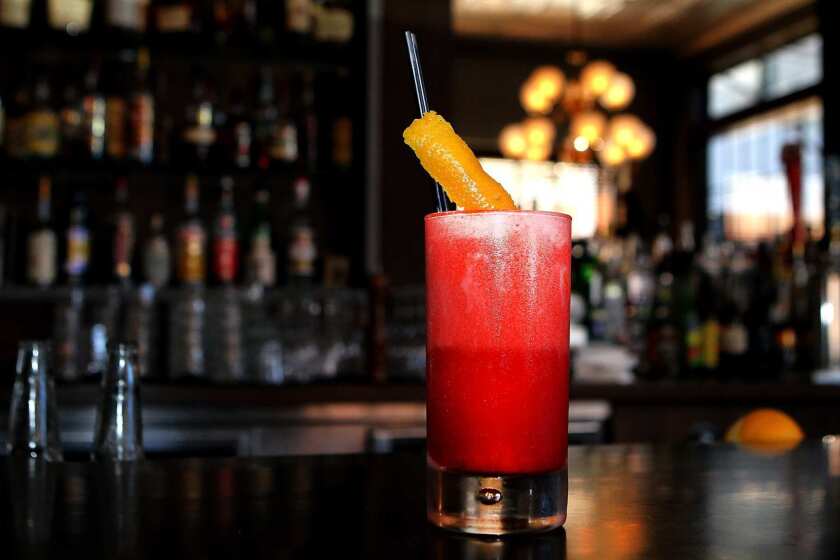 Los Angeles Times
You know summer's nearly here when your cocktail looks like a snow cone. Or a lassi. Or an ice cream float. Or a fruity soda pop that comes in a glass bottle, complete with bubbles and twist-off cap.
A wave of new cocktails that hew toward the playful not only puts us squarely in summer but also is helping to make L.A.'s cocktail scene uniquely its own.
The snow cones at Son of a Gun on West 3rd Street are tiki-inspired crushed-ice cocktails served in paper cones that rest in julep cups. A new cocktail menu at 1886 Bar at the Raymond in Pasadena features bottled fizzy cocktails. And at Pour Vous, the French-themed bar that opened on Melrose Avenue in Hollywood two months ago, the menu is punctuated with lassis and parfait look-alikes and drinks that resemble something from your favorite juice bar. What's up with all the fun drinks from serious bartenders?
"Our cocktail culture really reflects an evolution," says Lindsay Nader, part of the Pour Vous team that helped realize a novel take on French-inspired drinking. "There are [craft cocktail] pioneers in New York who are still kind of stuck in this rigid way of working and creating. They aren't breaking free of the handlebar-mustache, buttoned-up attitude. In L.A., we're moving out of that era, it's anything goes, we're having fun with cocktails and stripping away some of that seriousness."
Just read the menus at Hollywood's Spare Room or Harvard & Stone. The Spare Room has all the markers of a devoted craft cocktail bar: classics, wry twists on classics and homages to trailblazing bartenders such as Julie Reiner. But there are also beverage director Naomi Schimeck's milkshake and egg cream, and in the summer she plans to offer an expanded roster of bottled cocktails. "We're definitely letting down our hair," Schimeck says. And Harvard & Stone's roster of R&D drinks has included its own soda-fountain-inspired Crybaby (rye,Coca-Cola, marschino syrup and lots of crushed ice) and Sundae Best (vodka, Fernet Branca and peppermint ice cream).
When Son of a Gun opened last year, "we started with the classics, and the classics helped us get a serious bar program going. Now we're just going with the theme of the restaurant," says general manager Daniel Warrilow (the theme might be described as upscale Florida fishing expedition). "You should make it fun for people." So now he makes his own versions of shandies — bottled, fermented beer and citrus cocktails — and snow cones.
One's a snow-cone version of a Sidewinder's Fang, the classic tiki cocktail with rum, lemon and orange juices and passion fruit syrup. The Lost Cause "tiki-cone" is rum and aquavit with coconut syrup and lemon and lime juice, poured over a paper cone filled with crushed ice (thanks to the machine in the kitchen that crushes ice for the oyster platters) and garnished with a flag of cherry and lemon. It screams summertime.
So do the "adult shakes" at Short Order, thick, creamy, boozy milkshakes that go down easy (maybe too easy) with a juicy burger and fried spuds. Among Julian Cox's creations is the Drunken Girl Scout with both vanilla and chocolate frozen custard, Tempus Fugit creme de menthe, Fernet Branca Menta and house-made thin mint cookies.
Meanwhile, the bottled cocktails at 1886 Bar at the Raymond in Pasadena are a collaboration between pastry chef Jeff Haines and barman Greg Gertmenian. The Rum Whistle (named after one of the first sodas from the creator of 7-Up) is carbonated fresh green apple and celery juices and Mount Gay aged white rum. It's a labor of love, says Gertmenian. For the juice alone it takes 65 apples to make 15 bottles, and it takes two days to make one batch. They're bottled in 10-ounce soda bottles and kept at near-freezing temperatures. Gertmenian is working with Haines on a yuzu-watermelon bottled cocktail for the summer — "something bright and pink."
At the new Sadie LA in Hollywood, director of spirits Giovanni Martinez is making his own alcoholic ice creams, inspired by a Chartreuse ice cream he tried at least year's Tales of the Cocktail in New Orleans. "So I thought, what if we made some liquored-up ice creams? Our eureka moment was the Peychaud's bitters ice cream," says Martinez. "Once we paired it with Sanbitter [bitter citrus] soda — oh, my God, I can't believe this already hasn't been done before."
---
Get our weekly Tasting Notes newsletter for reviews, news and more.
You may occasionally receive promotional content from the Los Angeles Times.