Review: The small plates at Moruno hold some big ideas
Artichokes a la plancha available for $14 at Moruno. Moruno, a newly opened restaurant at the Original Farmers Market in Los Angeles, features dining on two levels in an open atmosphere.
(Rick Loomis / Los Angeles Times)
Dining area in Moruno.
(Rick Loomis / Los Angeles Times)
Mejadra (rice and lentils), available for $7 and $10 for small and large portions at Moruno.
(Rick Loomis / Los Angeles Times)
Moruno is in the old Short Order space at the Original Farmers Market in Los Angeles.
(Rick Loomis / Los Angeles Times)
Half rotisserie cabbage with pickled mushroom yogurt, available for $12 at Moruno.
(Rick Loomis / Los Angeles Times)
Rotisserie chicken, available for $28 at Moruno.
(Rick Loomis / Los Angeles Times)
Gildas, two per order, cost $5 at Moruno.
(Rick Loomis / Los Angeles Times)
Chicken and lamb skewers ($12 and $13, respectively, per order that includes two skewers ) at Moruno.
(Rick Loomis / Los Angeles Times)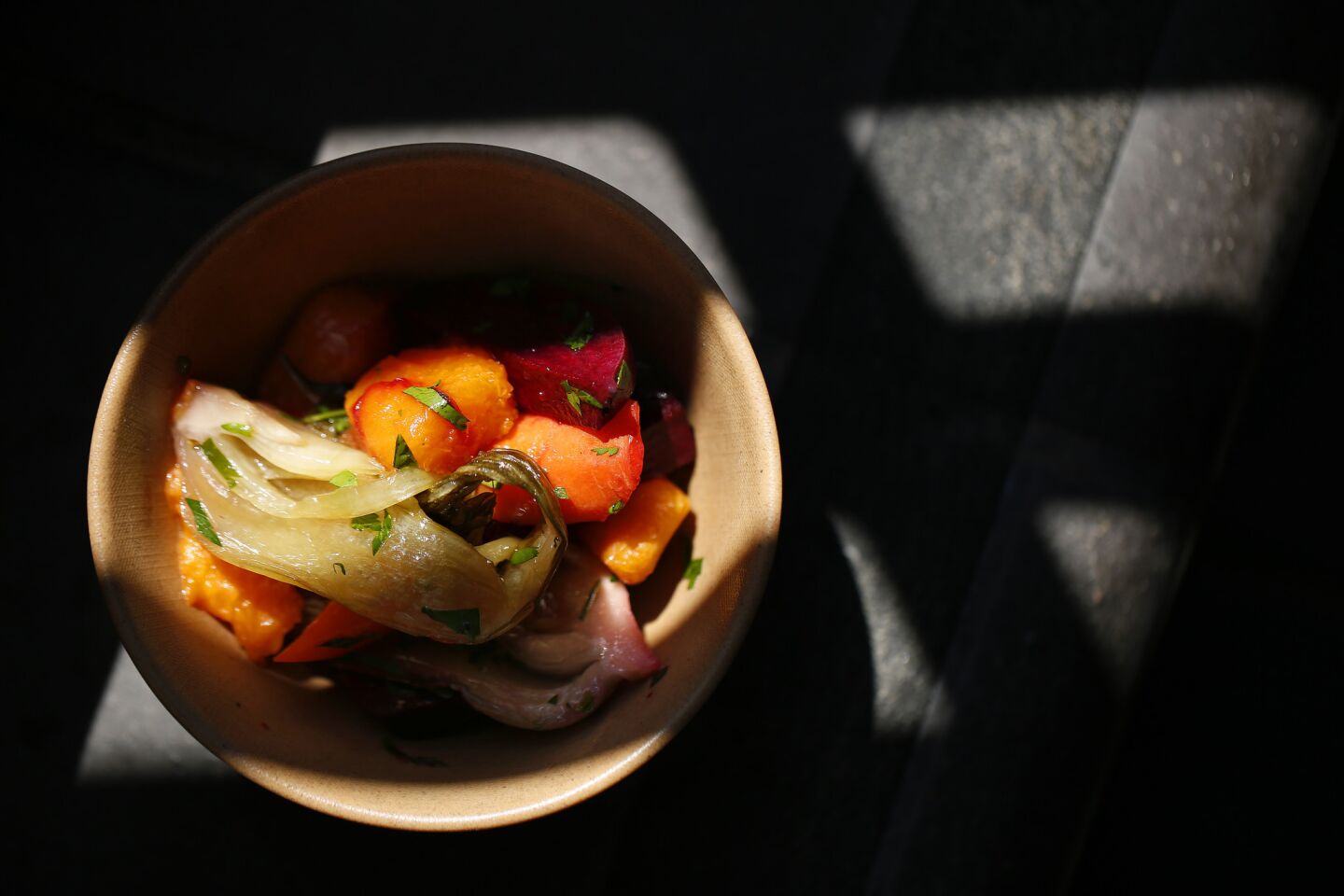 House fermented vegetables for $4 at Moruno.
(Rick Loomis / Los Angeles Times)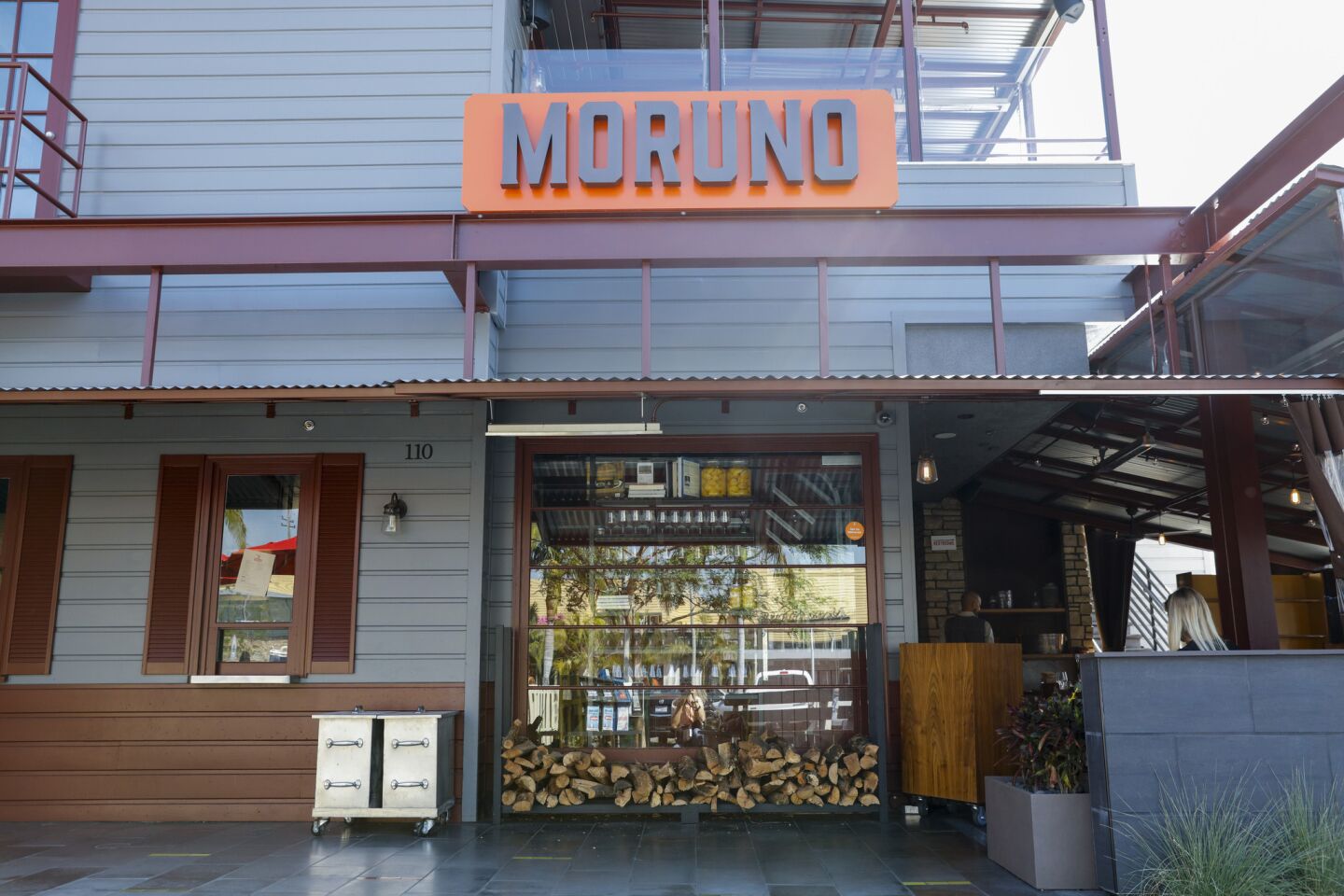 Moruno restaurant, with a menu informed by Spanish flavors, offers about 45 wines.
(Jay L. Clendenin / Los Angeles Times)
Red and white Vermina vermouth available for $10 from Moruno. They're made by David Rosoff and Palmera Winery's Steve Clifton.
(Rick Loomis / Los Angeles Times)
Inside Moruno restaurant.
(Jay L. Clendenin / Los Angeles Times)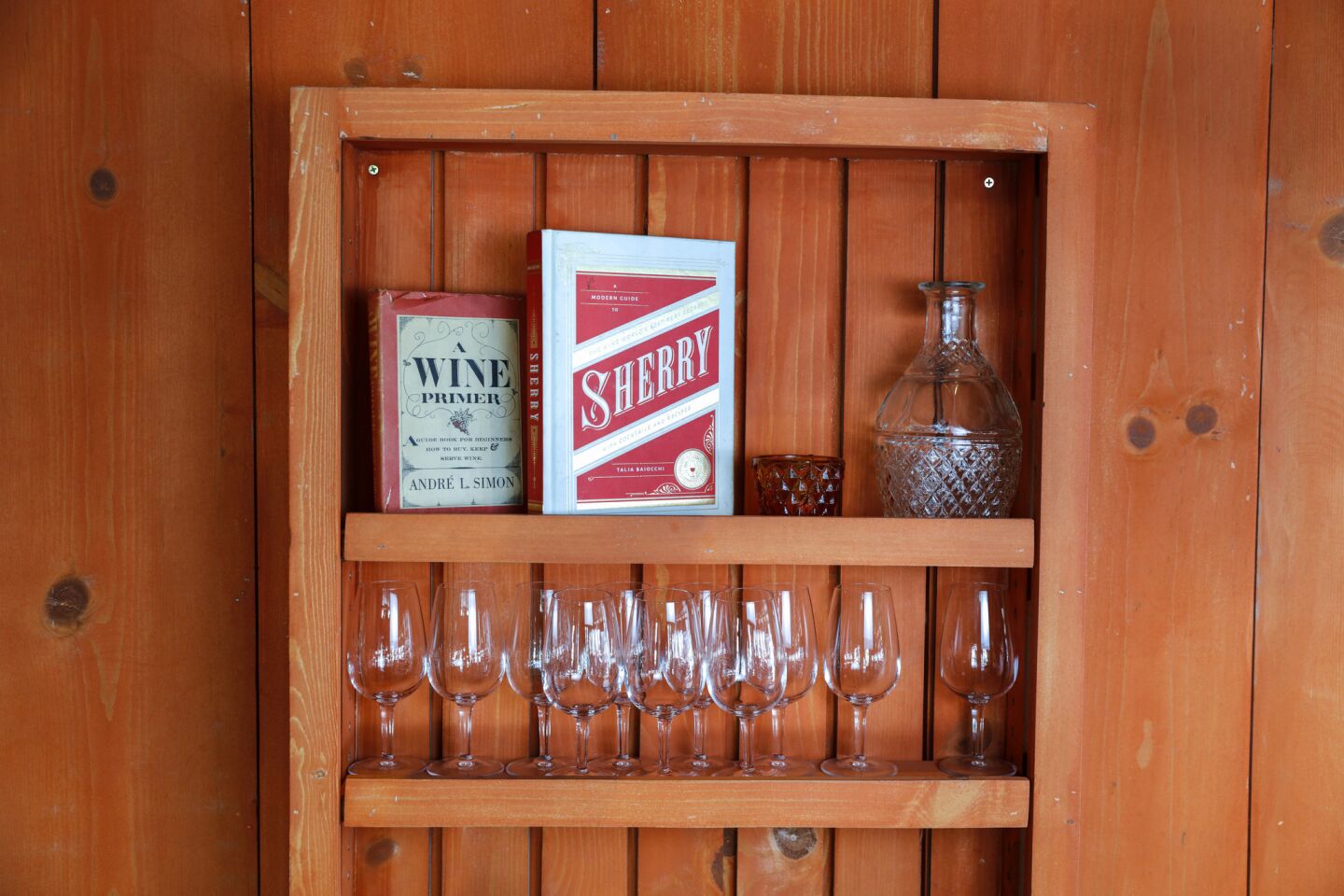 Moruno's wine program leans heavily on sherry and vermouth.
(Jay L. Clendenin / Los Angeles Times)
The list of wines has no Barolo, no Burgundy, no Mosel Riesling. But it pairs well with chef Chad Feldmeier's menu.
(Jay L. Clendenin / Los Angeles Times)
David Rosoff, managing partner of Moruno restaurant, is photographed inside the Original Farmers Market location.
(Jay L. Clendenin / Los Angeles Times)
David Rosoff owns Moruno with chef Chris Feldmeier.
(Jay L. Clendenin / Los Angeles Times)
Los Angeles Times Restaurant Critic
Moruno, one might imagine, is a restaurant devoted to the pincho moruno, the miniature shish kebabs that you find almost everywhere in southern Spain. Chris Feldmeier, the chef, goes to Seville a lot, and pinchos moruno, marinated in olive oil, lemon juice and a cumin-heavy spice mixture pretty close to Tunisian ras el hanout before they are grilled, seem almost perfect for long summer afternoons. (The word "moruno" refers to the Moors who ruled that part of Spain until the end of the 15th century.)
David Rosoff, the restaurant's proprietor, makes his own vermouth, both a tart, herbaceous white version and a sweeter, more complex red, and the combination of pinchos morunos and vermouth is one of the more felicitous pairings of the Spanish table, one that can make you think that the more common pairing of fino sherry and bocadillos might be strictly an amateur move.
If you look at it a certain way, a glass of Rosoff's sherry is an event onto itself, rounded out by the three fat olives Moruno balances atop the drink and perhaps supplemented by a Gilda, a little skewer of pepper, olive and anchovy. Gildas are a specialty of the Basque country instead of Andalusia, but no matter. The skewer is supposedly named after the film character played by Rita Hayworth, an actress whose father was from Seville and who herself grew up in L.A.
Moruno is a new restaurant occupying the old Short Order space in the Original Farmers Market at 3rd Street and Fairfax Avenue, a semi-enclosed room jutting out into a corner of the parking lot; a small second-floor bar looks a little like the quarterdeck of a ship. Feldmeier and Rosoff are both veterans of Osteria Mozza — Feldmeier was the chef de cuisine; Rosoff the general manager and more or less the wine guy: Even in its first weeks Moruno felt comfortable and lived-in, more like a 20-year-old place everybody takes for granted than like the hot new restaurant on the block. Nobody in town has really tackled the collision of Spanish and North African flavors before, at least not in a systematic way, but Feldmeier's light, intensely spiced vegetable-forward Mediterranean cooking tastes like something we've been eating for years, a tapas-like cousin to the kinds of things Suzanne Goin has been doing at A.O.C.
The wines, mostly from Spain and the part of southern France adjoining Spain, are just right for this food — I especially liked Taganan, a white from the Canary Islands with an unusual rye-sesame scent that reminded me of Ak-Mak crackers, and a supple Rioja from the young winemaker Sandra Bravo at Sierra de Toloño.
Some of the best dishes are the simplest, like a plate of marinated anchovies showered with grated Normandy butter, an elevated tuna salad made with Spanish conserva, and chicharrones that turn out to be a single massive slab of pork belly, cooked in its own fat to a formidable crunch.
So the wedge of tortilla espanola, buried in a salad, comes across more as a torte of onions and thinly sliced potatoes than as the caky omelet you might have been expecting, and the pescado en adobo is pretty close to what Peruvians call chicharrón de pescado: crisp, lightly fried cubes of fish served with garlicky mayonnaise.
But as at many Arab-influenced restaurants, a substantial number of the best dishes tend to be vegetarian, like slivered artichoke leaves sautéed with garlic, or French fries dusted with powdered lentils and spices, or a blackened roast squash buried under a heap of the nutty Egyptian spice mixture dukkah crisped in brown butter. Roasted cabbage slathered with a tart, mushroom-flavored yogurt is a cabbage that eats like a steak. You are probably going to be eating a bowl of the Arabic greasy spoon standard mejadra, rice cooked down with lentils and crowned with a handful of crisp fried onions, and possibly an incongruously Indian-seeming dish of spinach spiked with crunchy chickpeas and served with puffs of spiced bhatura bread.
Oddly, the morunos themselves, both chicken and lamb, may be the least of the offerings here, OK tucked into a sandwich with mint and onion perhaps, and satisfactory with a drink, but wet, bland and a little mushy, as if they had been overmarinated but underseasoned. But the tripe, long-stewed to a luscious softness and then blackened on the grill until it becomes delicately crisp, is sublime, served on a bed of pillowy white beans. The rotisserie chicken comes across as a luscious North African take on Zankou, skin gooey and sticky, meat properly overdone; the squid bodies stuffed with a forcemeat of their own spiced tentacles are clever and delicious.
And the desserts, overseen by Mozza pastry chef (and Feldmeier's wife) Dahlia Narvaez, are wonderful after a proto-Moorish meal — a dense chocolate-sesame tart served under tangles of halvah; saffron-scented rice pudding lightened with cream; and especially the crunchy deep-fried biscuits served with vanilla ice cream and tangerine marmalade, a dessert that recalls the American South more than it does southern Spain, but which is masterful nonetheless.
::
Moruno
Two Mozza veterans open a Spanish-themed small plates restaurant in the Original Farmers Market.
LOCATION
Original Farmers Market, 6333 W. Third St. Stall 110, Los Angeles, (323) 372-1251, morunola.com
PRICES
Tapas $5-$14; large plates $16-$28; desserts $8.
DETAILS
Open noon-11 p.m. Mon.-Sat.; noon-10 p.m. Sun. Credit cards accepted. Full bar. Validated parking in the Farmers Market lot.
RECOMMENDED DISHES
Artichokes a la plancha; rotisserie cabbage with yogurt; roast butternut squash with dukkah; grilled tripe with white beans; fried biscuits with marmalade.
MORE REVIEWS FROM JONATHAN GOLD
Officine Brera is so grand and serious that it's nearly operatic
Mian restaurant has noodles like no one else in the San Gabriel Valley
In Venice Beach, the place to eat is Dudley Market, and the dish to try is uni-topped black risotto
---
Get our L.A. Goes Out newsletter, with the week's best events, to help you explore and experience our city.
You may occasionally receive promotional content from the Los Angeles Times.