Recipe: Chocolate chip cookies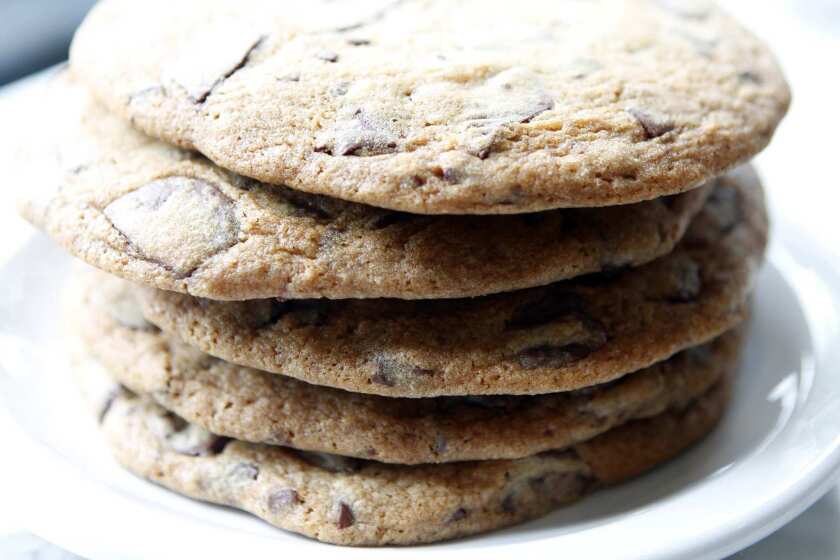 Chocolate chip cookies
Total time: 1 hour, 15 minutes
Servings: 12 very large cookies
Note: Adapted from Joan's on Third.
2 1/2 cups (10.8 ounces) flour
1 teaspoon baking soda
1/2 pound (2 sticks) butter
1 1/4 cup plus a heaping 2 tablespoons (7 ounces) light brown sugar
1/2 cup (3.5 ounces) granulated sugar
2 extra-large eggs
2 teaspoons vanilla extract
1 teaspoon salt
1 pound 60% chocolate disks or large chips, coarsely chopped
1. Heat the oven to 325 degrees.
2. In a medium bowl, sift together the flour and baking soda. Set aside.
3. In the bowl of a stand mixer fitted with the paddle attachment, or in a large bowl using a hand mixer, cream together the butter, brown sugar and granulated sugar until light and fluffy.
4. Add the eggs, beating them in one at a time, until completely incorporated, then beat in the vanilla.
5. Add the flour mixture, then the salt, and mix until completely combined to form the dough. Fold in the chocolate pieces by hand.
6. Scoop a generous one-third cup of the mixture for each cookie, spacing them wide apart on parchment-lined baking sheets. Be sure to leave enough space as the cookies will spread, placing no more than 3 cookies on each sheet.
7. Bake the cookies until set and lightly browned on the edges, 16 to 20 minutes. Remove and place the baking sheet on a rack until the cookies are cooled. Repeat until all the cookies are baked.
Each cookie: 557 calories; 6 grams protein; 64 grams carbohydrates; 4 grams fiber; 31 grams fat; 18 grams saturated fat; 78 mg cholesterol; 38 grams sugar; 428 mg sodium.
---
Get our new Cooking newsletter.
You may occasionally receive promotional content from the Los Angeles Times.