Devastated by Woolsey fire, a farmer and forager begins to rebuild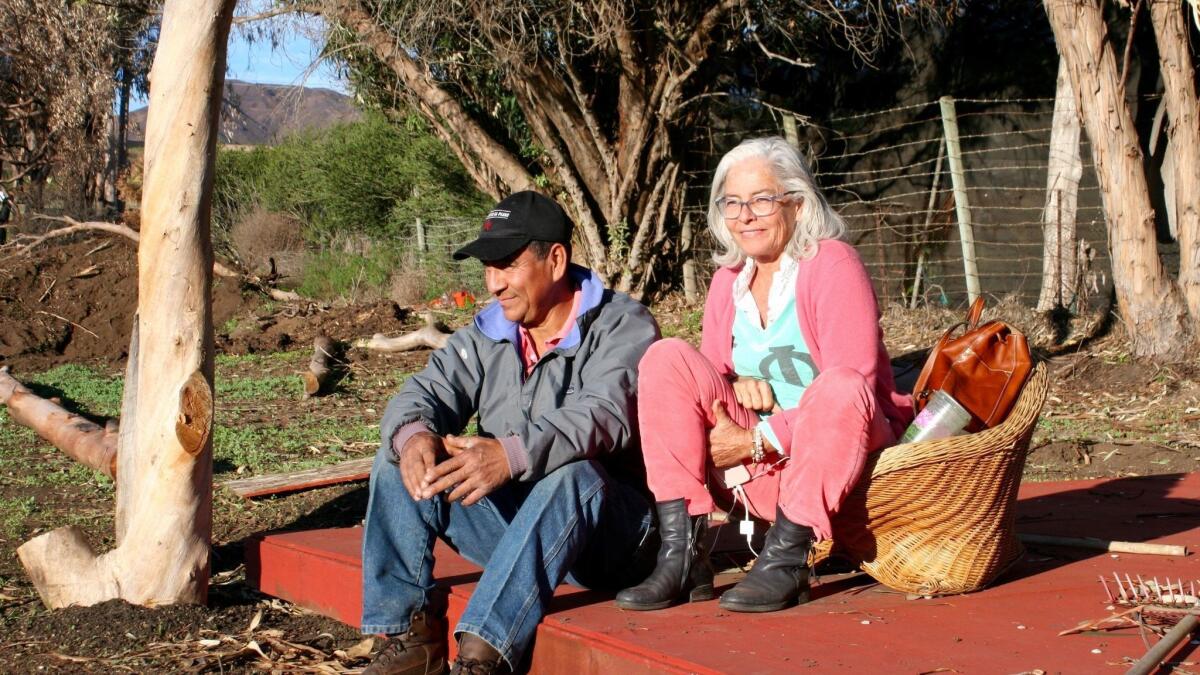 Food Columnist
On a Friday around midday, Kerry Clasby got a phone call. It was one of her clients, wondering what time they could expect the produce they'd ordered from Clasby, a farmer and distributor who calls herself the Intuitive Forager. They didn't realize that she was in the middle of fighting to save her Malibu farm from complete destruction.
The Woolsey fire, which had broken out the previous afternoon, Nov. 8, moved with frightening agility. It ultimately consumed the house where Clasby lived, as well as most of the structures on the property, which she leases as a tenant farmer. It destroyed her personal possessions and those of her workers, and gutted her business. Vehicles, equipment, heirloom seeds and machinery burned.
Clasby took over her farm from another tenant three years ago and poured her life savings into building it up and growing her business, supplying restaurants such as Spago, Gjelina, Eataly and Rose Cafe. In a short time, she earned a reputation for being something of a produce whisperer — if a chef is looking for something, Clasby won't stop until she finds it. Need some bergamot or Buddha's hand? Clasby is on the case. Her network of growers takes her to different farmers markets and restaurants in the area, where she also sells produce — lettuces, beets, fava beans, potatoes and English snap peas — that she grows herself.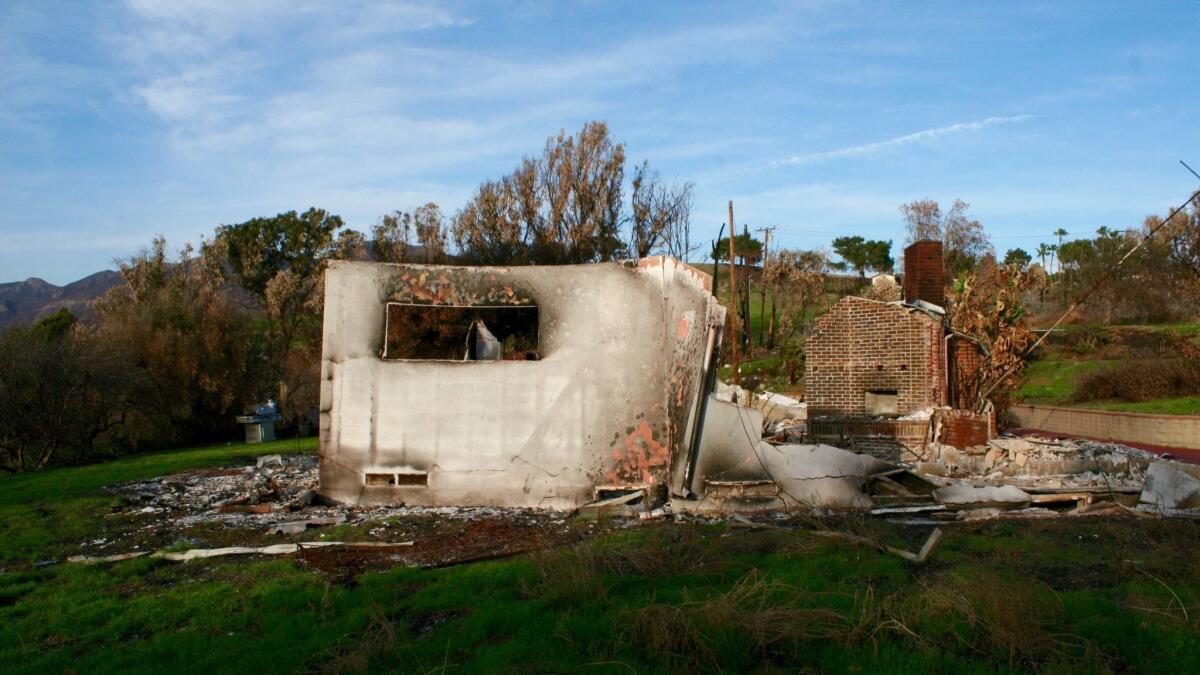 She, like many others, didn't anticipate the destruction of this fire season.
"There had been very few fires on this property, for 50 years or something," she said. "But I knew the Santa Ana winds — the devil winds, they call them — were coming."
Between that Thursday and Friday afternoon, winds drove the fire down toward Point Dume and the Pacific Ocean with astonishing speed. Clasby and a worker, César Ramírez, had worked into the night Thursday clearing the farm of dead brush to create as much empty space as possible — the less fuel there is for a fire, the less a chance it can spread. They spent portions of Friday morning on the roof of the farmhouse, wetting it down with a garden hose. It did little good. "It was so hot and so dry, I could see that the minute I was putting water on the roof, it was drying out."
The fire traveled along on the tops of trees in the area, and once it had reached a row of oily eucalyptus on the northern edge of the property, Clasby sensed it was game over. "I knew if these trees caught fire, we couldn't handle it," she said.
Falling embers and strong winds eventually led to the house and most of the other structures on the property going up in flames, including the small apartments where Ramírez and another worker lived. But much was saved, including the farm stand and the land itself. Clasby attributes this to the tireless work of Ramírez, who himself lost clothing, furniture and some cash savings. "What can you say about a man like that?" Clasby asked, blinking back tears.
When I visited Clasby at her farm this week, she wasn't alone. Dressed in donated clothing (hers burned), she introduced me to several of the regulars that volunteer, work or visit the modest plot of land that was once known as Fig Tree Ranch on Pacific Coast Highway at Heathercliff Road near Point Dume.
One visitor, Chandra Fortier, periodically brings her children to visit the farm, where they learn about plants and gardening. She and her husband lost their home in the Seminole Springs mobile home park, about 10 miles up the road. Over 100 homes burned in a fire that devastated the community and its residents.
"There's a lot of people super-depressed and sad and they're not going to move back, not going to rebuild," Fortier said of victims of the fire. "How can you even function normally? It's hard to even go back to work." Malibu businesses, she and Clasby noted, are suffering greatly in the fire's aftermath. At the same time, Fortier says, she's been buoyed by the outpouring of financial and emotional support for fire victims. "It's brought a lot of people together," she said.
Clasby says that the feeling of support within the restaurant, market and general Malibu communities is palpable: "We could go down right now and I could be dressed head to toe in the most beautiful clothes that people are donating." A number of her Los Angeles clients have reached out about doing fundraising events, she said, and in Las Vegas, where Clasby works extensively, the chef Sonia El-Nawal is planning a benefit.
Clasby pointed out some of the green buds that were already poking out from beneath the ash-covered ground. Six weeks after unthinkable destruction, there were definite signs of life.
"Black and green, know what I mean?" she asked. "Black and green."
Get our weekly Tasting Notes newsletter for reviews, news and more.
You may occasionally receive promotional content from the Los Angeles Times.