Recipe: Clear chowder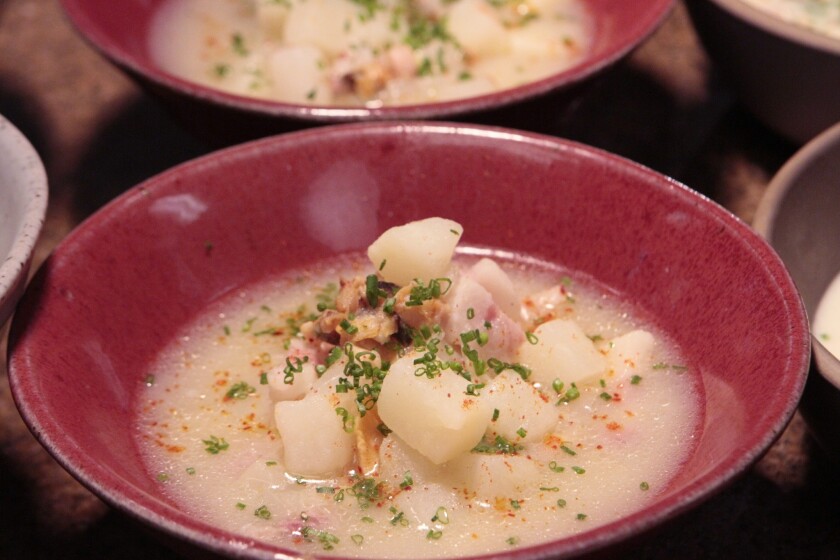 Total time:
1 hour, 10 minutes, plus overnight chilling time for the soup
Servings: 4
Note: Adapted from Michael Cimarusti of Providence restaurant.
3 3/4 pounds quahog or cherrystone clams
3 1/2 tablespoons (50 grams) butter
2 2/3 ounces (75 grams) salt pork
About 1 2/3 cups (150 grams) white onion, small dice
Clam broth, up to 1¾ cups (400 grams)
14 ounces (400 grams) baking potatoes, cut into ¾-inch dice
1/2 teaspoon (2.5 grams) kosher salt
1. Rinse the clams well under cold running water, scrubbing their shells with a brush.
2. Dry the clams a bit and place them in the freezer for one hour. This kills the clams and makes the much easier to open. Shuck the clams and reserve every drop of juice that drips from them. Coarsely chop the clams and place them in a covered plastic container, separate from the clam juice. Refrigerate the clams until you are ready to finish the soup. Measure the clam juice; you will need 1¾ cups (make up for any shortage using canned clam broth).
3. Rinse the salt pork well under cold running water. Dice the salt pork into one-fourth-inch cubes. Rinse it again once it is diced, for a minimum of five minutes. Drain well and set aside.
4. Melt the butter in a non-reactive saucepan over medium heat. Add the salt pork to the butter and stir until the salt pork begins to render. Add the onions and cook them slowly, stirring often, until translucent (do not allow them to brown). Add the clam juice and the diced potatoes, and bring the soup to a simmer. Cook the soup just until the potatoes are done. Remove the soup from heat, taste and adjust the seasoning if needed. This makes about 1 quart of soup.
5. Transfer the soup to a bowl set over a bowl of ice to stop the cooking and cool the soup quickly. Cover and refrigerate until needed. The soup is best made one day ahead of time, to give the flavors time to meld.
6. Before serving, rewarm the soup: Bring it to a simmer, check the seasoning and add 2 ounces of chopped clams for every (1 cup) serving of chowder. Cook the clams for a minute or two while stirring. Ladle the soup into warm bowls.Each serving of clear chowder: 429 calories; 21 grams protein; 27 grams carbohydrates; 3 grams fiber; 27 grams fat; 12 grams saturated fat; 89 mg cholesterol; 4 grams sugar; 1,414 mg sodium.
Variation: White chowder: Simmer 2¼ cups heavy cream over low heat until it is reduced by half, then add it to the clear chowder.
Each serving of white chowder: 894 calories; 23 grams protein; 30 grams carbohydrates; 3 grams fiber; 77 grams fat; 43 grams saturated fat; 274 mg cholesterol; 4 grams sugar; 1,465 mg sodium.
---
Get our weekly Tasting Notes newsletter for reviews, news and more.
You may occasionally receive promotional content from the Los Angeles Times.