Mom deserves the best. But how often do you show her you care? The answer: is not often enough.
So, to pay her back for putting up with your adolescence, how about you make her breakfast for a change? (We're sure she thinks that last-minute brunch reservation you made is real thoughtful.) Here, we have four dishes that are easy enough for even you, her insufficiently grateful child, to make, yet taste like you put some thought into them. (And yes, you should post images of them so everyone can see what a good kid you are.)
If Mom is into sweet things, we have light and crisp waffles that cook up in minutes after the yeasted batter rises overnight, and caky cinnamon buns filled with crunchy chunks of sugar. You can top the waffles with berries and dip the buns in cream cheese icing if you want to make up for all the times your mom had to bail you out of things that were, in retrospect, completely your own fault.
For savory moms, there's a skillet pancake stuffed with perfectly runny-yolk eggs. And a smoked salmon sando simple enough for little kids to make on their own (and so easy even your grown self can't mess it up). It's got thin slices of avocado and pickled rhubarb and is the kind of treat that will make your mom feel like she's had the time to lazily shop at the farmers market or take herself to the spa.
Make these dishes for your mom — or yourself — and #latcooking.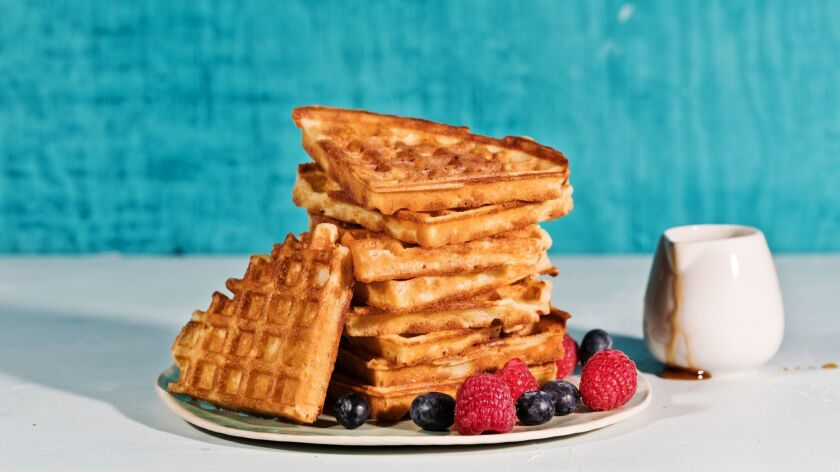 Ultimate Overnight Waffles
45 minutes, plus chilling. Makes 1 to 2 dozen.
Folding whipped egg whites into a yeasted batter makes for the lightest, crispiest waffles. Yes, it's an extra step, but it's worth the effort. This makes a big batch. You can freeze extras for quick weekday breakfasts.
1 ½ cups whole milk
¼ cup granulated sugar
1 tablespoon plus 1 teaspoon active dry yeast
4 large eggs, separated
14 tablespoons unsalted butter, melted and cooled, plus more for serving
1 teaspoon kosher salt
1 ¾ cups all-purpose flour
Maple syrup, whipped cream, powdered sugar or berries or other fruit for topping
1 Heat the milk to lukewarm (about 110 degrees) in a small saucepan over medium-low heat or by microwaving for 1 minute. Pour into a large bowl and stir in the sugar, then the yeast. Let stand until the top becomes bubbly, about 10 minutes.
2 Meanwhile, beat the egg whites using an electric mixer with the whisk attachment on medium speed or whisk by hand until medium peaks form.
3 Whisk the butter into yeast mixture, then whisk in the salt and egg yolks. While whisking, add the flour bit by bit. Whisk until smooth. Add one-third of the egg whites and fold gently until incorporated. Repeat two more times, folding just until no white streaks remain after each addition. Cover the bowl with plastic wrap and refrigerate for at least 1 hour and up to 12 hours.
4 Heat a waffle iron to medium heat. If the batter has rested more than 1 hour and has puffed a lot, gently fold it to deflate. Scoop and cook the batter according to your waffle iron's instructions. Serve hot with syrup, whipped cream, berries or other toppings of your choice.
Make Ahead: The waffles can be cooled completely and then frozen in resealable plastic freezer bags for up to 6 months. Reheat in a toaster or toaster oven before serving.
Variation
Pancake Puffs: Omit the waffle iron. Heat a nonstick skillet over medium-low heat. Coat the inside of a 3-inch-round (2-inch-high) metal biscuit cutter with nonstick cooking spray. Set in the skillet and lightly spray the pan inside the cutter. Add ⅓ cup batter, cover the skillet with a lid, and cook until the bottom is golden brown and the top is almost dry, about 5 minutes. Slide a very thin spatula under the pancake and cutter, then carefully flip both together. Cook until the other side is golden brown and the pancake bounces back when you poke its top, 3 to 5 minutes. Slide the spatula under the pancake and cutter and transfer to a plate. Using a kitchen towel or pot holders, gently wiggle the cutter off the pancake. Repeat with the remaining batter. Serve immediately.
Note: Recipe by Genevieve Ko
Tool Time
Want to really make Mom's day? Keep the kitchen counter clean. Breville's No Mess Classic Round Waffle Maker has a moat that catches any extra batter that squirts out the sides of the grids.
Cinnamon Crunch Buns
40 minutes, plus 1 hour and overnight proofing. Makes 12
These buns are much easier to make than traditional cinnamon rolls — no forming logs. The broken sugar cubes add wonderful crunch to their insides, which are more caky-soft than dinner roll-bready in texture, even though yeast is the only raising agent. The cream cheese filling/icing is optional, but it makes a tangy, creamy counterpart to the fluffy-yet-crunchy buns.
3 cups all-purpose flour
1 packet (1/4-ounce) instant yeast
1/4 teaspoon ground ginger
2 tablespoons granulated sugar
1 teaspoon pure vanilla extract
2 large eggs plus 2 large egg yolks
1/2 cup (1 stick) unsalted butter, cut into 1/2-inch cubes, room temperature, plus more for greasing (optional)
3 ounces (24) sugar cubes (either white granulated or turbinado)
1 tablespoon ground cinnamon
1 1/2 teaspoons kosher salt
1 The night before serving, make the dough: In the bowl of a stand mixer fitted with a paddle, whisk together 2 1/2 cups flour, the yeast and ginger. In another bowl, whisk together the granulated sugar, vanilla, eggs and yolks, and 3/4 cup lukewarm water. Pour the liquid ingredients into the dry and beat on low speed until smooth, 3 to 4 minutes. Scrape the dough off the paddle and scrape the bottom and sides of the bowl, then cover the bowl with a sheet of plastic wrap. Let stand until the dough doubles in size, about 1 hour.
2 While the dough rises, grease a 12-cup muffin pan with butter or nonstick baking spray. Freeze the pan for 10 minutes, then repeat with more butter or spray and refrigerate the pan until ready to use (alternatively, line each cup with a cupcake liner). Using a mortar and pestle or rolling pin, lightly crush the sugar cubes one at a time, and transfer to a small bowl, then stir in the cinnamon and one-quarter teaspoon salt.
3 Uncover the dough, add the butter and remaining 1 1/4 teaspoons salt, and beat with the paddle on low speed until incorporated. Sprinkle in the remaining half cup flour and continue mixing until smooth. Using a fine strainer, sift out all the large chunks of sugar from the bowl; you should have about one-third cup sugar chunks and one-quarter cup cinnamon sugar. Stir half the sugar chunks and 1 tablespoon of the cinnamon sugar into the dough.
4 Using a 2-ounce cookie scoop or quarter-cup measuring cup, scoop out 12 balls of dough and drop each in a muffin cup. Sprinkle the remaining sugar chunks and cinnamon sugar evenly over the top of each dough ball. Loosely drape a clean kitchen towel or sheet of plastic wrap over the muffin pan and refrigerate overnight or up to 12 hours.
5 The morning of, heat the oven to 375 degrees. Uncover the muffin pan and bake until the buns are risen and light golden brown, about 15 minutes. Remove the pan from the oven and let the buns cool for 5 minutes before serving.
Variations:
Cream Cheese-Stuffed Cinnamon Buns: In a small bowl, stir together 8 ounces room temperature cream cheese and 1 cup powdered sugar until smooth. Fill a piping bag fitted with a quarter-inch plain tip with the cream cheese filling. Pierce the bottom of each cooled muffin with the tip and pipe the filling inside.
Cream Cheese Dipped Cinnamon Buns: Make the cream cheese filling above, stirring in a half cup milk or water until smooth and pourable. Dip the warm muffins in the glaze or spoon it over the top of each before serving.
Note: Recipe by Ben Mims
tl;dr
Active dry yeast and instant yeast can often be used interchangeably in bread doughs, like Ben's buns, but not so much in batters, specifically Genevieve's waffles, where she prefers the slow rise of active dry yeast for better flavor (whipped egg whites give the waffle batter an extra boost of lightness before cooking). If you do swap active dry yeast for instant yeast in bread dough, be sure to allow the active dry yeast to foam in lukewarm liquid alone first before mixing in the other ingredients.
Egg and Cheese Skillet Pancake
30 minutes. Serves 6
Timing is everything for this pancake, so stick to the time measurements closely. You'll end up with a crisp-on-the-outside, soft-on-the-inside pancake, with perfectly cooked eggs in the center. If you like your eggs super runny, broil for only 4 minutes. Five minutes will give you a jammy yolk, while 6 minutes will yield a soft-set yolk.
1 3/4 cups all-purpose flour
1/4 cup cornstarch
1 tablespoon granulated sugar
1 tablespoon baking powder
1 teaspoon kosher salt, plus more
1/4 teaspoon baking soda
1 1/4 cups whole milk
6 tablespoons unsalted butter, melted and cooled
1/2 teaspoon pure vanilla extract
8 large eggs, room temperature
2 cups shredded sharp cheddar or American cheese (8 ounces)
1/4 cup finely chopped chives, plus more
Freshly ground black pepper
Maple syrup, for serving (optional)
1 Whisk the all-purpose flour, cornstarch, sugar, baking powder, salt and baking soda together in a large bowl. In another bowl, whisk together the milk, butter, vanilla and 2 eggs. Add the milk mixture to the flour mixture and stir until ingredients are just incorporated and form a thick batter (lumps are OK). Stir in 1 cup cheese and the chives, and let the batter rest for 5 minutes.
2 While the batter rests, heat a 12-inch ovenproof nonstick skillet over medium-low heat for 5 minutes. At the same time, arrange a rack 4 inches from the broiler heat source, and heat the broiler to high. Pour all the batter into the skillet, and quickly smooth the top. Cook until bubbles break on the surface of the pancake, and the underside is golden brown, about 6 minutes. (If after 4 minutes you notice the underside of the pancake is already dark golden brown, reduce heat accordingly.)
3 Quickly crack each of the remaining 6 eggs evenly into the batter (crack them into a small bowl first if you're worried about shell fragments getting in the pancake), arranging them so there will be 1 egg in the center of each of 6 wedges when you cut the pancake. If you're daring enough, drop them from about 8 inches above the pancake so that when they hit the batter, they sink with enough force to keep them in a neat round (if not, crack them in and they will settle on their own while cooking). Season each egg with a pinch of salt and pepper, then sprinkle the remaining 1 cup cheese evenly over the top.
4 Place the skillet under the broiler and cook until the top is golden brown and the pancake is completely cooked through in the middle and the egg whites are set but the yolks are soft and jammy, 4 to 6 minutes. Transfer the pancake to a rack and let cool for 5 minutes. Cut the pancake into 6 wedges, sprinkle with more chives, and serve with syrup, if you like.
Note: Recipe by Ben Mims
Smoked Salmon Sando
20 minutes. Serves 4.
Smoked salmon is often served with cucumber slices and a squeeze of lemon juice. Here, pickled rhubarb takes the place of both, offering a bright tartness with a light crunch. This breakfast sandwich would taste just as good at lunch or tea time.
1 large stalk rhubarb (6 ounces)
1 tablespoon granulated sugar
1 teaspoon kosher salt
8 thin slices Japanese milk bread, French pain de mie or other soft white bread
1 ripe avocado, halved, pitted and thinly sliced
16 thin slices smoked salmon (1 pound)
1 large ripe tomato, cored and thinly sliced
1 Trim the ends off the rhubarb, then cut into scant eighth-inch-thick slices at an angle. Place in a medium bowl, sprinkle with the sugar and salt, and toss with your hands until evenly coated. Let sit, tossing occasionally, until the sugar and salt dissolve and the rhubarb slices soften a little, about 10 minutes.
2 Put 4 slices of bread on your work surface. Arrange the avocado slices on each piece of bread in a single layer. Top with the smoked salmon, folding the slices to fit if needed. Arrange the pickled rhubarb on top in a single layer, leaving the pickling liquid behind in the bowl. Top with the tomato slices, then with the remaining 4 slices of bread.
3 Using a serrated knife, cut the sandwiches in halves or quarters using a sawing motion. Serve immediately.
Recipe by Genevieve Ko
---