Orleans & York, the place with the really good shrimp po' boys, is making chicken fillets in Hawthorne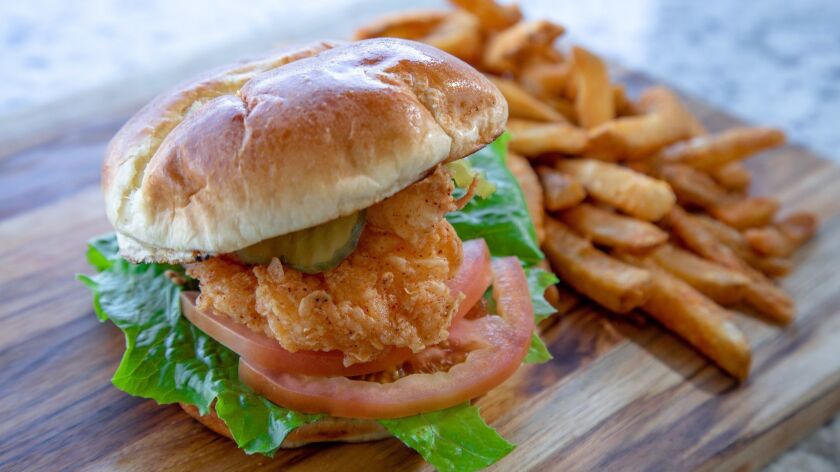 Orleans & York Fillet, a spinoff of the Orleans & York deli chain, is now open in Hawthorne. The fast-casual restaurant opened late last year specializing in sandwiches made with fried fillets of chicken, shrimp, catfish or salmon on a buttery bun.
"We wanted to do something a little different with this store and my dad's fillet sandwiches are so good," says Jasmine Othman, chief operating officer of the deli chain and daughter of Orleans & York founder Sami Othman. The sandwiches are an Othman family favorite and were originally only featured as specials at Orleans & York's five locations.
When the Othmans opened Orleans & York Fillet, they intended to just serve fillet sandwiches, instead of the New Orleans-style po' boys the chain is known for. After customers repeatedly requested the po' boys, Jasmine says she and her father caved.
"Everyone associates us with the po' boys, so it was hard for us to sit there and refuse it," she says.
>>What we're into: Cookies at a gas station in Cheviot Hills
Orleans & York Fillet is located in a shopping center across the street from the giant Space X headquarters rocket. Like its sister restaurants, the shelves around the register are stocked with red and white striped bags of Zapp's chips, the deli case is full of Dietz & Watson meats and stacked above the case are enough jugs of mayonnaise to fill a large bathtub.
And you can still get a side of that addictive, burnt orange-colored Orleans & York hot sauce known as Sami's sauce. It tastes like equal parts Frank's RedHot and melted butter and is just as good on a chicken/fish/shrimp fillet sandwich as it is on a po' boy. And if you ask nicely, they will give you extra.
Jasmine, who runs the delis with her five siblings, says the plan is to open additional locations in San Diego, Riverside County and the San Fernando Valley.
12807 Crenshaw Blvd., Hawthorne, (424) 374-8679, orleansandyorkdeli.com.
Instagram: @Jenn_Harris_
---
Get our new Cooking newsletter.
You may occasionally receive promotional content from the Los Angeles Times.