Recipe: Julienne's graham cracker chewy bars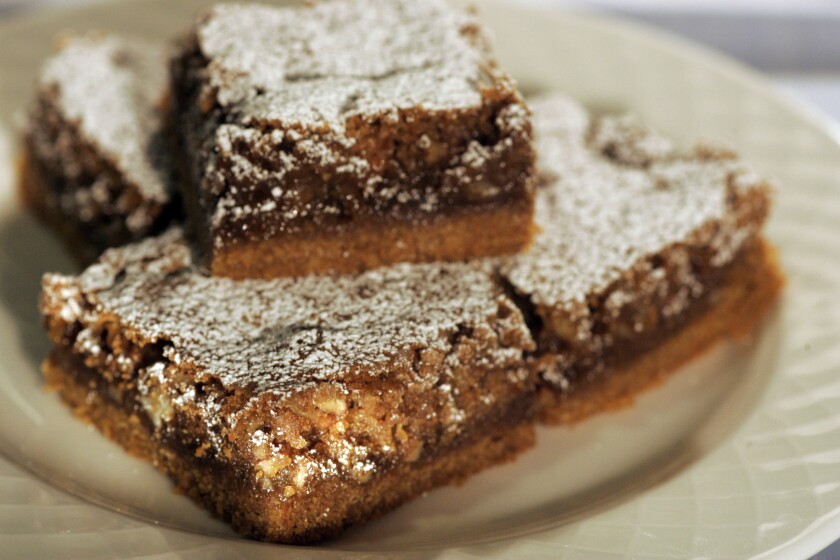 Dear SOS: Julienne's bakery in San Marino has delicious graham cracker chewy bars dusted with powdered sugar. Can you get the recipe?
Robi Inserra
Los Angeles
Dear Robi: These delicious little bars combine a dense graham cracker base with a velvety custard filling rich with brown sugar and chopped pecans. Sweet, but not overly so, each bar is like a perfect miniature pecan pie baked over a wonderfully crumbly graham cracker crust. Plan ahead and make an extra batch.
These bars are adapted from a recipe by Susan Campoy. Campoy, chef-owner of the French-inspired bistro Julienne, in San Marino, recently passed away due to complications from breast cancer. Her love of cooking and entertaining prompted Campoy to start a home-based catering business and after just a few years she opened Julienne in 1985. Her operation expanded over the years to include a gourmet market. Julienne continues to operate under the direction of Campoy's daughter and business partner, Julie Campoy.
This is just one example of the types of recipes in Campoy's new cookbook, "Celebrating With Julienne." The cookbook was a life goal for Campoy and will be for sale at Julienne starting May 4 (available at additional retail outlets starting Mother's Day).
Graham cracker chewy bars Total time: 45 minutes, plus cooling time Servings: 24 bars Note: Adapted from "Celebrating With Julienne" by Susan Campoy. Campoy writes, "I adapted this recipe from one of my favorite books, 'Nantucket Open-House Cookbook,' by Sarah Leah Chase. I love watching people's expressions when they bite into these bars for the first time. The textures and flavors -- rich toffee, a chewy center and a crunchy bottom -- make everyone smile. The secret is not to over-bake the crust. Serve them at room temperature, so the flavors meld together." Crust 3 cups graham cracker crumbs 3/4 cup (1 1/2 sticks) butter, at room temperature 1/4 cup sugar 2 tablespoons flour 1. Heat the oven to 350 degrees. In a large bowl with an electric mixer, or in the bowl of a stand mixer, beat the graham cracker crumbs, butter, sugar and flour until moist and well-blended. Press the mixture firmly and evenly over the bottom of a 13-inch by 9-inch baking pan. Bake until the crust is golden brown, 10 to 15 minutes. Topping and assembly 2 1/2 cups brown sugar 4 extra-large eggs 2/3 cup graham cracker crumbs 1 tablespoon vanilla extract 3/4 teaspoon salt 1/2 teaspoon baking powder 1 cup pecans, chopped 1 prepared crust Powdered sugar, if desired 1. While the crust is baking, in a large bowl, whisk together the brown sugar and eggs to blend. Whisk in the graham cracker crumbs, vanilla, salt and baking powder until well-blended. Stir in the pecans. 2. Spread the mixture over the baked crust and return to the 350-degree oven until the filling is dark-golden on top and jiggles slightly when tapped, 20 to 25 minutes. Transfer the pan to a cooling rack and cool completely. 3. Sprinkle a light coating of sifted powdered sugar over the pan if desired, and cut into 24 bars. The bars can be made 1 day in advance. Wrap in plastic and keep at room temperature. Each bar: 247 calories; 2 grams protein; 36 grams carbohydrates; 1 gram fiber;11 grams fat; 4 grams saturated fat; 50 mg. cholesterol; 184 mg. sodium.
Please send SOS requests to noelle.carter@latimes.com or Culinary SOS, Food, Los Angeles Times, 202 W. 1st St., Los Angeles, CA 90012. Please include your name, phone number and city of residence.
---
Get our weekly Tasting Notes newsletter for reviews, news and more.
You may occasionally receive promotional content from the Los Angeles Times.