Teachers learn a lesson in the cultures of food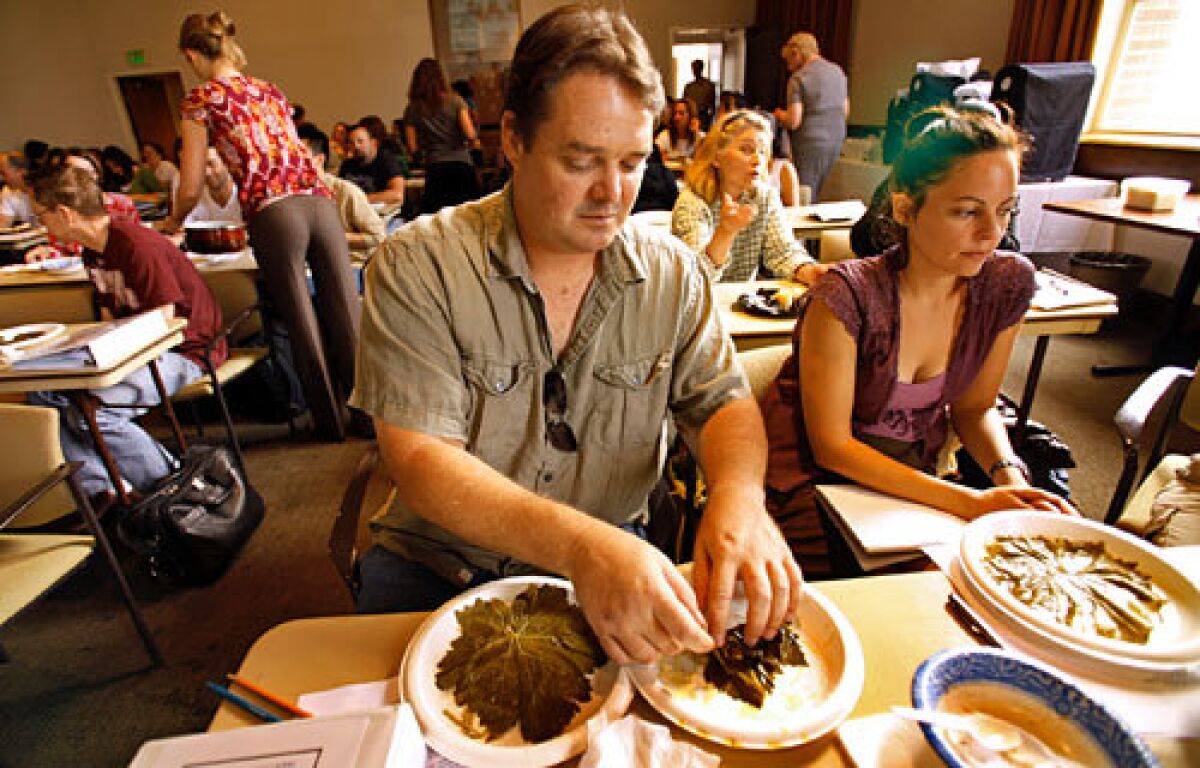 Learning to make stuffed grape leaves is a lesson that reaches far beyond cooking, to world trade, expository writing, even marriage and family traditions. In fact, the requirements of that last part hit home with some of the schoolteachers trying their hands at making dolmas one morning at UCLA.
"There may be a couple of you who remain spinsters until you get your technique down," warns Barbara Petzen, outreach director of the Middle East Policy Council, who tells the group that a young woman would be under enormous pressure to make perfect stuffed grape leaves for the family of her fiancé.
They should be as thin as a pinkie finger, stuffed so they do not burst when cooking, and spiced to the future mother-in-law's tastes.
"This is one of the great culinary tests," Petzen says.
The 60 teachers, who teach kindergarten through high school, were making dolmas as part of "It's a Matter of Taste," a course put on by UCLA's International Institute and the UCLA History Geography Project. Over 10 days, they took on subjects such as brain development and food, agriculture in medieval Europe, the spice trade, the role of rice in globalization, the politics of hunger, and McDonald's in the Middle East.
Teachable topic
The teachers, who earned points toward salary increases, were supposed to get not only lessons they could use in their classrooms, but also pointers on the relationship of food to the subjects they teach and to the multicultural environments of their schools.
The teacher training conferences have been held for 30 years, sometimes about regions of the world, sometimes organized thematically, like this year's, says Jonathan Friedlander, assistant director of UCLA's Center for Near Eastern Studies and an organizer of the conferences.
"I teach language, and there's always room for culture," says Maria Salazar, a Spanish teacher at Hamilton High School in Los Angeles. "It's very important to me that I incorporate not just Latino culture but other cultures of the students in my classes."
Food is a "compelling way into culture and history and science," says Joe Lewis, an English teacher at North Hollywood High who says he uses recipes in lessons about writing.
Lewis is one of the teachers whose dolma-rolling skills might have caused a little trouble if he were a young woman trying to impress prospective in-laws. But as a teacher, he says, he is gathering plenty of fodder for his classes.
In the Middle East, women sit around a table and make grape leaves together, not unlike a quilting bee, Petzen says. They would make hundreds at a time for their families to eat all week or for a big event. But with more women everywhere working outside the home, many such traditions are endangered, she says.
The recipe seems simple: rice stuffing rolled up in a leaf and braised. But the variety of stuffings and the cultural connotations make it a complicated dish. For some people, adding currants is essential; for others that would make the result "absolutely vile," Petzen says. Palestinians use cumin and allspice; Iranians not only put chopped mint into the stuffing but also might layer it on the grape leaves to increase the mint flavor.
Recipe's globe trot
And Petzen tours the world with her recipe: Rice, originally from the banks of the Yangtze River in China, was being grown in the Middle East by the first century; grape leaves from the Nile Delta; cinnamon from India; nutmeg from Indonesia; olive oil from the Middle East; pine nuts from Italy; currants from Greece; salt from Timbuktu; dill and parsley from the Mediterranean; and for those who use it, tomato from the New World.
In another seminar, Linda Civitello, the author of the book "Cuisine and Culture," tours the world with a potato. She begins in 1537, when the Spanish ate potatoes for the first time, in Colombia. And she stops, among other places, in England, where in 1586, Queen Elizabeth's chef first served them; Russia, where Peter the Great introduced them in the late 17th century; Sweden in 1764, when the government promoted growing them; and of course, Ireland, where a potato famine killed a million people in the mid-1800s.
Civitello also talks about the Columbian exchange, the monumental swap of foodstuffs when Columbus brought from the New World to the Old such things as tomatoes, turkey, corn, hot peppers, vanilla and peanuts. And when the Old World gave the New pigs, cows, sheep, cabbage, lentils, oranges, apples and bananas.
Five hundred years ago, she notes, the only place where people could have eaten a meat-and-potatoes dinner was Peru -- but there would have been a big difference between that and the classic American supper: The meat would have come from rodents.
Food gives teachers something "very personal" to teach abstract global concepts as well as literary symbolism, says Sherry Vatter, a Cal State Long Beach professor and an organizer of the conference.
Teaching about food is teaching about exploration, pirates, slavery, religious traditions, trade, culture and agriculture, among other subjects, Petzen says.
Food "is our most basic connection to being alive. Isn't it great? We reconnect to the earth, and we reconnect to the people who make us alive," she says.
Beth Kennedy, who teaches English and psychology at Lincoln High School in East Los Angeles, says she uses food frequently to make points about the way people from various cultures are connected and in lessons about rhetoric.
"Many of my students never leave their block," she says, "and I think my role is to expand their universe."
---
Get our L.A. Goes Out newsletter, with the week's best events, to help you explore and experience our city.
You may occasionally receive promotional content from the Los Angeles Times.