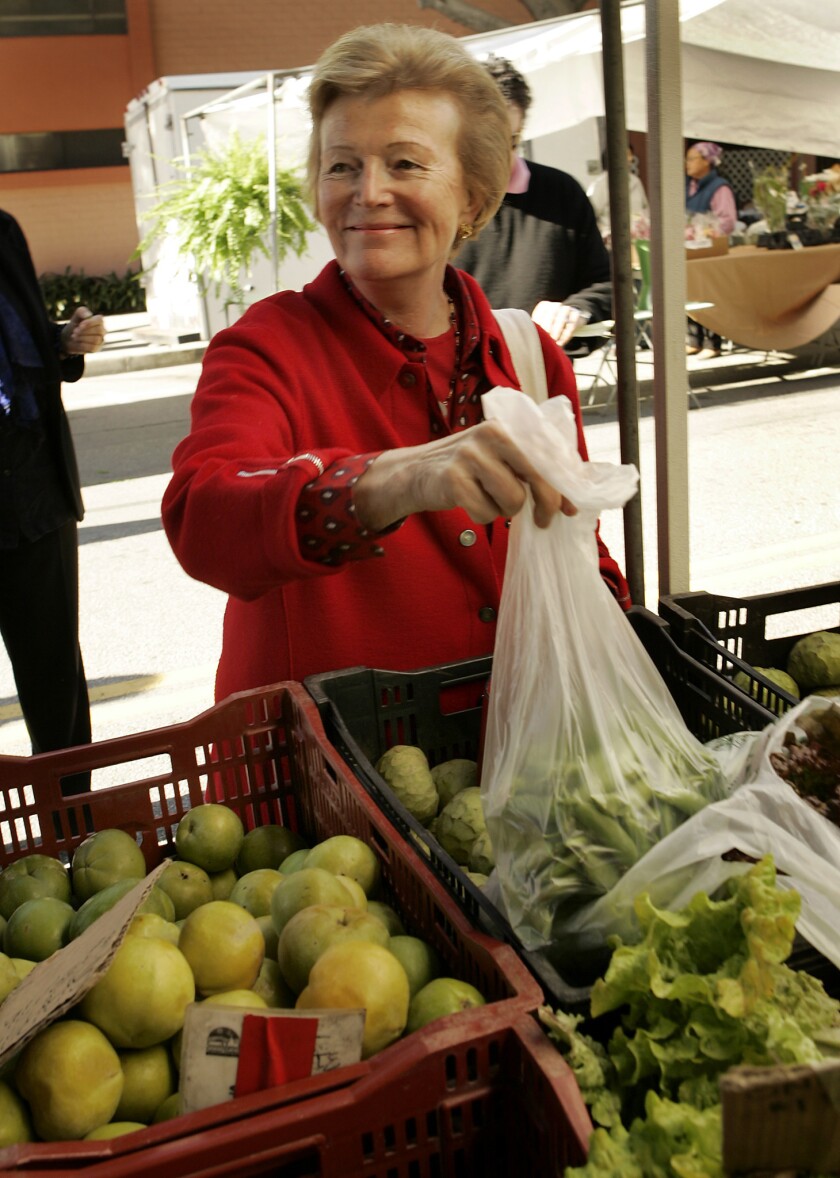 Santa Monica author Anne Willan was inducted into the James Beard Foundation's Cookbook Hall of Fame on Friday night, highlighting the organization's annual awards ceremony.
Willan, who moved to Southern California from her longtime home in France in 2007, is the author of more than two dozen cookbooks, including two that have become culinary bibles: "La Varenne Pratique" and "French Regional Cooking." Willan's books have been published in 24 countries and translated into 18 languages.
Her most recent book was a labor of love: "The Cookbook Library: Four Centuries of the Cooks, Writers, and Recipes that Made the Modern Cookbook," based in large part on the collection she has amassed over the years with her husband, Mark Cherniavsky.
PHOTOS: Jonathan Gold's 14 best Mexican restaurants in Southern California
The outstanding cookbook of the year was Maricel Presilla's "Gran Cocina Latina: The Food of Latin America."
Here is a complete list of award winners.
American cooking: "Mastering the Art of Southern Cooking" by Nathalie Dupree and Cynthia Graubart
Baking and dessert: "Flour Water Salt Yeast: The Fundamentals of Artisan Bread and Pizza" by Ken Forkis
Beverage: "Wine Grapes: A Complete Guide to 1,368 Vine Varieties, Including Their Origins and Flavours" by Jancis Robinson, Julia Harding, and José Vouillamoz
Cooking from a professional point of view: "Toqué! Creators of a New Quebec Gastronomy" by Normand Laprise
Focus on health: "Cooking Light The New Way to Cook Light: Fresh Food & Bold Flavors for Today's Home Cook" by Scott Mowbray and Ann Taylor Pittman
General cooking: "Canal House Cooks Every Day" by Melissa Hamilton and Christopher Hirsheimer
International: "Jerusalem: A Cookbook" by Yotam Ottolenghi and Sami Tamimi
Photography: "What Katie Ate: Recipes and Other Bits & Pieces" Photographer: Katie Quinn Davies
Reference and scholarship: "The Art of Fermentation: An In-Depth Exploration of Essential Concepts and Processes from Around the World" by Sandor Ellix Katz
Single subject: "Ripe: A Cook in the Orchard" by Nigel Slater
Vegetable focused and vegetarian: "Roots: The Definitive Compendium With More than 225 Recipes" by Diane Morgan
Writing and literature: "Yes, Chef: A Memoir" by Marcus Samuelsson
ALSO:
---